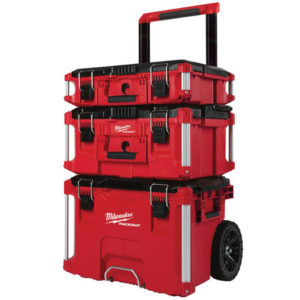 Deal on the Milwaukee Packout 3 Piece Tool Box Kit for only $199 with free shipping. Shipped and sold by OhioPowerTool. Click on the below buy now link to take advantage of this deal. Deal ends 1/31/2021.
Note: Currently on back order however place your order to hold your place in line to get your shipment when more arrive.
Milwaukee PACKOUT 48-22-8424 Tool Box, 48-22-8425 Large Tool Box, and 48-22-8426 Rolling Tool Box.
Industrial grade extension handle
 9 In. all-terrain wheels
 IP65 Rated weather seal
 3 Popular Sizes Coombined into 1 easy to order kit.
 Metal reinforced locking point
 Interior organizer tray
 Mounting location for the one key tick
 Heavy duty latches



DISCLOSURE:
Tool Craze does not sell this product or any product on the Tool Craze website. Tool Craze does not handle the sale of any item in any way. Tool Craze is an OhioPowerTool affiliate and an Amazon Associate and places paid links including those from other retailers Tool Craze is an affiliate partner with. If you purchase something through a link on the Tool Craze site, Tool Craze may get a small share of the sale. Please refer to the About section for more info. Tool Craze cannot guarantee the accuracy of the information/specifications/features of any tool listed in this article. Please do your full research before buying any products.