A new Makita 36V Backpack Power Source For cordless outdoor power tools has been spotted on Instagram by user name ginwashi. All credit goes to ginwashi and you can visit his post by clicking here.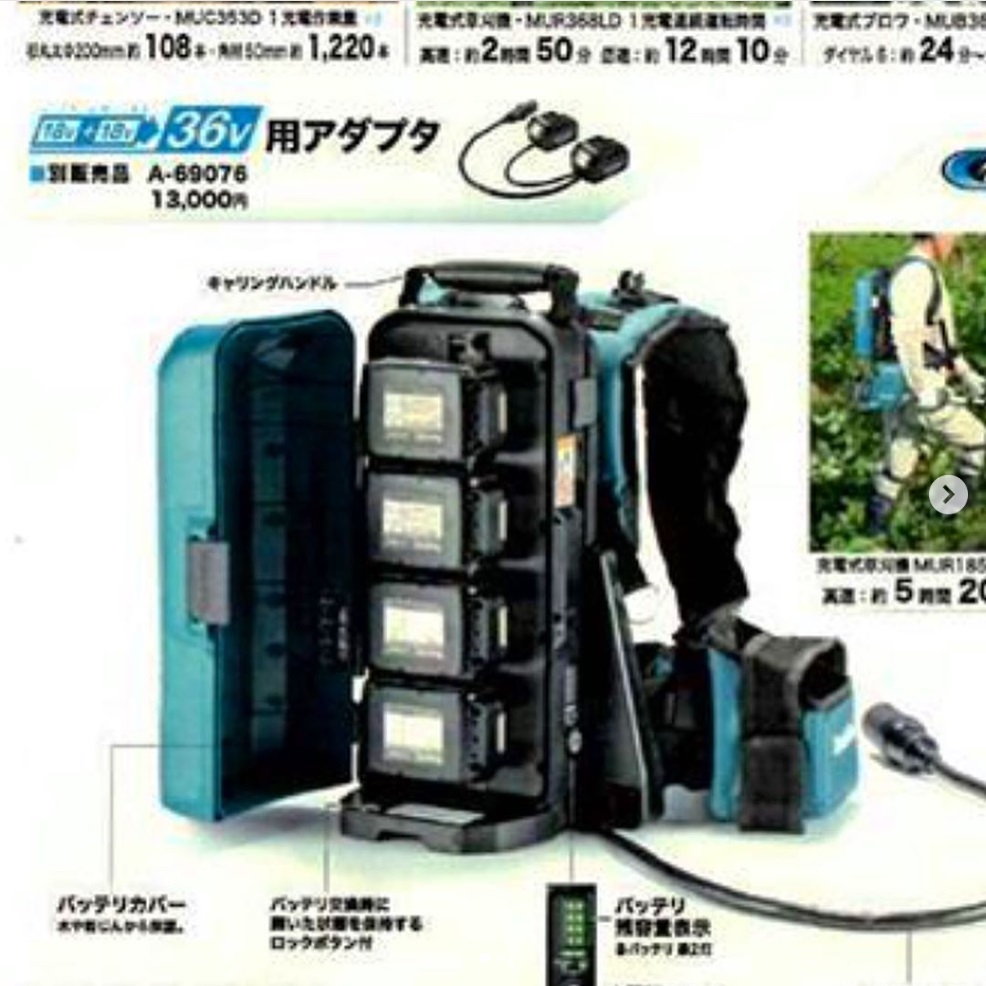 It's hard to gather info from ginwashi's post since it's probably in Japanese and the wording itself is inside the image file, meaning I can't copy and paste directly into a translator for more info. However we can gather a few bit's of details from this image.
We know it's a backpack power source using some new connection, or atleast not common to USA branded Makita cordless outdoor power tools. This is very similar to what Husqvarna has done and also recently from Ego as part of their new commercial series. The backpack itself holds 4 LXT 18V batteries and according to the picture information, it's still rated for 36V of output. You'll just have two pairs of batteries in parallel for more Ah and runtime than would be possible with only two batteries alone. The batteries themselves are housed in what appears to be a sealed door to keep the batteries safe from the elements.
What's interesting from the top of the picture is what I initially thought was an AC adapter but readers Bolt and Doresoom kindly reminded me that it's not an AC adapter but it's actually a set of dummy batteries with a cord and have the opposite end of the same proprietary connection as the backpack cord. Think of it as the extension cord to connect the backpack to the cordless tool itself. In the video below from Kruger Construction, we see how it all works together and confirms it's not an AC adapter like I had thought at first. The dummy battery pack allows for any Makita X2 36V tool to take advantage of the backpack for the added runtime of 4 batteries at once instead of the usual two. Now a new question remains, will the launch of the new backpack power source launch a new line of Makita 36V power tools running on the proprietary connection point like what Ego did with their commercial series, or is it simply to be used only with current X2 36V Makita tools? We'll have to find out and see.
While the ginwashi instagram post was spotted in Japan, the Kruger Construction instagram post was from this years 2019 world of concrete even. Back then it was shown as a prototype however ginwashi's post confirms it's past the development phase and is ready for launch. The fact that it was shown in a Japan post means that it's ready to go in that market and hopefully we'll see it officially announced here in the USA soon.
A big thanks to Cody Robertson for spotting!

DISCLOSURE:
Tool Craze does not sell this product or any product on the Tool Craze website. Tool Craze does not handle the sale of any item in any way. If you purchase something through a post on the Tool Craze site, Tool Craze may get a small share of the sale. Please refer to the About section for more info.