Makita already has a very successful 18V cordless power tool line which includes their X2 tools that are 36V using a pair of 18V batteries. Then recently they came out with an entirely new 40V (36V) power tool line which I found to be a bit strange considering they already have the above mentioned X2 36V tools. Now we have news of Makita coming out with an entirely new cordless power tool line as a new and mysterious 64V Max (58V) battery has been spotted on Chinese website mydigit.cn . All credit goes to mydigit.cn for providing the pictures.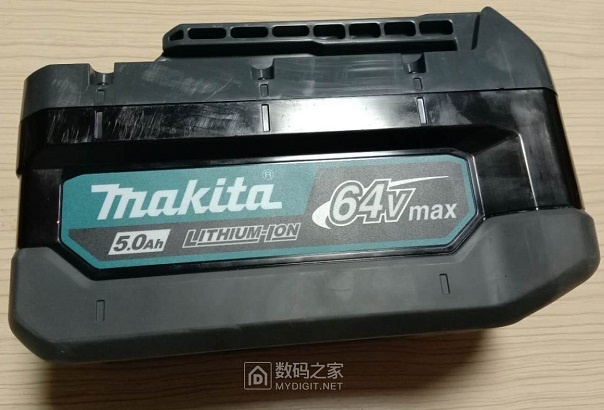 So far the only info we have are the pictures. The picture label at the top of the battery lets us know that 64V is the "max" voltage when fully charged, however 58V is the actual nominal voltage. Just like how some brands say their batteries are 20V when they are actually just 18V with a fancy label. Unlike Dewalt's Flexvolt and Metabo HPT's Multivolt batteries which are both dual voltage backwards compatible batteries, the Makita 64V battery appears to only be a single voltage battery so don't expect this to be backwards compatible with existing 18V or 40V power tools.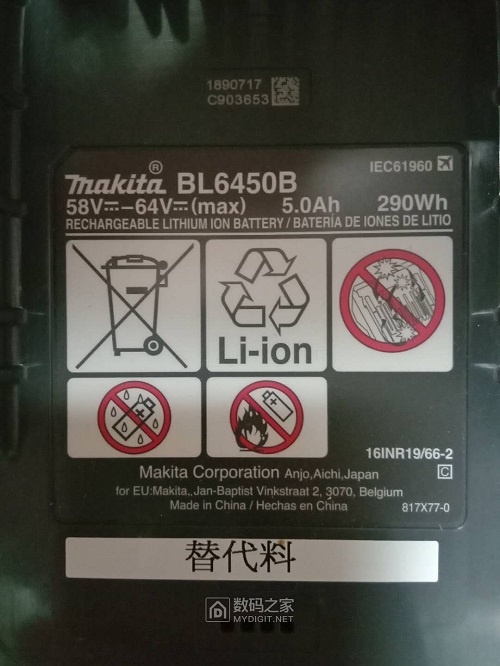 The top and bottom pictures show us that this is a very long battery.
It looks about as tall as a 10 cell fatpack 18V battery however roughly about twice as long. I'm curious as to see what type of cordless power tools will be powered by these large 64V Max batteries. My guess would be OPE as Makita's cordless outdoor power tools are lacking in the power department and a high voltage battery like this should help them better compete in the USA market against brands like Ego and Greenworks. Makita might also use these batteries to power larger power tools like maybe a 10″ portable jobsite table saw or they might even go the route Milwaukee went with their higher voltage MX Fuel cordless equipment line with cordless power tools like breaker hammers, core drills, etc. Either way Makita needs to differentiate their 64V line to stand out apart from their 18V, X2 and 40V Max lines as a heavy overlap of the same type of tools will only cause consumer confusion.
What do you guys think of the new Makita 64V battery? And what type of cordless power tools do you expect to come out on the new Makita 64V system?
All credit goes to mydigit.cn for providing the pictures. A big thanks to Cody Robertson for sharing!


Free 2 day shipping – Try Amazon Prime 30-Day Free Trial

DISCLOSURE:
Tool Craze does not sell this product or any product on the Tool Craze website. Tool Craze does not handle the sale of any item in any way. If you purchase something through a post on the Tool Craze site, Tool Craze may get a small share of the sale. Please refer to the About section for more info.