A new compact Makita 18V brushless drywall screwgun FS453DRT has beeen spotted over in Japan coming in at 8 inches in length (205mm length) and is almost 2 inches shorter in length than their current cordless 18V brushless drywall screwdriver XSF03. The new Makita brushless drywall screwdriver looks tiny in comparison!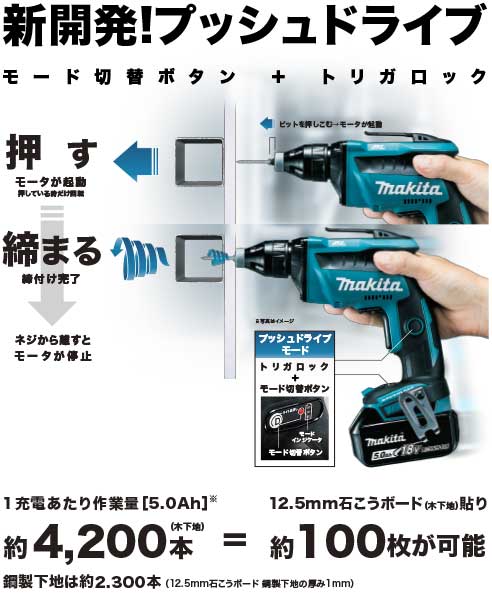 From what I can see, they drastically overhauled the front end and shortened the depth adjustment collar and the nose piece nearly disappeared. The rest of the body looks similar to the current brushless screwdriver, although the front end is now black.
Makita is claiming some serious runtime on this new Makita 18V brushless drywall screwgun FS453DRT with up to 4,200 screws driven on a single charge when using the Makita 18V 5.0 battery.
Many features carry over from the current XSF03 such as the Makita exclusive "Push to drive" technology where the screwdriver is completely silent while the trigger is pressed when in this mode and then fires up the motor as soon as the screw is pushed into drywall. This leads to a quieter working environment where the user doesn't hear the buzz of the motor constantly but only when the screw is actually being driven. This mode also conserves battery power because the motor doesn't turn on until the screw is pushed.
Other features that are carried over from the XSF03 are the electronic button that toggles between regular and push to drive modes and disables the LED light or turns it back on, along with the LED light with the afterglow effect where it stays lit for a few seconds after the trigger is pressed. Even the built in fuel gauge on the tool makes it's way back. Even though new Makita batteries have fuel gauges built in, having the fuel gauge on the tool is still of benefit since the majority of Makita 18V batteries don't feature a built in fuel gauge.
Standard Drywall gun features include large hook on top of the unit, along with belt clip on the side.
Battery BL1850 · charger with DC18RC · Case

205mm length × 79mm width × 259mm height

The remaining battery capacity display lamp

Double-ended bit can be installed

4,000 RPM
4,200 screws driven with 18V 5.0 battery

High brightness LED light (afterglow with function)

Lightweight, plastic gear housing