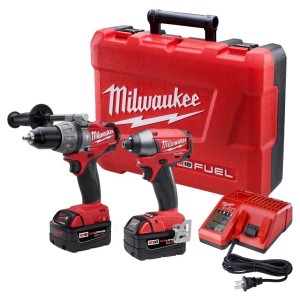 This is Milwaukee's high performance heavy duty 18V brushless hammer drill and 1/4″ hex impact driver combo kit 2797-22. The hammer drill pumps out 725 in lbs max torque and the impact driver pumps out 1,600 in lbs max torque. I personally use both from time to time and they simply do not disappoint.
This kit comes with two XC 4.0 lithium ion batteries, dual voltage M18 & M12 charger to charge the included M18 batteries or any M18 battery you have or may get down the road along with being capable of charging M12 batteries.
The everyday regular price for this kit is$400 but can be had on Amazon for around $344.99. This item can be purchased through several third party sellers with a total of 4 sellers in which this kit can be fulfilled by Amazon themselves. Meaning you get all the perks of an Amazon purchase such as free shipping, prime eligible, and Amazon's great customer service. Currently all sellers with Amazon fulfillment are all under $350 USD.