Recently spotted on the AEG Australia website is a new BKP18C600-0 18v caulking gun. This is great news as this is the first caulking gun to hit AEG's 18v battery platform with the only previous model available from AEG being an ancient 2.4v model from who knows how long ago.
Full disclosure: This is not a review, this is tool news. Tool Craze cannot guarantee the accuracy of the information/specifications/features of any tool listed in this article. Manufacturer marketing claims may not always meet expectations. Tool Craze is not responsible if products do not live up to claimed expectations. Please do your full research before buying any products. Tool Craze is an Amazon Associate and places paid links including those from other retailers that Tool Craze is an affiliate partner with. If you purchase something through a link on the Tool Craze site, Tool Craze may get a small share of the sale.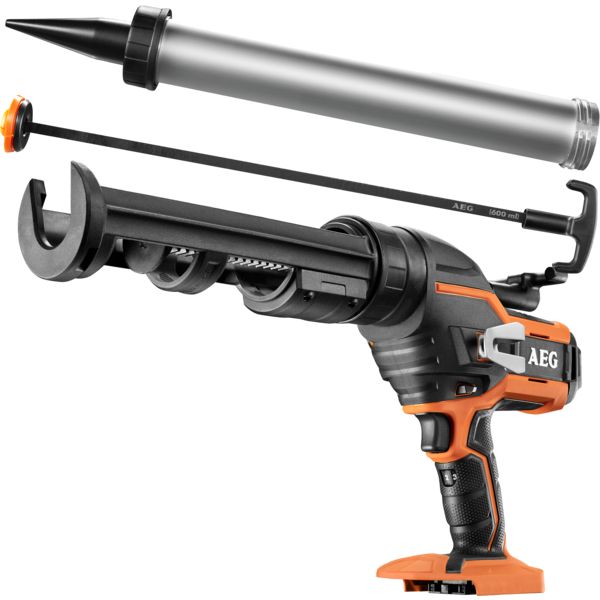 My thoughts: Anyone who's done a lot of caulking work knows that it can be very stressful on the hands and can cause long term injuries from the repetitive motion. The use of a battery operated caulking gun minimizes both of those issues and also allows users to lay down adhesive or silicone faster than with a traditional caulking gun and with better consistency. Anyone already in the AEG 18v battery line will now be able to take advantage of these benefits with this new unit. With several nice features such as a belt hook, 6 speed settings, a variable speed trigger and 4,500 (1,011 lbs) Newtons of force, this unit has everything a professional user needs to get large jobs done quickly.
There's also a good chance this will come to north america as Ridgid which would be good since Ridgid hasn't had a cordless caulking gun since their X2 line however that's just my hope as there's been no official info from Ridgid about a new model.
Features and specifications
Belt hook mounted on the left side of the tool for convenient storage on the job
4,500 Newtons (1,011 lbs) of force for tough adhesives
Variable speed trigger
6 speed settings in addition to the variable speed trigger
Accepts both 300 ML and 600 ML cartridges
Anti drip and constant flow technology
Quick change rotating collar
Voltage: 18v DC
No load speed: 0-66cm per minute (0-26.95" per minute)
Push force: 4,500 Newtons (1,011 lbs)
Product weight: 2.3KG (5.05 lbs)
Warranty: 6 years
Price at the time of writing: $299 Australian at Bunnings Warehouse Australia
DISCLOSURE:
Tool Craze does not sell this product or any product on the Tool Craze website. Tool Craze does not handle the sale of any item in any way. If you purchase something through a post on the Tool Craze site, Tool Craze may get a small share of the sale. Please refer to the About section for more info.