November 22, 2019
Comments Off

on New Info On The Hart Hand And Power Tools Sold Exclusively At Walmart!
Hart Tools has been known for their hand tools such as framing hammers, chisels, screwdrivers, axes, pry bars, sledge hammers, files, and pick axes. With their roots in hand tools, the big news from Hart is they have developed an entire line of 20v cordless power tools and a separate line of outdoor tools on a 40v battery system.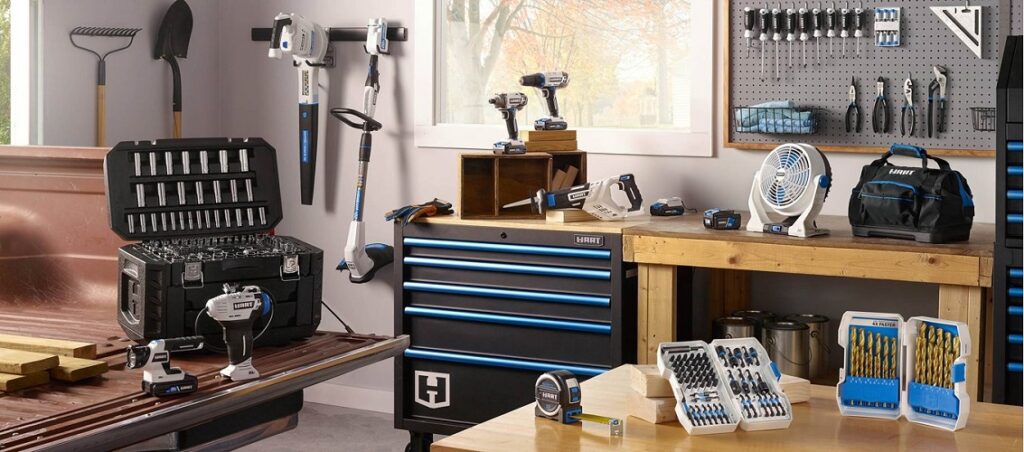 The 20v battery system features battery capacities of 1.5ah, 2.0ah, and 4.0ah. Tools in the 20v system include brushed and brushless drills and impact drivers, a reciprocating saw, 6 ½" circular saw, 10" buffer, LED light, tire inflator, handheld vacuum, 4.5" grinder, bluetooth radio, oscillating multi tool, and even a rotary tool.
Featured products:
• 20V Brushless Drill for $94
• 20V Brushless Drill & Impact Driver Combo for $178
• 20V Multi-Tool for $54
• 20V Rotary Tool for $69
• 20V Random Orbit Sander for $44.88
Coming soon to the 20v system is a ½" drive impact wrench, 6" random orbit buffer, handheld spotlight, random orbit sander, what looks to be an area light, and a jigsaw. On the same 20v system they also have 4 outdoor tools with 3 hybrid tools which can run on a 20v battery or be plugged in. The only non hybrid outdoor tool right now is the 2 gallon 20v chemical sprayer. So far they have a hybrid string trimmer, hybrid hedge trimmer, and a hybrid blower.
• 20V Inflator for $34.97
• 20V ½" Impact Wrench for $119
• 20V 10" Random Orbit Buffer for $88
• 20V Hand Vacuum with Automotive Accessories for $29.76
• 20V Hybrid Blower for $96
• 20V Hybrid String Trimmer for $96
For the 40v battery system they have battery capacities of 2.5ah, 4.0ah, and 5,0ah. 40v tools include a brushless 14" chainsaw,  15" attachment capable string trimmer, brushless turbo fan blower, brushless backpack blower, brushless 20" push mower, brushless 20" self propelled mower, brushless 21" adaptive speed self propelled mower, 12" string trimmer, sweeper, and a 24" hedge trimmer.
• 40V Brushless Chainsaw for $188
• 20V Hybrid String Trimmer for $96
• 40V Brushless Self-Propelled Mower for $378
They do also have a few corded benchtop tools coming out with a 7 ¼" miter saw, 10" miter saw, and a 6" bench grinder.
In addition to the new power tools and OPE, Hart is also releasing a ton of new hand tools such as socket sets, ratchets, screwdriver sets, hand saws, tape measures, hammers, and pliers.
• 25′ Pro Wide Tape $13.88
• 4-piece pliers set $24.94
• 20 oz. Steel Hammer $21.88
• 215-piece mechanics box set $148
Of course they couldn't stop there, as they're also bring out new drill and driver bits, nut drivers, countersink bits, masonry bits, router bits, circular and reciprocating saw blades, oscillating multi tool blades, jigsaw blades, and a small variety of 4.5" grinder discs.
• 20-piece Screwdrivers set $19.74
But wait, there's more! Making this release of new tools even more impressive is the additional tools storage solutions, which include a multi compartment clear top hardware organizer, 2 tool bags, a tool backpack, as well as a 3 in 1 rolling storage box set. Of course they couldn't overlook safety gear and they will be offering a variety of gloves, safety glasses, and knee pads.
Here's a small part of the official press release:
Today, Walmart announced its investment in a new exclusive tool line that offers customers a wide range of high-quality, high-performance tools for a great value. With the HART line, users can tackle any home improvement or DIY project, no matter their skill set or budget.

Whether working hard or playing hard, our customers trust Walmart for quality products that deliver what they need at the right price. Today, we're excited to do just that with the launch of a new, exclusive tool line called HART available only at Walmart.

From our customers who have never swung a hammer to those who are DIY enthusiasts or even full-time fixers, it's all about having the right system of tools to get the job done. We drilled down to better address our customers' needs and provide them with the products and experiences they want in our stores and online. With HART as the newest member of tool brands offered at Walmart, we are continuing our commitment to help busy families save time and live better – all for a great value at our everyday low prices.
My thoughts: first off I think what Hart has pulled off here is very impressive to say the least. While it's not surprising that a brand has this much to offer, it's very impressive that they're bringing so much to the market at once.
In addition to the new tools, Hart is going to be sold exclusively at Walmart both in stores and online. This is a big push by walmart to have a fully featured range of tools under one brand and these new tools from Hart appear to be a much higher grade than Walmart's in house brand Hyper Tough. With the Hart tools customers have more selection for heavier duty applications and as all of us know, more competition ultimately gets the consumer a better value.
Personally I'm excited to see how these new Hart tools do at Walmart. Walmart isn't exactly known for their high grade tools, but it seems they're looking to break into a new segment of the market and if they can hit a good price point, they'll give Ryobi, Craftsman and even Bauer at Harbor Freight a run for their money.
Now this raises the question, since Hart is sold at other retailers such as Acme Tools, Home Depot, and Direct tools, will they still be available outside of Walmart? I reached out to Hart and they said once the existing stock is sold out, Hart will only be sold at Walmart. I then asked if the lifetime warranty on the older Hart tools will still be honored, and they told me it will, but customers will have to go through Home Depot or call Hart customer service. Obviously this is a huge change for the Hart Brand, but it looks like they're committed and off to a good start, so I'm very interested to see where they go.


Free 2 day shipping – Try Amazon Prime 30-Day Free Trial

DISCLOSURE:
Tool Craze does not sell this product or any product on the Tool Craze website. Tool Craze does not handle the sale of any item in any way. If you purchase something through a post on the Tool Craze site, Tool Craze may get a small share of the sale. Please refer to the About section for more info.

Comments are closed.