As has been very evident lately, Harbor Freight is very quickly expanding their offerings and recently they put up a sign in my local store with a whole bunch of Bauer corded and cordless tools. While the release dates for most of the new tools in the picture haven't been released yet, the 20v HyperMax random orbit sander and 20v HyperMax ⅜" drive impact wrench showed up in this month's (April 2019) coupon flyer.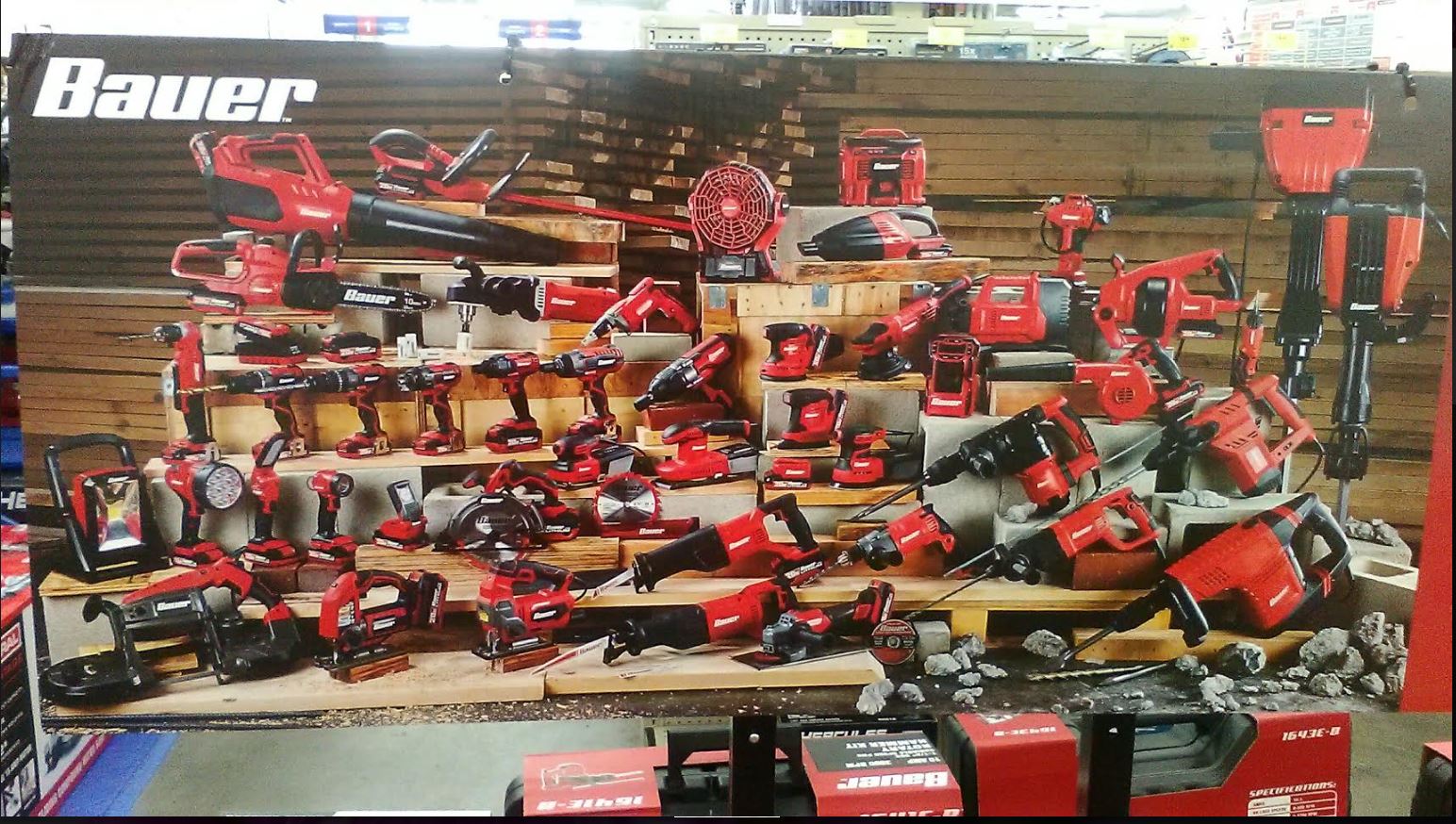 My thoughts: With as many tools as are in this picture, it's clear that Harbor Freight is truly aiming to be competitive with the likes of Craftsman, Porter Cable, and even Ryobi to some extent. The long list of cordless tools are all included in the Bauer 20v HyperMax line and they even have some new outdoor tools!
The outdoor tools include a 10" chainsaw, blower, and a hedge trimmer all of them 20V cordless. The main thing that I see missing is a string trimmer, but there may be one coming still. We'll just have to wait and see.
As for the power tools, let's start with the exciting stuff and that's the 20v cordless tools. First up we see a new compact handheld worklight, a folding small area light, a handheld spotlight, and a large area light. In the plumbing sector I can see a 20v drain snake, and a 20v transfer pump. For inflation, I see what looks like a high pressure tire inflator, as well as what looks like a low pressure inflator for pumping up air mattresses and such. Other low pressure inflators on the market offer high pressure as well, so there's a good chance this one does too, but don't quote me on it. In addition to the 2 inflators, there's a small fan (which I can only assume is cordless), a cordless shop blower, and a handheld vacuum. The other new cordless tools include a USB power source, detail sander, and a small radio.
Also hidden in the back right is a 4v screwdriver, which should be great around the house.
On the corded side, I can see a new polisher, reciprocating saw, ⅓ sheet sander, and a compact hammer drill.
While these new tools are great, I just wanna see that 20v reciprocating saw in stores soon, as there's certainly been lots of demand since it was announced over a year ago. Also keep in mind, no release dates or specs have been released at the time of writing (April 2019).
Full list of new tools in the picture:
4v cordless screwdriver
10" 20v chainsaw
20v leaf blower
20v hedge trimmer
20v reciprocating saw
20v 5" random orbit sander
20v ⅜" impact wrench
20v large area light
20v small folding area light
20v small handheld spotlight
20v compact area light
20v drain snake
20v transfer pump
20v high pressure inflator
20v low pressure inflator
20v handheld vacuum
20v shop blower
20v shop fan
20v USB power source
20v detail sander
20v radio
New corded tools:
Polisher
Reciprocating saw
⅓ sheet sander
Compact hammer drill


Free 2 day shipping – Try Amazon Prime 30-Day Free Trial

DISCLOSURE:
Tool Craze does not sell this product or any product on the Tool Craze website. Tool Craze does not handle the sale of any item in any way. If you purchase something through a post on the Tool Craze site, Tool Craze may get a small share of the sale. Please refer to the About section for more info.