November 26, 2019
Comments Off

on Hercules 20V / 12V Simultaneous Dual Port Multi-Volt Charger Spotted
I was going through my monthly Harbor Freight coupon catalog when I noticed a new offering coming soon from Hercules, which is a new dual port charger capable of charging their 20v and 12v batteries. This is only the second charger from Hercules capable of charging their 20v and 12v batteries and is the 3rd charger from the brand.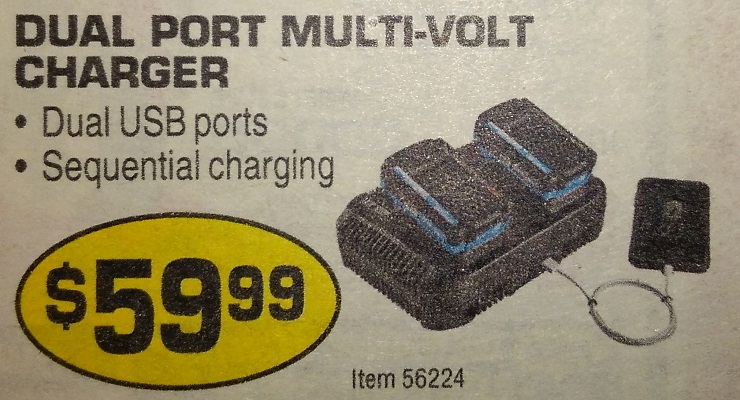 My thoughts: As we've seen with the other Hercules tools, they typically give a sneak peek as to what's coming a few months in advance. However, unlike most of their other Hercules tools, this new dual charger was completely unannounced until it showed up in this month's coupon catalog. It's not on the Harbor Freight website yet (at the time of writing), but the catalog has the item number so while I was at my local store I had them look it up in the system which has most of the specs and Features, as well as pricing. Although the picture in the catalog says it's sequential, I suspect the store computer is more accurate. Features include charging of 2 batteries, either 12v or 20v, simultaneously. Other features include 2 built in USB ports, 2 mounting screw holes, and separate charging indicators for each battery. Unfortunately the charging times are not listed so it's most likely the same charge speeds as the original, but hopefully they're better than the original Hercules charger, as it's good but kinda slow compared to other leading brands of chargers. Overall though this looks like it should be a great addition to the Hercules line for users who need to rotate lots of batteries for more than a couple tools.
Features and Specifications:
Simultaneous charging of Hercules 12v and 20v batteries
Dual USB outlets (amperage not listed)
Separate LED charging indicators
Dual screw mounting holes
Input voltage: 120v AC
Price at the time of writing: $59.99 (not yet available as of 11/25/19)
Warranty: 90 days from purchase date. 1 year replacement plan: $13.99. 2 year replacement plan: $20.99


Free 2 day shipping – Try Amazon Prime 30-Day Free Trial

DISCLOSURE:
Tool Craze does not sell this product or any product on the Tool Craze website. Tool Craze does not handle the sale of any item in any way. If you purchase something through a post on the Tool Craze site, Tool Craze may get a small share of the sale. Please refer to the About section for more info.