More than a year after Harbor Freight showed the first glimpses of some of the next additions to their Hercules 20v line of tools, the first new tool to hit the monthly catalog is the new Hercules 20v 6-1/2" cordless circular saw. Sporting some good features and specs, hopefully this will be a great addition to the Hercules 20v line.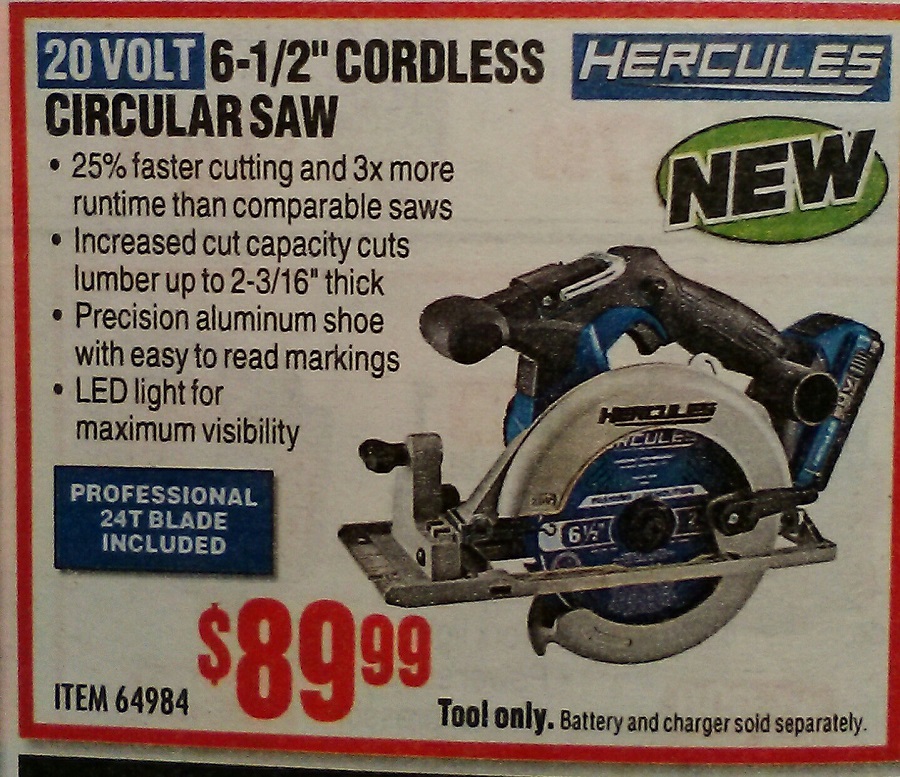 My thoughts: I'm sure many people have been waiting for Harbor Freight to expand the Hercules 20v offerings, as it appears to be their top tier brand for cordless tools aimed at the prosumer market. For over a year users have been stuck with just a drill, hammer drill, and an impact driver. People with the other Hercules 20v tools can rejoice as this new circular saw has several nice features including a rafter hook, LED light, aluminum shoe, dust collection hook up, and a max cut depth capacity of 2 3/16".
2-3/16" puts this saw right in the middle of the market for cut depth, but for cutting 2x lumber and plywood it should be well suited. Harbor Freight also claims 25% faster cutting and 3x more runtime than comparable saws, which if true, will be quite impressive. Also something I noticed is this saw has the blade on the left hand side, which will be great for right handed users such as myself. With a bare tool regular price of $89.99 and a coupon for $74.99 available at the time of writing, this saw is very well priced, especially if the performance is good.
Features and Specifications:
LED light
6 ½" blade
Rafter hook
Dust collection port
2 3/16" max cut depth @ 90 degrees
Voltage: 20v DC
RPM: not yet listed
Hercules 6 ½" 24 tooth carbide blade included
Price at the time of writing: $89.99 but current coupon is $74.99
Warranty: not yet listed, but most likely 90 days with 1 or 2 year replacement plans available for an extra cost


Free 2 day shipping – Try Amazon Prime 30-Day Free Trial

DISCLOSURE:
Tool Craze does not sell this product or any product on the Tool Craze website. Tool Craze does not handle the sale of any item in any way. If you purchase something through a post on the Tool Craze site, Tool Craze may get a small share of the sale. Please refer to the About section for more info.