Here's another impressive 18 volt tool announced at this years NPS19 new product symposium, the Milwaukee M18 Fuel 12" Dual Bevel Sliding Compound Miter Saw with One Key 2739-21HD. This is Milwaukee's first cordless 12″ sliding miter saw and it's also the first ever cordless 18 volt 12 inch miter saw.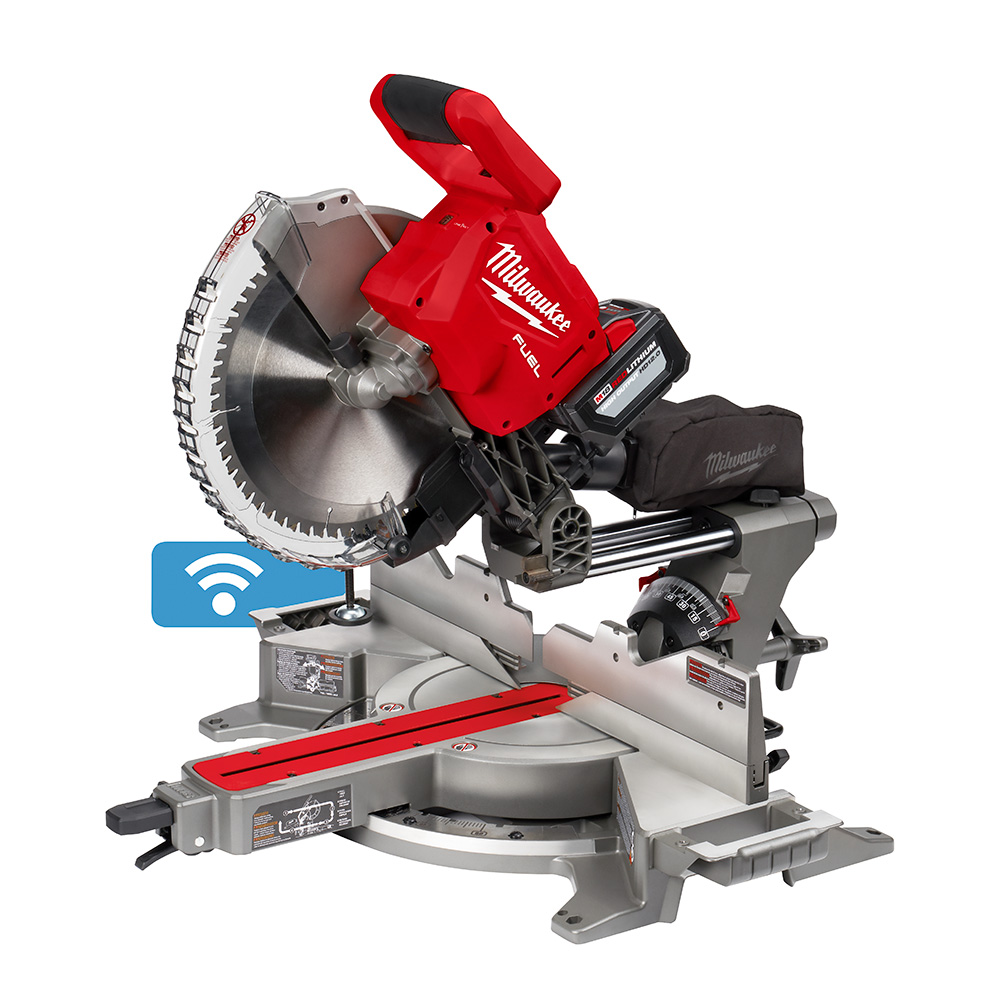 I shouldn't be surprised anymore but I'm still having a hard time not being shocked every time Milwaukee introduces a new massive and powerful cordless power tool to their 18 volt system that you normally wouldn't find as an 18 volt tool but instead at a higher voltage. Milwaukee's newest 12 inch cordless sliding miter saw isn't the first ever 12″ cordless miter saw as there have been a few before it with Dewalt's own Flexvolt miter saws being the first and soon after we've had some cordless 12 inchers from Metabo HPT (Hitachi) and most recently Makita, however none of those are running on 18 volt power. They're all running on higher voltages from 36V all the way up to 120 volts, so it's an impressive feat that Milwaukee was able to come out with a cordless 12 inch miter saw under their 18V M18 line without having to make a new, higher voltage battery platform or have to use dual 18 volt batteries, as the M18 12″ sliding miter saw only needs one M18 battery to run. This means no need to go out and buy new batteries, new chargers and having to worry about charging two batteries at once.
Milwaukee's M18 Fuel 12″ sliding miter saw model has some impressive specs. First of all they claim that it's just as powerful as a corded 12 inch miter saw equipped with a 15 amp motor and this is thanks to it's brushless motor that has a max 3,500 no load RPM. Milwaukee says you can expect fast, smooth cuts without bogging down. They also claim it has the same impressive cut capacities from the leading corded miter saw, which is no doubt the Dewalt Flagship models, the DWS780 (corded) and the DHS790 Flexvolt (cordless/cordless) models. The great news about the new Milwaukee M18 Fuel 12 inch sliding miter saw model is that it matches all the impressive cut capacities found on Dewalt's flagship models with the ability to cut up to 2×14 lumber, tall cut capacities of 6-3/4″ molding up against the fence and 7-1/2″ crown molding nested and a (L/R) 50/60 degree miter angle range. The Milwaukee model also gets the advanced LED shadow line feature that works extremely well. This system uses LED lights on both sides of the blade to cast a shadow over the cut line. This better than lasers because it's always accurate, never needs calibration and even takes into account the thickness of the blade. These work very well in most conditions except for outside in bright sunlight however Milwaukee claims their system works well in bright sunlight.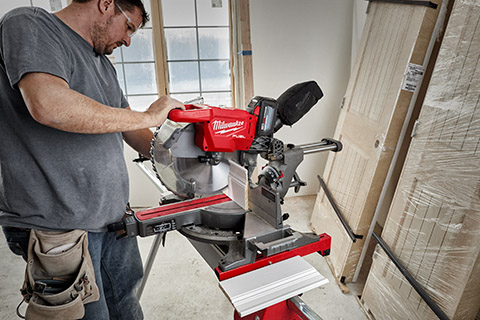 This isn't Milwaukee's first cordless miter saw as they also had a very similar M18 Fuel 10 inch sliding miter saw model a few years back. I noticed that Milwaukee is using the same or similar direct drive system that they used on the original model on the 12 incher. Direct drive miter saws have the advantage of not using belts that can wear and need replacing. Milwaukee's 10 inch model had a different sliding rail design where the rails were underneath the saw base however they went with a more traditional top mounted rail system on the new model. They also continue using cam lock miter angle locks which are much better than twist knobs. And as the title mentions, it's also a dual bevel miter saw which means less hassle when cutting bevels on both sides of a board and no need to flip the board around to do so. One new feature to make it to the new 12 inch slider model is the addition of Milwaukee's One Key so that users can also easily track, manage, and secure the miter saw through the One Key app on their phone.
Overall an impressive saw with tons of features. Compared to the first cordless 12 inch sliding miter saw, the DHS790 Flexvolt model from Dewalt, the Milwaukee model is missing a couple of features with the main one being that the Milwaukee is only a cordless saw since it lacks an A/C adapter at the moment to make corded saw. The Milwaukee also doesn't have the exclusive back fence design of the Dewalt flagship, where you remove both fences to expose a back fence that allows for the ability to cut up to 2×16 lumber. The Milwaukee does have a couple of advantages over the Dewalt models as it only requires one battery to function and the claimed runtime of the Milwaukee is a little better with up to 330 cuts per charge in 3-1/4" base with a single 12.0 ah battery compared to the 289 cuts per charge in 3-1/4" base with dual Flexvolt 6.0 ah batteries on the Dewalt. Milwaukee's model is also lighter at 50.8 lbs with battery installed versus 56 of the Dewalt model, which your legs will thank you when carrying this bad boy upstairs.
The new Milwaukee M18 Fuel 12" Dual Bevel Sliding Compound Miter Saw w/ One Key 2739-21HD will be available in November 2019 for $699 as a baretool and for $849 as a kit with a 12.0 ah battery, Rapid Charger, Handles, Clamp, and blade.



DISCLOSURE:
Tool Craze does not sell this product or any product on the Tool Craze website. Tool Craze does not handle the sale of any item in any way. If you purchase something through a post on the Tool Craze site, Tool Craze may get a small share of the sale. Please refer to the About section for more info.