This year in 2019 Milwaukee updated their 18 gauge cordless nailer with a new upgraded model known as the Milwaukee M18 Fuel 18 Gauge Brad Nailer 2746-21CT in kit form or simply 2746-20 as a baretool. In this article I will be reviewing the new Milwaukee nailer and checking out it's performance and features. As a full disclosure, Milwaukee was kind enough to send me a product sample at no cost to me and as always I will provide my honest unbiased feedback. I am not paid or swayed in any way to give a positive review.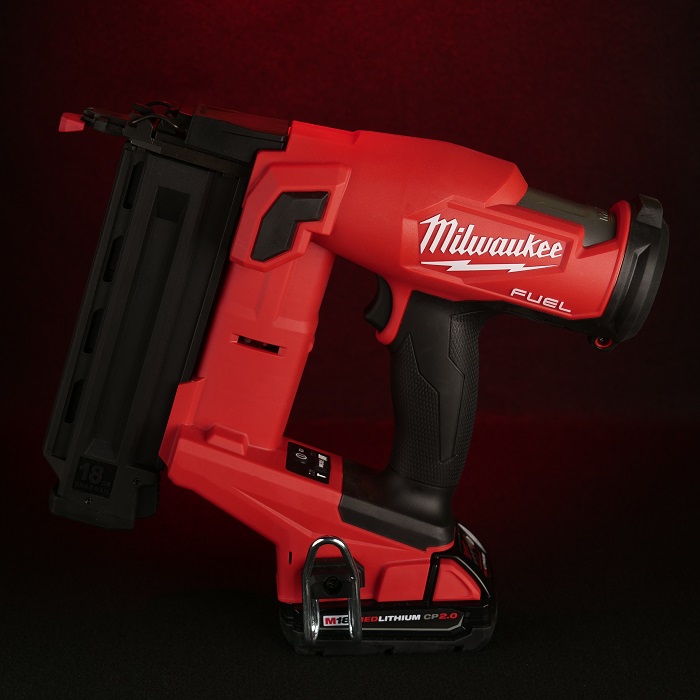 Manufacturer specs:
Nail Sizes: 5/8" – 2-1/8"
Magazine Capacity: 110 nails
1500 nails per charge on a REDLITHIUM 2.0 Compact Battery
Uses sealed compressed nitrogen to drive each nail
No gas cartridges needed
no ramp up time
"unmatched fire rate"
"compact and lightweight" cordless nailer
11.9″ length / 5.35 lbs weight
leaves consistent "clean" holes
dry fire lockout/sequential/bump fire modes, reversible belt clip
tool free depth of drive adjustment and jam clearing
power button
Includes M18 FUEL™ 18GA Brad Nailer, (1) M18™ REDLITHIUM™ 2.0 Compact Battery Packs, Charger and Contractor Bag.
*Also available as bare tool (2746-20)


Milwaukee launched their new line of cordless nailers several years ago with the original 18ga, 16ga and 15 gauge nailers and these were revolutionary at the time because they were the first cordless battery powered nailers that had instant nail fires when you pressed the trigger. There was no ramp up or charge time like other cordless nailers prior to the Milwaukee's. Not only that, the Milwaukee nailers were powerful and could consistently set nails deep into hardwoods. Milwaukee's GEN 2 18 gauge nailer follows in the original nailers footsteps and delivers the same instant nail fires and the power to easily sink nails even into solid hardwood.
I reviewed the original 18 gauge and 16 gauge models and they delivered the performance as promised however these were not perfect. Both suffered from what I would call a double shot, which would leave two nail shot marks, one with a nail behind it and one being a blank right next to it. It was an unusual phenomenon, one that required extra effort to patch and leave a larger visible hole (even when patched) in finished hardwood trim. Also when in the bump fire mode, they would time out rather quickly requiring the user to let go of the trigger and repress to re engage bump fire mode. This meant that let's say you were installing trim in the bump fire mode while holding down the trigger, setting nails down at one stud and by the time you scooted over to lay down more nails at the next stud location, the nailer would time out requiring the user to re-engage the trigger to continue working. Another issue was that the 18 gauge model couldn't shoot at a forward angle because the contact tip wouldn't make contact.
After testing out the new Gen 2 18 gauge nailer, it's nice to see that Milwaukee addressed all of those issues that plagued the original model. As now you don't have to worry about any of that double shot phenomenon with simple, single shot holes that come out clean. In the provided video you can see all of this in action so you can see for yourself and not have to take my word for it. I also got to test it out in a real world scenario as I had just installed laminate flooring and used the new nailer to install trim. It did an excellent job and most of the holes came out very clean. There was one instance where one of the holes had what appeared to be that doubleshot phenomenon that plagued the originals, however it only happened one time. I am not sure why it happened but I never noticed it again.
I tested it into 2×4 softwood lumber and also tested the nailer into hardwood oak and the performance was the same, the nailer proved to be very powerful in either case. It's so powerful you actually don't need to set the depth of drive too deep when working with softwoods. You will have to dial it down a bit when working with hardwoods but the nailer easily has the power to pump nail after nail consistently.
I also noted that while the first models felt mechanical and had noticeable recoil, the second gen model also addresses this issue and now feels very similar to a pneumatic nailer. It still has some recoil as most nailers do however it's not as noticeable as before and no longer has that mechanical feel.
Checking the bump fire timeout, I noticed that the new model didn't time out when moving at a normal rate. Now when installing trim, you can fire nails in the bump fire mode in one stud location and then scoot to the next stud location and fire some more and the Gen 2 model will not time out and let you continue working while still holding down the trigger. The new model will eventually time out on you if you wait long enough, however it takes longer to do so.
The gen 2 model can also shoot at a slight angle when tilted forward while the contact tip is still making contact with the surface however if you tilt too far forward, it wont shoot. However, I noticed there's a line mark above the nail hole when the gun is tilted forward. It's not like the doubleshot but more of a slight line mark like a stamp. It's not very deep and could probably be fixed easily with a little bit of sanding. It's very nice to see they addressed all the issues that plagued the first model and revised the fixes in the Gen 2 model.
Milwaukee also claims that the new model has an "unmatched" fire rate. Any time a manufacturer makes claims, I like to test them to see if they are true or not. One of the tests I did was the bump fire test to see how fast it can shoot and the Gen 2 model has a very fast fire rate. It can keep up with everything I threw at it and was incredibly fast. It can go much faster than the speed I work at so it's not something I need but it is nice to see it can go at an insane rate of fire. For those of you that work very fast, this will no doubt appeal to you.
All is not perfect as I did find a rather odd quirk with the new nailer. This nailer has the dry fire lockout which means it will not fire when the magazine is empty. This is completely true and when tested, would not fire if there were no nails left. This is because the nailer locks the contact tip so it can't be pushed in and fired. However when the nailer has very few nails left, about 5, the contact tip slightly locks but a simple push can go past the lock. You'll notice this when the nailer requires a bit more pressure to push the contact tip and you'll hear a click. At this point the nailer can still fire, however when you're down to about 5 nails left, it will only fire blanks. These blanks not only add unneeded extra holes to your work piece, they also are larger than normal with a line going through the hole, like a strikethrough. This is probably the firing pin making contact with the surface. All these extra blank fire holes add extra work to patch up and are adding damaging to your work surface. The only workaround I can think of is to add more nails when the contact pin starts clicking on you.
Many people accustomed to pneumatic nailers will probably notice that this nailer is larger, bulkier and heavier than a pneumatic 18 gauge nailer and while this is true, this is true of all cordless nailers today. This is because a cordless nailer has everything needed to power the nailer on board such as a power source (battery) and motor, all of which adds weight and bulk. However, in my opinion, this is a nice trade off as you no longer need to haul and transport a heavy compressor, deal with hoses and tripping hazards, hunting for power outlets and dealing with extension cords and can work in all locations even if there's no power. You also don't have to worry about adding drops of oil into your nailer as you would with a pneumatic nailer.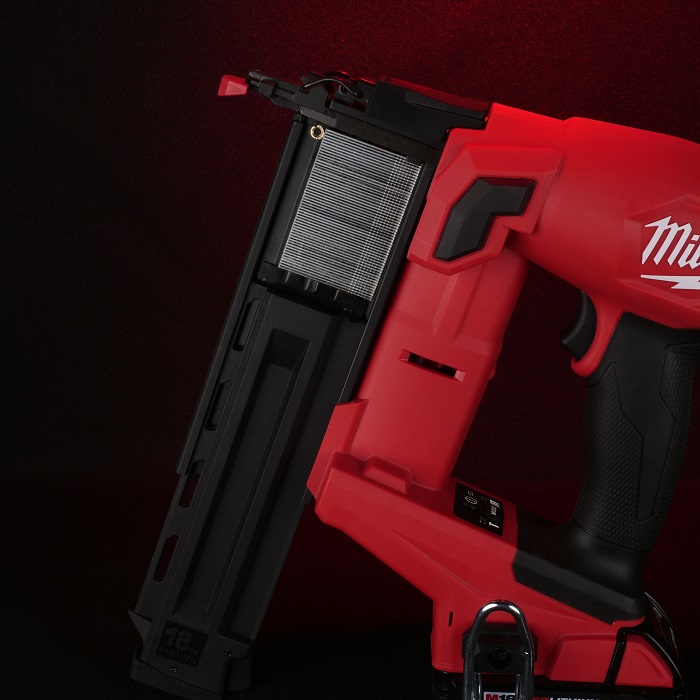 As far as other features and changes are concerned, the new model does go down in weight and is now rated at 5.35 lbs. Milwaukee didn't mention if this was baretool weight or with the battery so I weighed the baretool and came up at 5 lbs and 8 ounces which is 5 and a half pounds which is pretty good and about a pound and a half lighter than the original 18ga model which came in at 7 lbs. Any weight savings is excellent for a portable battery powered tool. I'd like to say that the size went down on the new model however it actually grew a bit in length but only half an inch now at 11.9 inches in length. Usually new tools get stronger, better, lighter and smaller but this newer tool grew a bit. Just like the original, it has an LED light that helps in low light however when the contact tip is on the surface, it blocks the light and casts a shadow where nails will be set.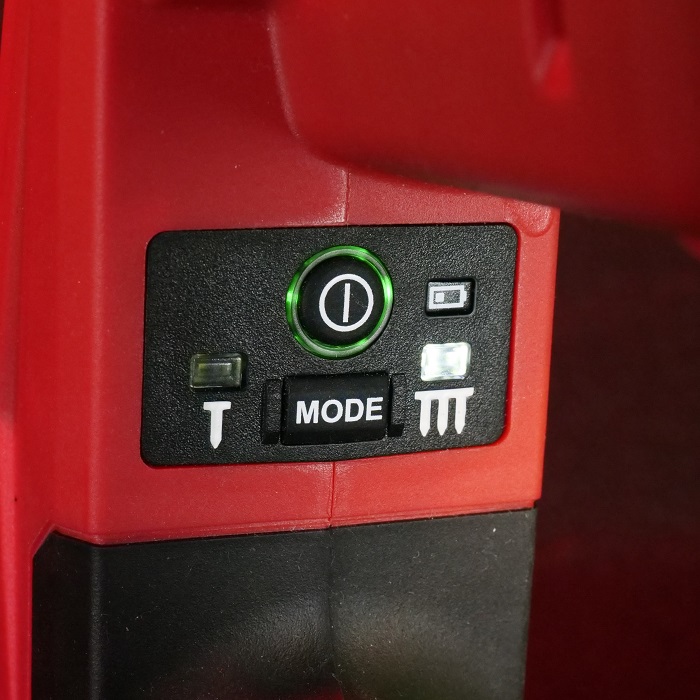 Other changes include moving the control panel from the rear to inside the front of the handle and the addition of a mode button to select between the single fire and bump fire modes. The power button is still there. I'm not a big fan of there being a power button as cordless tools historically don't have power buttons. They are always ready to go as long as you have a fresh battery installed and press the trigger, the tool just works. This was one thing that annoyed me when I reviewed Makita's X2 brushless string trimmer and chainsaw, was that annoying power button that needed to be turned on each time before use. Then to make matters worse, the tool would shut off on you if you left it for a few seconds of inactivity requiring you to turn on the tool again each time. Although I'm not crazy about a power button on a cordless power tool, at least this nailer stays on for a very long length of time. I've set the nailer down for 10 and 15 minutes just to come back and find it still on and ready for work.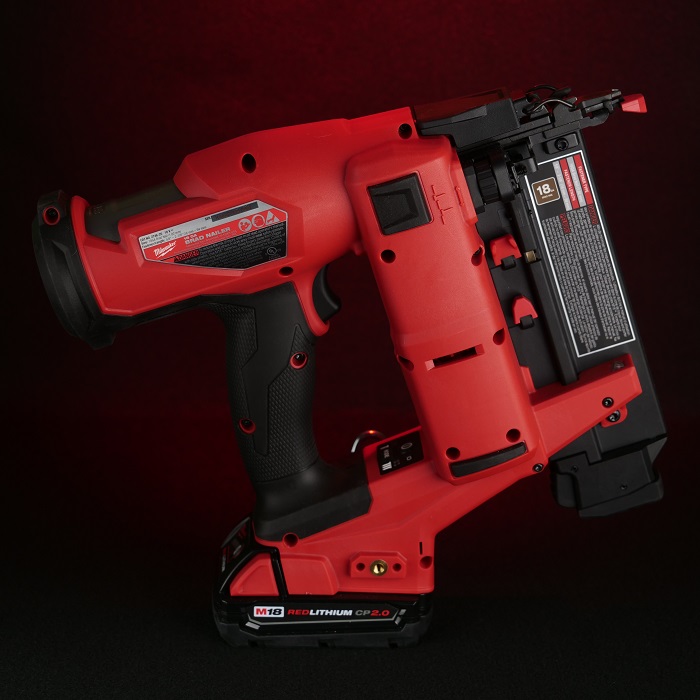 They also changed the depth of drive dial which was on the front of the magazine left side of the tool, now on the right side of the nailer, cleaning things up a bit. It has a same style sliding magazine with nails being side loaded just as before and also has a tool less nail jam removal system that's very easy to use.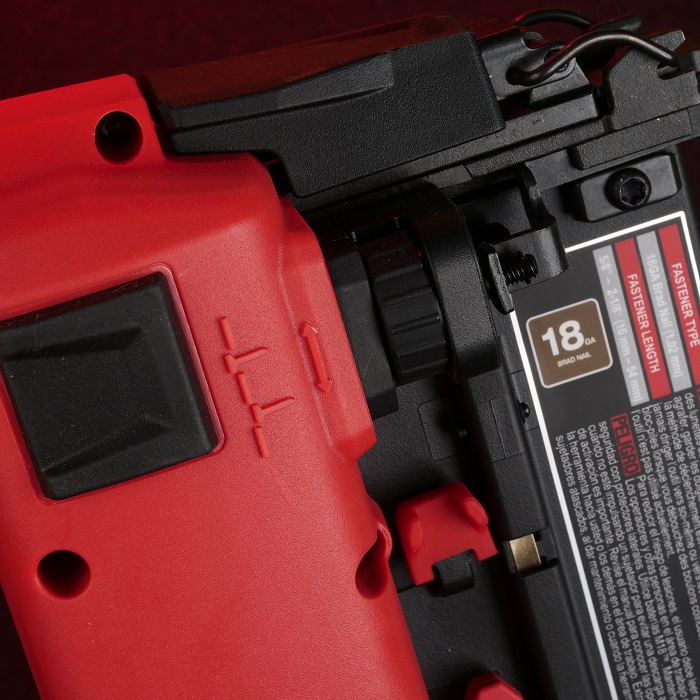 Milwaukee also improved the runtime on the new model and now can shoot up to 1500 nails per charge with a 2.0 ah battery. Whereas the original could do 1200 nails per charge with a 2.0 which makes the new model more efficient.
As far as pricing goes, you can get it as a baretool for $279 and $399 as a kit with a single compact 2.0 ah battery, stock charger (not the fast rapid charger) and a tool bag.
All in all, the new Gen 2 Milwaukee M18 Fuel 18ga nailer delivers what made the original great such as instant nail fires with no ramp up or charge up time and work as fast and feel like a pneumatic nailer. It's also nice to see they fixed the issues that plagued the original such as the pesky double shot as the new model leaves nice clean holes. They also made it faster with an insane fire rate. One thing I would like Milwaukee to work on is by fixing the dry fire lockout so it can't fire blanks when the gun reaches about 5 nails left. I still give the new nailer 2 thumbs up for taking what made the original great and making it even better.
Pros:
Pneumatic "like" performance
instant nail fire without ramp up or charge up delay
minimal recoil
very fast fire rate
lower weight than the original now at a tested 5.5 lbs baretool
clean holes
longer time out delay when in the bump fire mode
up to 1500 nails per charge with 2.0 ah battery
Cons:
dryfire lockout needs improvement as it fires blanks when about 5 nails are left
I still don't like a power button on a cordless tool but at least the tool stays on for a very long time before shutting down
LED light placement could be in a better location
GEN 2 model is longer than the original by a half inch



DISCLOSURE:
Tool Craze does not sell this product or any product on the Tool Craze website. Tool Craze does not handle the sale of any item in any way. If you purchase something through a post on the Tool Craze site, Tool Craze may get a small share of the sale. Please refer to the About section for more info.