Milwaukee announces a new M18 PACKOUT Radio + Charger 2950-20 . This radio is part of the Packout line meaning it can be attached to your Packout modular tool box storage system for easy transport atop your boxes. This radio features bluetooth connectivity for wireless music streaming from your phone and it also has a built in charger to charge M18 batteries. 10 built in speakers means that it will sound great and a compartment holds and protects your phone and a built in USB port charges it as well. It launches November 2019 for $299 as a baretool. Check out the full press release below for all the deets.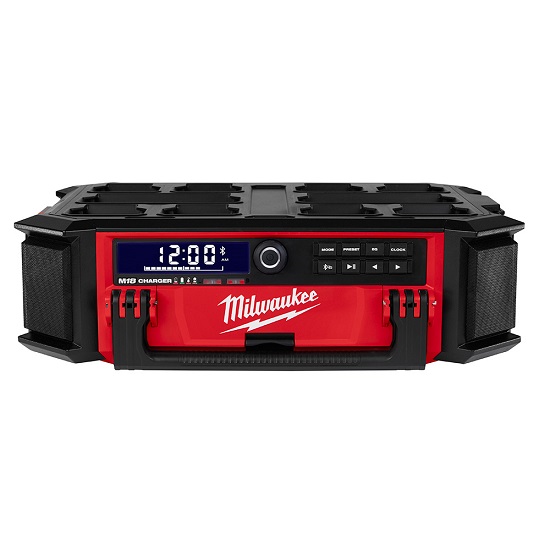 MILWAUKEE, WI—Milwaukee Tool is proud to unveil the most advanced radio built for the jobsite, the M18™ PACKOUT™ Radio + Charger. The M18™ PACKOUT™ Radio + Charger is not only fully compatible with the PACKOUT™ Modular Storage System*, but is also equipped with 10 speakers and full-range connectivity, allowing users to stream rich sound wirelessly from over 100 feet away.
"Milwaukee® continues to raise the bar with best-in-class technology across all product categories," says James Grow, Director of Product Marketing at Milwaukee Tool. "Delivering the industry's ultimate jobsite sound system, this unique radio features not only Bluetooth® 4.2 capability and the ability to charge all M18™ batteries, but it is also fully PACKOUT™ compatible for easy transportation on and off the jobsite."
Complete with a 10-speaker system consisting of four full-range speakers and four tweeters, the radio delivers clear mids and highs. This, when paired with a subwoofer and passive radiator, provides powerful low-end, balanced 360° sound across large indoor and outdoor spaces. With full-range connectivity, Bluetooth® 4.2, AM/FM radio with 18-station presets, and built-in auxiliary, this revolutionary jobsite radio + charger will set the new standard for quality and performance within the audio space. Built for on and off the jobsite, the radio has an onboard, sealed storage compartment equipped with mobile device storage, a built-in M18™ charger, USB 2.1A output for mobile device charging, and an auxiliary input.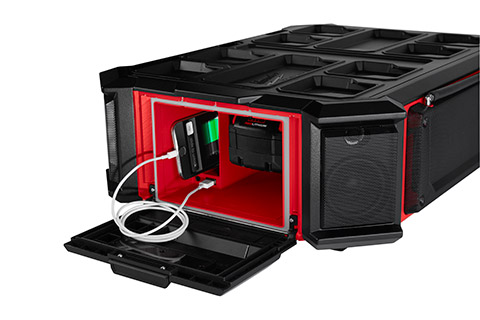 Through an intuitive and quick attachment mechanism, the PACKOUT™ Radio + Charger is designed to be accessed easily when stacked on top of or within an existing PACKOUT™ Modular Storage System. As the newest addition to the PACKOUT™ Modular Storage System, the radio can withstand up to 250lbs stacked on top of it. For ease of use, the battery, cord, bottle opener, and onboard storage is fully accessible when placed within a PACKOUT™ stack.
For increased durability, the PACKOUT™ Radio + Charger is water and debris-resistant, built with exterior protection on every corner.
Milwaukee® is committed to improving productivity by providing performance-driven and trade-focused solutions so users can perform an entire day's work on one battery system. This new tool is part of the M18™ System, now offering more than 200 power tool solutions.
*The PACKOUT™ Modular Storage System is the most versatile and durable modular storage system in the industry. An intuitive and quick attachment mechanism gives users the freedom to stack and lock PACKOUT™ tool boxes, organizers, totes, and bags of different sizes in numerous configurations that best suit their needs. For more information visit https://www.milwaukeetool.com/Products/Storage-Solutions/PACKOUT.
Specifications:
M18™ PACKOUT™ Radio + Charger (2950-20)
Bluetooth® Compatible: Yes
No-Interference Battery Charger: Yes
Radio Pre-Set: 18
Phone Storage Space: 6" x 1.5" x 3.8"
AC Cable Length: 6'
USB Charger Output: 2.1A
Size: 22" x 16" x 7"
Weight: 24lbs
Voltage: 18V
Warranty: 1 Year
Includes 2950-20 M18™ PACKOUT™ Radio + Charger*
*Batteries sold separately



DISCLOSURE:
Tool Craze does not sell this product or any product on the Tool Craze website. Tool Craze does not handle the sale of any item in any way. If you purchase something through a post on the Tool Craze site, Tool Craze may get a small share of the sale. Please refer to the About section for more info.