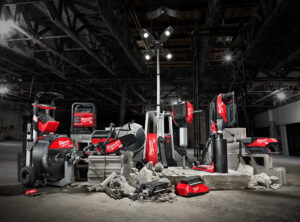 When Milwaukee announced their new MX Fuel cordless line of light equipment, the whole industry was shocked (in a good way)! While most power tool manufacturers disclose their cordless power tool operating voltage, Milwaukee chose not to disclose the voltage of their new MX Fuel system. I knew it was a new high voltage line because these cordless power tools are more powerful than what competing brands have in their high voltage lines and also because the new MX Fuel batteries are massive. There's no way they could be running 18 volts like their M18 system. So I contacted Milwaukee and they confirmed the new MX Fuel system is indeed a high voltage cordless power tool or should I say, equipment line. Milwaukee mentioned their new system is actually 72 volts or otherwise known as 80V Max. Below is what they had to say.
The construction industry has traditionally used voltage and amp-hours to communicate the power and capability of cordless power tool platforms. Technically, MX FUEL™ runs at 72V Nominal (80V Peak), with the CP Pack at 3Ah and the XC pack at 6Ah. However, voltage and amp-hours do not tell the full story.

For example, most would agree that a fork lift has more "power" than a hand-held power tool, but what many people do not realize is that most battery-powered forklifts/lift trucks operate at 48V while there are some handheld power tools at much higher voltages. More importantly, MX FUEL™ was developed from the ground up to withstand the most challenging applications and environments that equipment is subjected to on-site.
It appears they don't want their system labeled as 72V since it doesn't tell the whole story. This is because they bring up a good point as they mention a battery powered forklift runs at 48V and we all know it's much more powerful than any cordless power tool on the market today running at 60V or even at 120V.
I wonder if this hints at a new MX Fuel forklift sometime down the road? Hey, with today's fast advancing tech, anything's possible. What do you guys think, which new cordless equipment would you like to be part of Milwaukee's latest MX Fuel cordless power tool/equipment line?



DISCLOSURE:
Tool Craze does not sell this product or any product on the Tool Craze website. Tool Craze does not handle the sale of any item in any way. If you purchase something through a post on the Tool Craze site, Tool Craze may get a small share of the sale. Please refer to the About section for more info.