After the leaked picture of Harbor Freight's new Hercules Table saw surfaced in the promotional video for their 12" Hercules miter saw, many people were itching to know when it would be coming out. Well the wait is finally over as the new table saw is available on Harbor Freight's website as of now! (March 2019).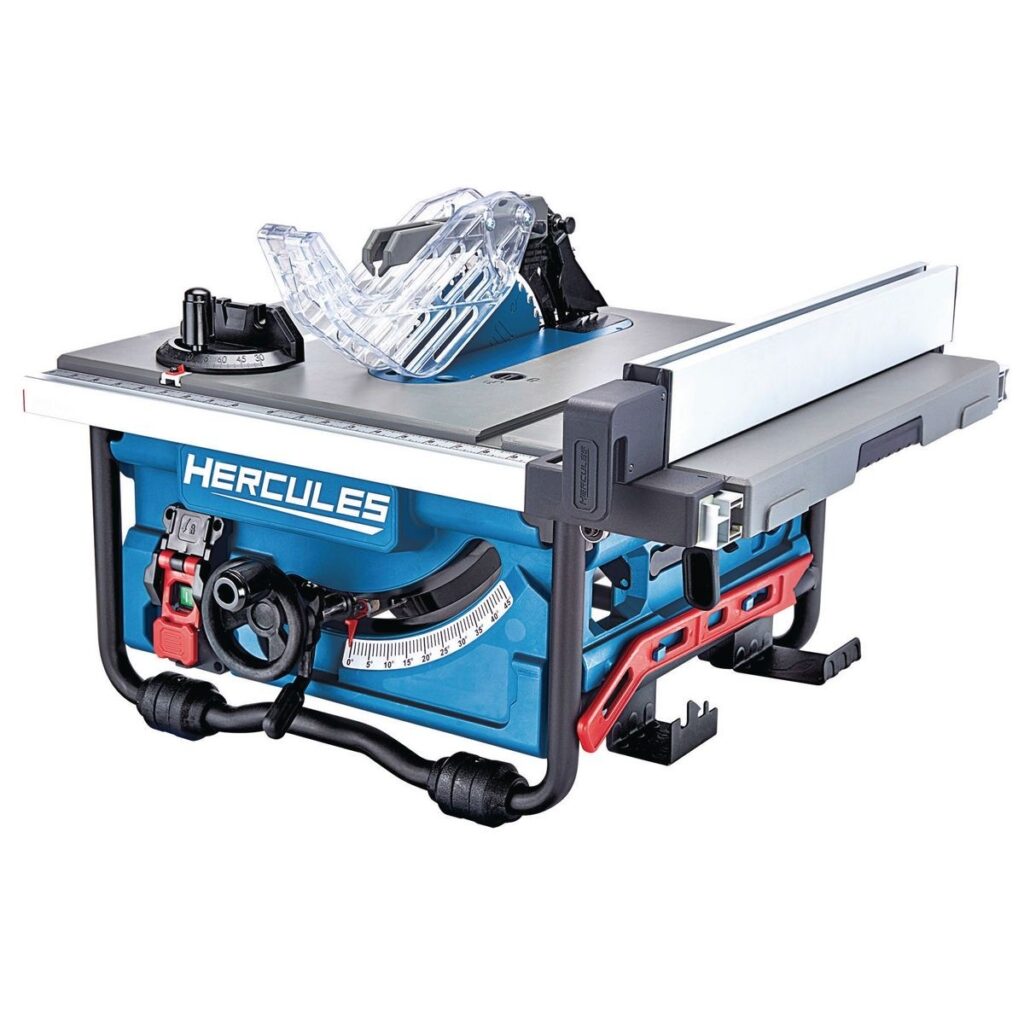 My thoughts: As with pretty much all the other Hercules tools and accessories, it's great to see much better quality and more competitive tools coming from Harbor Freight. While this new Hercules table saw probably won't break any records in innovation, it's got a utilitarian price point at $379.00 (although I've already seen coupons out for this saw bringing it down to $299). EDIT 5/1/19: the price point has since dropped down to $249.99 everyday price. With several features matching those of leading professional table saws, this should be a great competitor for Harbor Freight if the power and durability are good. One major thing that this saw doesn't have, is a rack and pinion style fence, which is featured on the DeWalt DWE7480 that they compare the Hercules saw to. The lack of a rack and pinion style fence isn't a deal breaker, but would have been nice to see since this saw is so closely matched to the DeWalt saw. Features and specs include a full size 10" blade, 4,500 RPM, all metal roll cage, 24" rip capacity, and a 2 ½" dust collection hook-up.
Javier's thoughts Edited 5/1/19:
While I'm all for Harbor Freight bringing in new and better power tools I feel the everyday price launch price for this machine is was too high at $379 however Harbor Freight did lower the everyday price point to a very reasonable $249.99.
Continue reading the original comments that don't reflect the new $249.99 lower price point.
I saw this table saw this weekend in person and it looks like it's quality however it's everyday price of $379 is the same exact price tag of the Dewalt model it's trying to imitate. The thing with Harbor Freight is that we go there to buy tools for considerably lower prices than you would for the better known established brands. While Josh is correct about there being a coupon in circulation that brings this table saw down to $300, I still feel it's too pricey since it's very similar to Bosch's and Skilsaw's own portable table saws that also offer a metal roll cage design.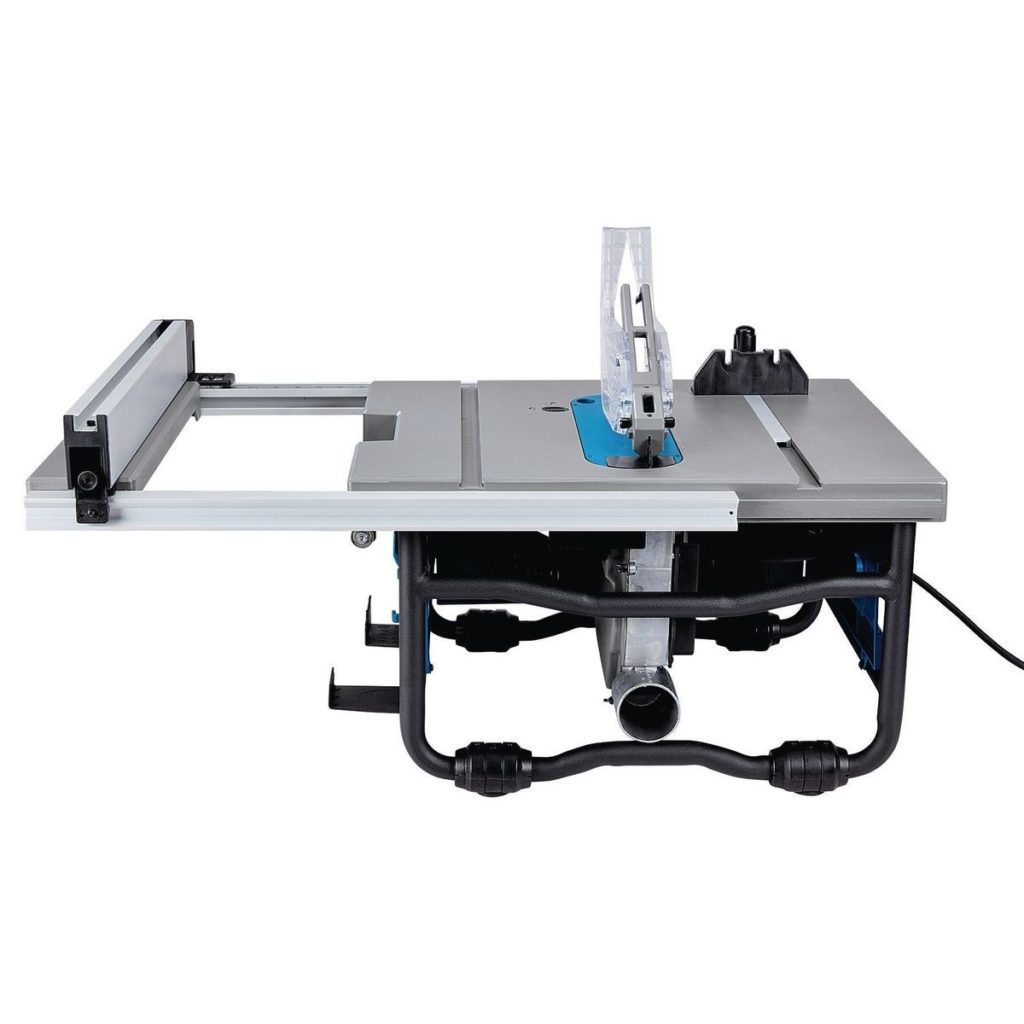 The Hercules brand seems to be Harbor Freights copycat brand that tries to mimmick and imitate Dewalt tools as closely as possible and they do a pretty good job of replicating Dewalt power tool designs with a blue twist however they forgot to copy Dewalt's biggest feature on table saws – the rack and pinion fence system. This makes fence adjustments very easy and precise as they are controlled by a knob however as much as Harbor Freight tried to copy Dewalt's table saw designs, they forgot the most important feature. They seem to have gotten everything else right in terms of design.
That brings me to my point, if someone is looking to buy a table saw with the same kind of features of the Dewalt table saw and for about the same price point, they probably arent going to go for the Hercules as it's missing a vital feature and requires a coupon to bring it down to $300 which is still next to some very fierce competition from Bosch ($350) and Skilsaw ($341) for around the same price point. I believe HF should've priced it around $300 everyday price with coupon price around $200-250 to remain competitive against it's better established competition or keep the same $379 price point but include a rolling stand, this way you'd have something similar to Dewalt's table saw and rolling stand model but for less.
Don't get me wrong, I think it looks like a very good saw and I'm sure it performs great but in my opinion the price needs to go down considerably to be competitive. EDIT 5/1/19: But now that Harbor Freight has dropped the everyday price down to $249.99 I believe they just made this saw even better at a more affordable price point.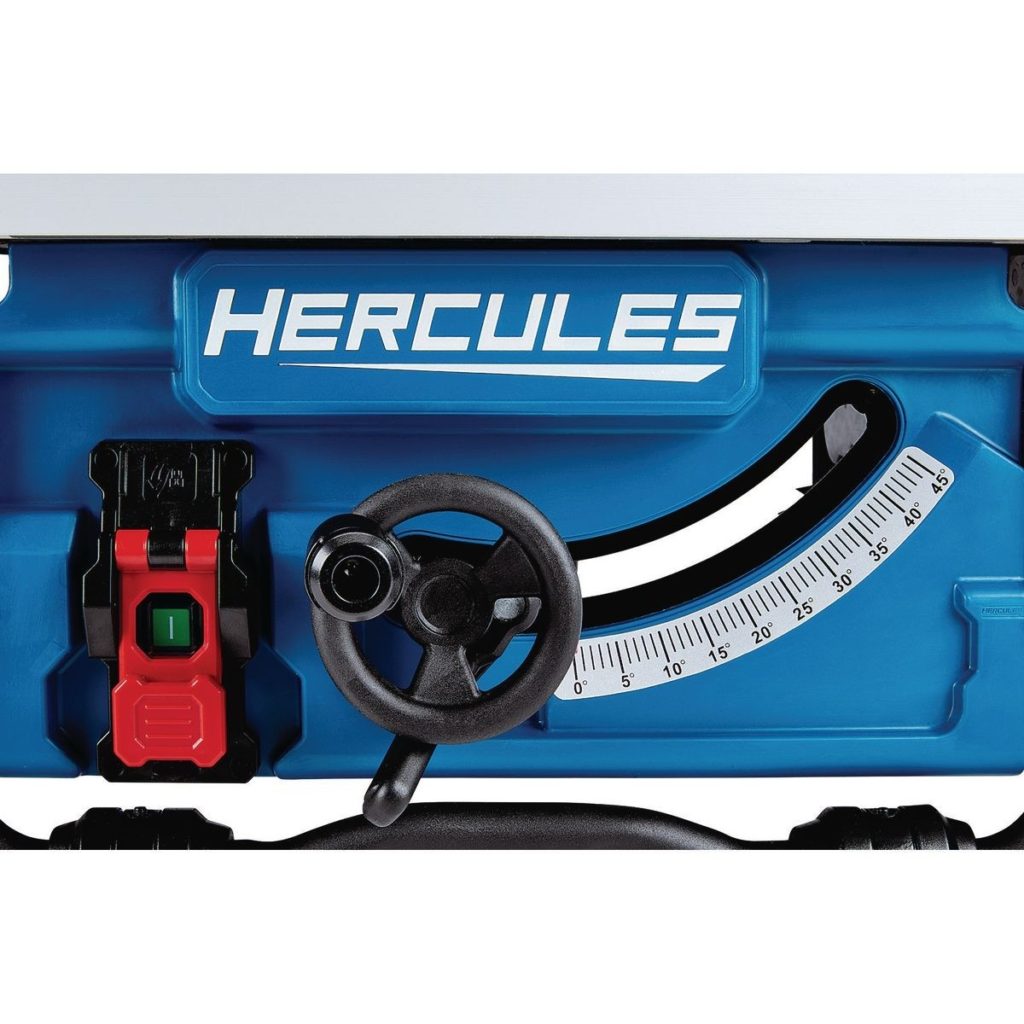 Features and Specifications:
Reinforced transparent blade guard and anti-kickback pawls
Adjustable rip fence with up to 24 in. capacity and inch/metric scale
Built-in storage for miter gauge, push stick and blade wrench
Metal roll cage maximizes durability
Adjustable rear feet to level the saw on uneven surfaces
Dust port allows for 2-1/2 in. vacuum hook up
Blade angle adjustment (0-45°) for bevel applications
Miter gauge adjusts 60° left and right
Extra-wide smooth finish aluminum table for smooth cutting
Voltage: 120v AC
Amperage: 15 amps AC
Bevel angle: 0-45°
Motor horsepower: 1.8
No load speed: 4,500 RPM
Arbor size: ⅝"
Blade size: 10"
Max depth of cut @90°: 3 ⅛"
Max depth of cut @45° 2 ¼"
Height: 18"
Length: 26.5"
Width: 26.75"
Weight: 54 lbs.
Table dimensions: 26" long, 19" wide
Accessories included: 10" professional carbide tipped blade, miter gauge, push stick, blade wrench, and rip fence
Price at the time of writing: $379.00 at Harbor Freight (although I've already seen coupons out for as low as $299.99)
Warranty: 90 days with 1 or 2 years replacement plans available for an extra cost


Free 2 day shipping – Try Amazon Prime 30-Day Free Trial

DISCLOSURE:
Tool Craze does not sell this product or any product on the Tool Craze website. Tool Craze does not handle the sale of any item in any way. If you purchase something through a post on the Tool Craze site, Tool Craze may get a small share of the sale. Please refer to the About section for more info.