While several brands such as Milwaukee, DeWalt, and Makita have had ⅜" drive impact wrenches for quite a while, as well as more recent ⅜" drive models from Ryobi and even Bauer at Harbor Freight, Ridgid is deciding to join the ever more crowded party with a new Octane 18v brushless compact impact wrench sporting a ⅜" drive anvil. This looks to be in the middle of the pack for both size and power achieving 200 ft lbs. of fastening torque, being specd higher than some and lower than others.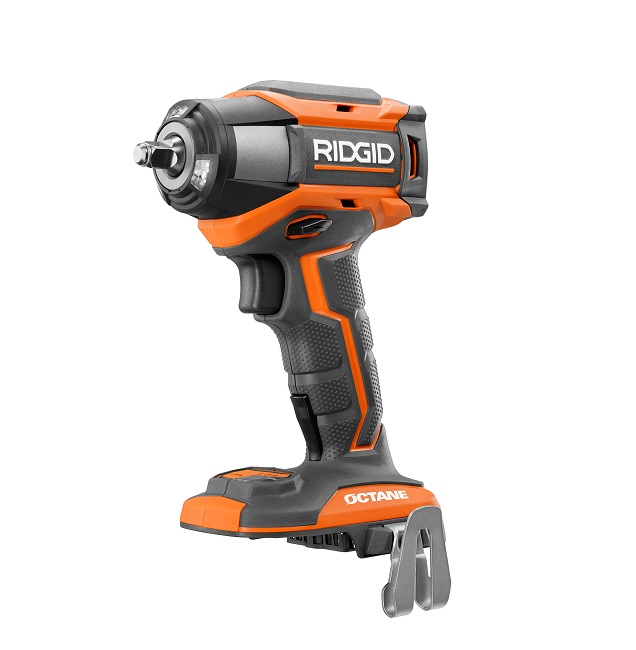 My thoughts: First thing I notice is this new ⅜" drive impact looks nearly identical to the Ridgid R86039 Octane ¼" hex drive impact driver, and even has a very similar looking control panel above the battery. Features include 3 LED lights around the collet, separate grip light trigger, and a 3 speed 3 mode control panel. On the control panel we can see that there's 3 set speeds, and 3 auto modes. In both forward and reverse the 3 speeds range in speed from 1,100 to 3,000 RPM, and in forward the auto modes range for 15 to 100 foot pounds of torque before automatically stopping. In reverse the auto modes start out slow but quickly speed up to remove the fastener. Once the motor senses the fastener is loose, it stops to avoid the nut or bolt flinging out the socket. With the combined 6 modes, this is certainly one of the most feature rich ⅜" drive impact wrenches in its category. Overall this looks like it'll be a great option for driving smaller lag screws and for mechanics running the Ridgid 18v batteries.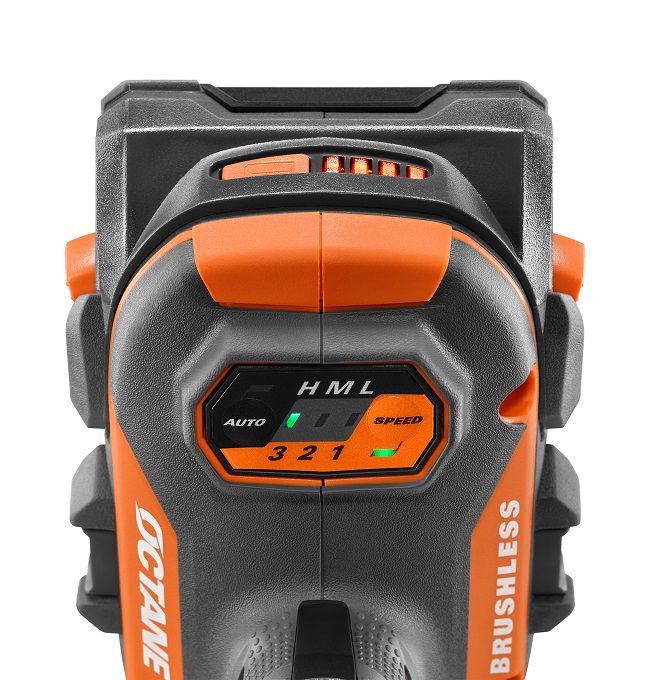 Brushless motor
3 LED lights
Grip light trigger.
Belt hook can be placed on the left or right sides
⅜" drive friction ring anvil
RPM: speed 1: 0-1,100 rpm. Speed 2: 0-2,200 rpm. Speed 3: 0-3,000 rpm.
Auto tight modes: mode 1: 15 ft lbs. Mode 2: 50 ft lbs. Mode 3: 100 ft lbs.
Fastening torque: 200 ft lbs.
IPM (impacts per minute): 3,900 IPM
Hex Grip rubber overmold
Voltage: 18v DC
Length: not yet listed
Width: not yet listed
Height: not yet listed
Weight: not yet listed
Price at the time of writing: not yet listed
Warranty: not yet listed (but presumably 3 years and lifetime service agreement with registration)


Free 2 day shipping – Try Amazon Prime 30-Day Free Trial

DISCLOSURE:
Tool Craze does not sell this product or any product on the Tool Craze website. Tool Craze does not handle the sale of any item in any way. If you purchase something through a post on the Tool Craze site, Tool Craze may get a small share of the sale. Please refer to the About section for more info.