It's been about 2 years since Ridgid added a new attachment head to their Jobmax system. That just changed with the edition of their new R8223411B sheet metal shear head.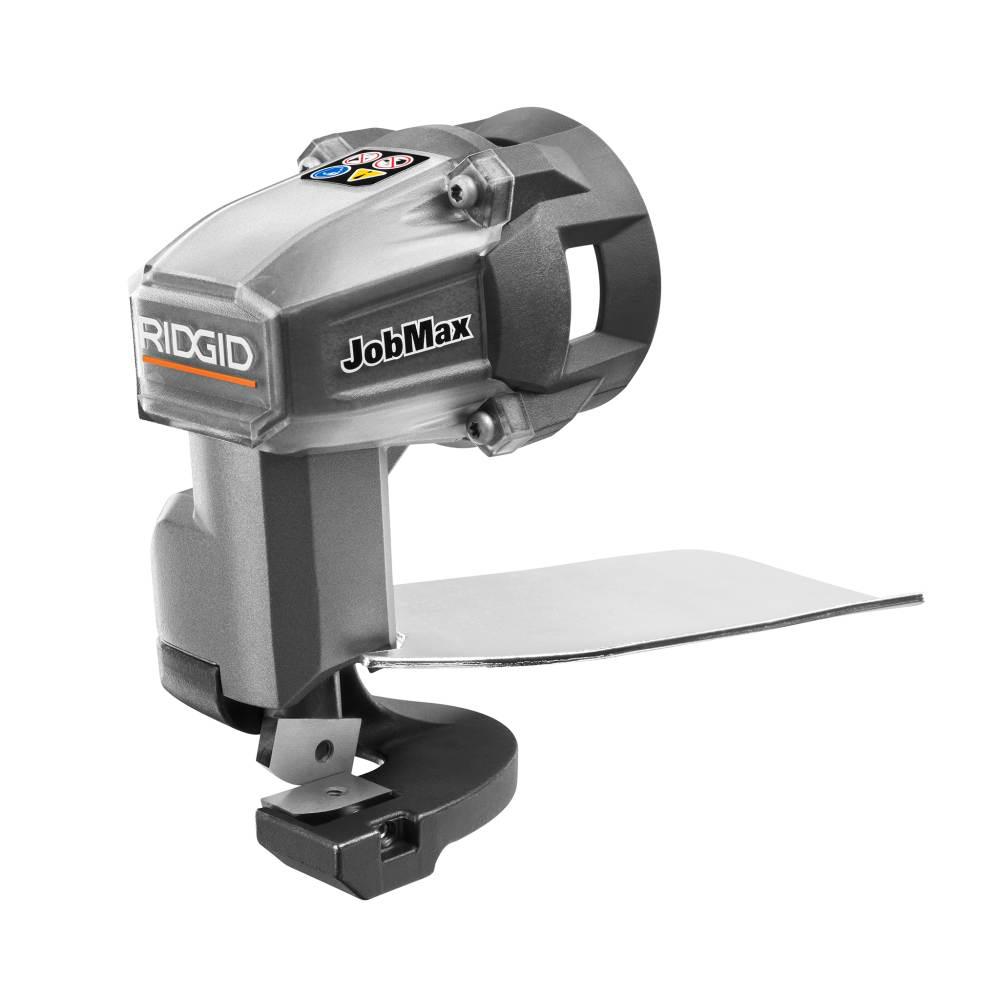 My thoughts: this is looking like it's going to be a great addition to ridgid's already popular Jobmax multi tool system. Being that this head can cut a wide variety of materials it's a good fit for a large range of users. It's also priced very nicely at $49. The price makes it a good option for users already running the Jobmax (or Ryobi Jobplus) that don't want to spend as much for a dedicated tool.
A big thanks to Ariel for sharing this with us!
Description:
RIDGID introduces the JobMax Shear Head. This tool is an additional piece to the JobMax, the most versatile tool system on the market. The Shear Head is tough enough to cut through a wide variety of materials, including 18 GA galvanized steel. This tool is a must have for your JobMax system.
Features:
Adjustable head rotates to 4 different positions for easier access in tight spaces
Cuts 18-Gauge galvanized steel, 20-Gauge stainless steel, corrugated roofing materials, wire fencing, shingles and many others
Large chamfered blades to provide a smoother cut in a wider variety of materials than the standard square blades
Hardened d2 steel blades increase blade life
Die cast housing for durability for tough jobsite conditions
Included hex wrench for fast and easy blade position swap for fresh-cutting edges
Easy attachment and detachment from any JobMax console unit with the tool-free quick connect interface
Backed by RIDGID lifetime service agreement upon registration; free parts, free service, for life
Specifications:
Cutting thickness: up to 18 gauge
Compatibility: all Ridgid Jobmax power heads and Ryobi Jobplus power head
Power types: Pneumatic, corded, cordless (18v), cordless (12v)
Price at the time of writing: $49 at The Home Depot
Warranty: 3 years+Lifetime Service Agreement with registration
DISCLOSURE:
Tool Craze does not sell this product or any product on the Tool Craze website. Tool Craze does not handle the sale of any item in any way. If you purchase something through a post on the Tool Craze site, Tool Craze may get a small share of the sale. Please refer to the About section for more info.