A new brand called Teccpo has appeared here in the USA. Teccpo has been selling tools in South Africa and parts of Europe for a while and they have recently started selling in North America via Amazon.com. In this article, we will review one of Teccpo's new to USA power tools, the Teccpo 20v Max cordless leaf blower.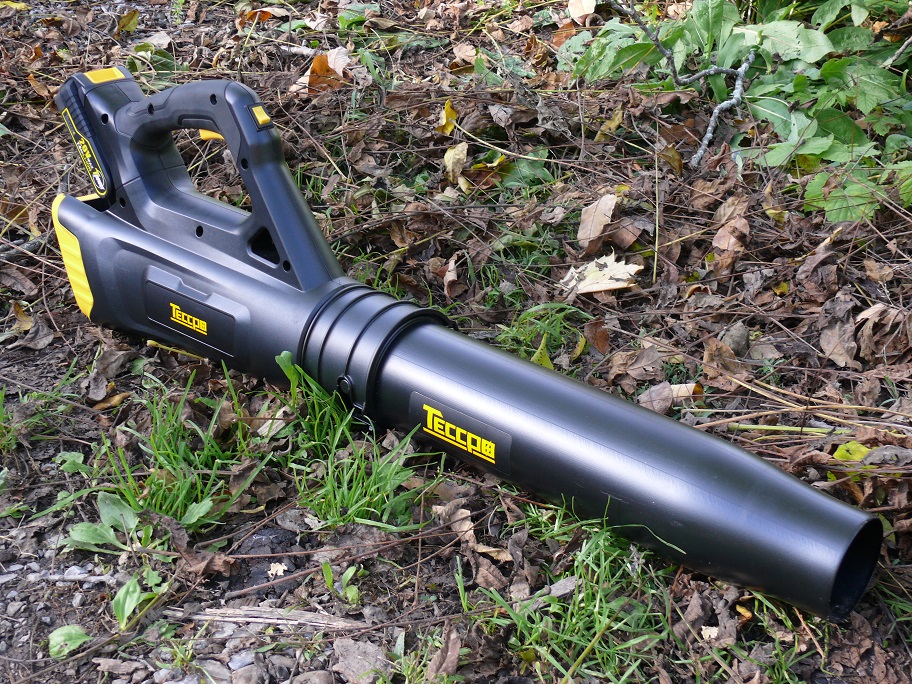 First off I want to disclose that Teccpo was kind enough to send this out free of charge for review, however I am not paid and I am not under any obligation to give a positive review. The opinions expressed in this review are my honest thoughts based on factors such as performance, ergonomics, price, etc.
What you get:
This blower comes in a kit with a 2.0 amp hour compact lithium ion battery, a charger, an extension blower tube, and the owners manual for $98.99 at the time of writing.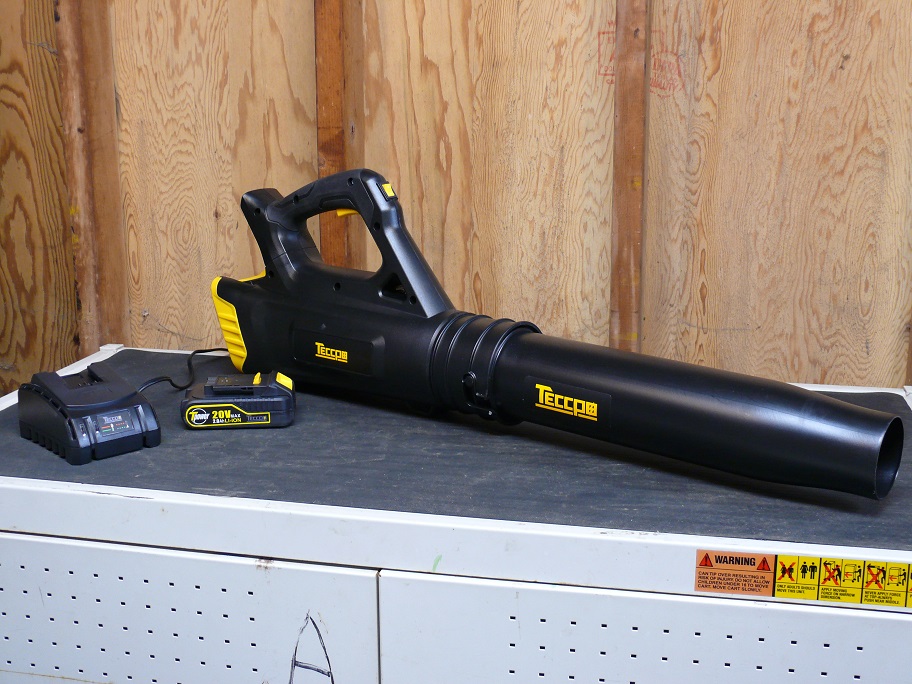 Specifications:
Air volume: 310 cubic feet per minute
Air speed: 85 MPH
Weight: 4lbs 9oz (with battery)
Height: 10 ½"
Width: 5 ½"
Length: 33 ½"
Accessories included: extension tube, 2.0 amp hour battery, charger and owner's manual
Price at the time of writing: $98.99
Warranty: 2 years

First impressions and set up:
Right out of the box this unit is very lightweight and fairly compact. The battery comes about halfway charged (as is typical of most batteries for shipping) and the included extension tube is easily attached by inserting it into the slots on the main blower body and twisting clockwise. After that just charge up the battery and you're ready to go.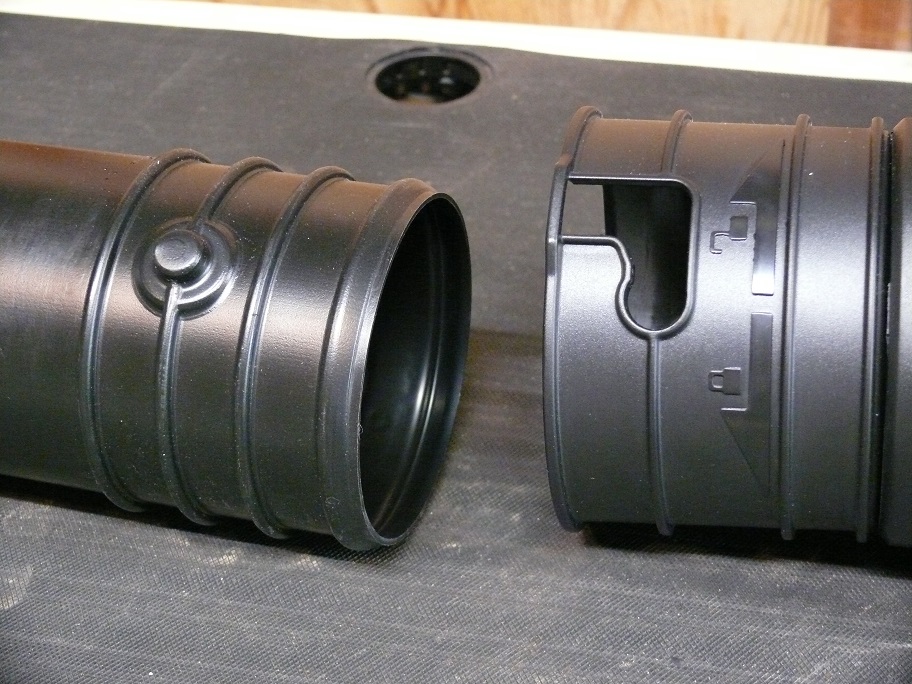 One small issue I had was out of the box a small piece of plastic was broken off where the extension tube connects, but honestly I'm not even sure why they even put extra plastic in that place because it's not a high stress point at all.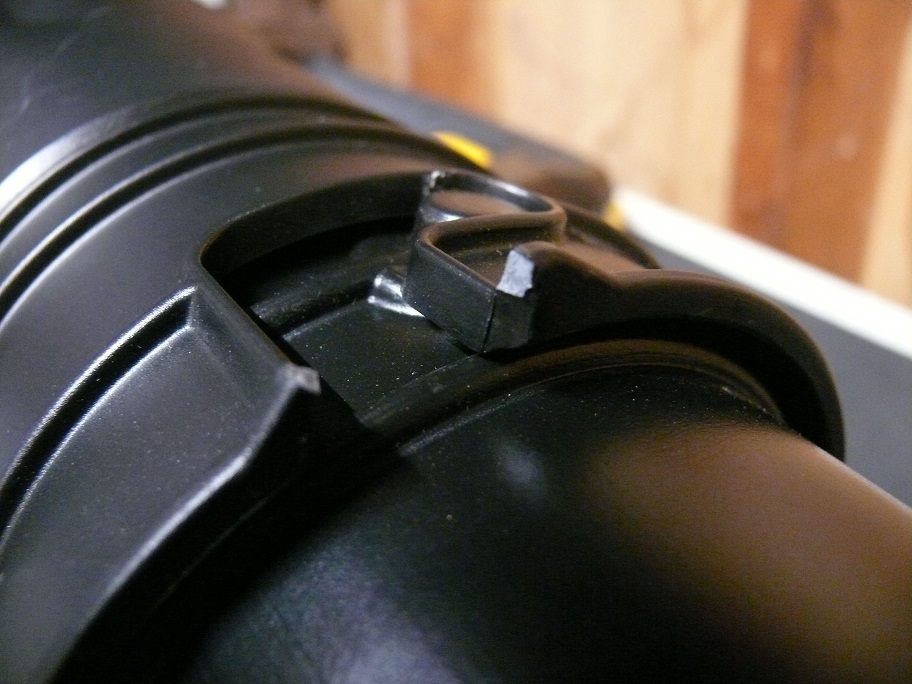 Construction:
Overall the construction of this blower is good. No sloppy finish or rough transitions in the plastics, all the molding fits nicely and the rubber overmolds are very consistent.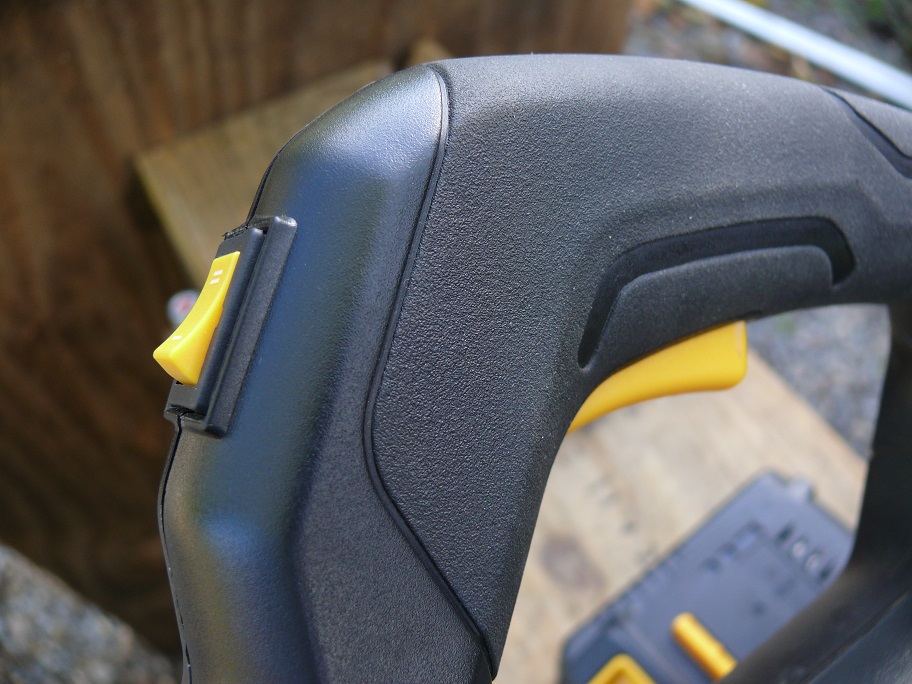 The extension tube is very thin plastic which is both good and bad. It's good because it keeps the weight down but bad because you can't use it to scrape wet leaves or clumps of dirt off of hard surfaces without quickly wearing it out.
Ergonomics:
This blower isn't anything fancy but in my opinion does fairly well overall in ergonomics. Operation is simple with a single speed trigger under the handle and a two speed switch right in front of where your thumb sits when you're using the blower.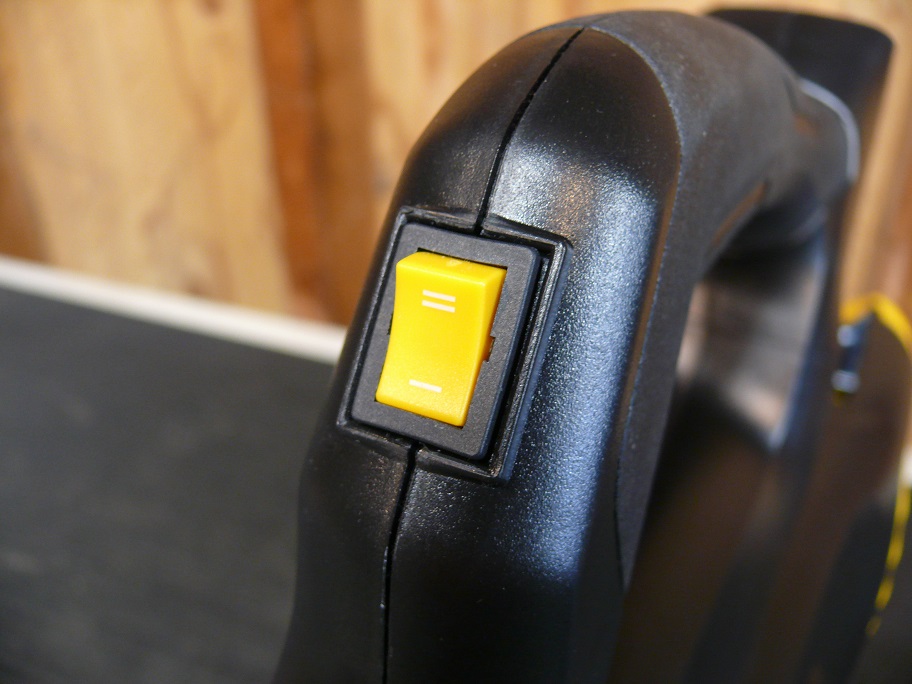 One feature I would like to see is a lock on button or switch to keep the unit on for extended use as my hand actually gets pretty tired when moving the blower back and forth while sweeping leaves or dust and I feel that it's mostly due to the fact that you have to hold down the trigger which doesn't allow you to relax your hand very much otherwise the blower turns off. While it does somewhat tire out my hand, it isn't too bad thanks to a very lightweight construction weighing in at only 4 lbs 9 oz (with battery).
Another thing that I didn't expect to see was the rubber overmolding on the handle, which provides a good gripping surface when using the blower with dusty or wet hands. It doesn't really have a texture but it's nice to see that they put it on there.
The battery: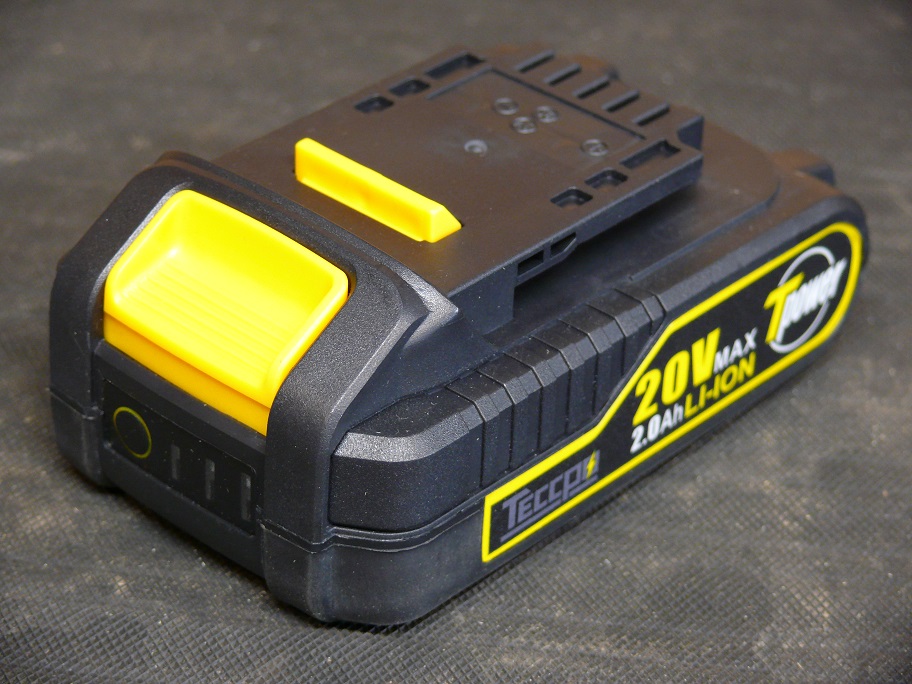 On the battery the fit and finish is still good, just not quite as nice as the blower. It does have some rubber overmolding on the bottom which typically isn't seen on budget batteries, so it's a nice addition. Also unlike many budget batteries it features a fuel gauge to let you know how much juice is left. The fuel gauge consists of three blue LEDs and only lights up when you hold the button.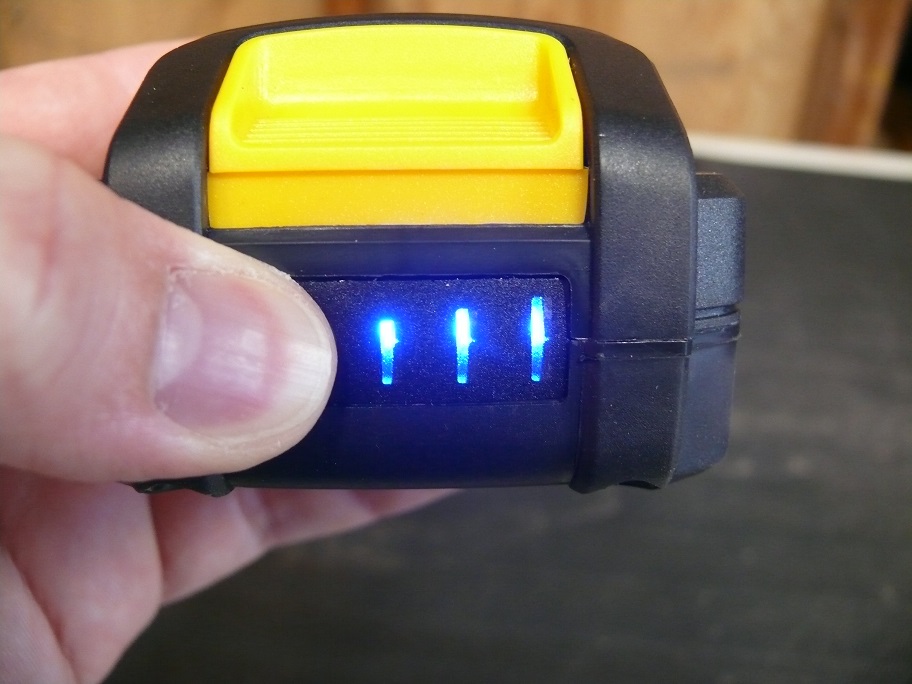 I would like it to stay lit for a couple seconds but at this price point, it's not a big deal.
Currently Teccpo only offers a 2.0 amp hour capacity battery however, they have announced they're bringing 4.0 and 6.0 amp hour batteries to market in 2019.
The charger: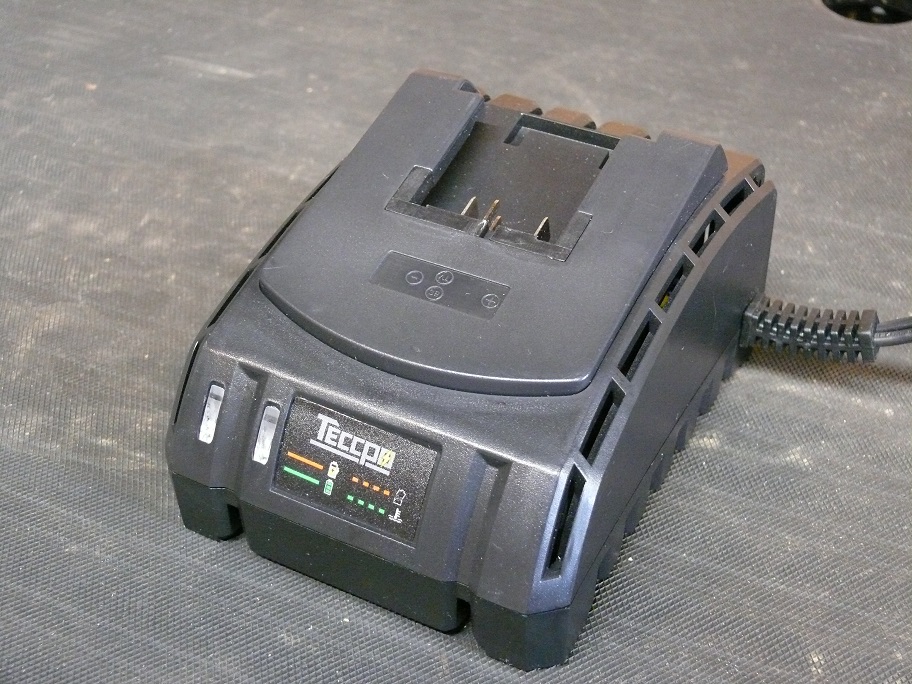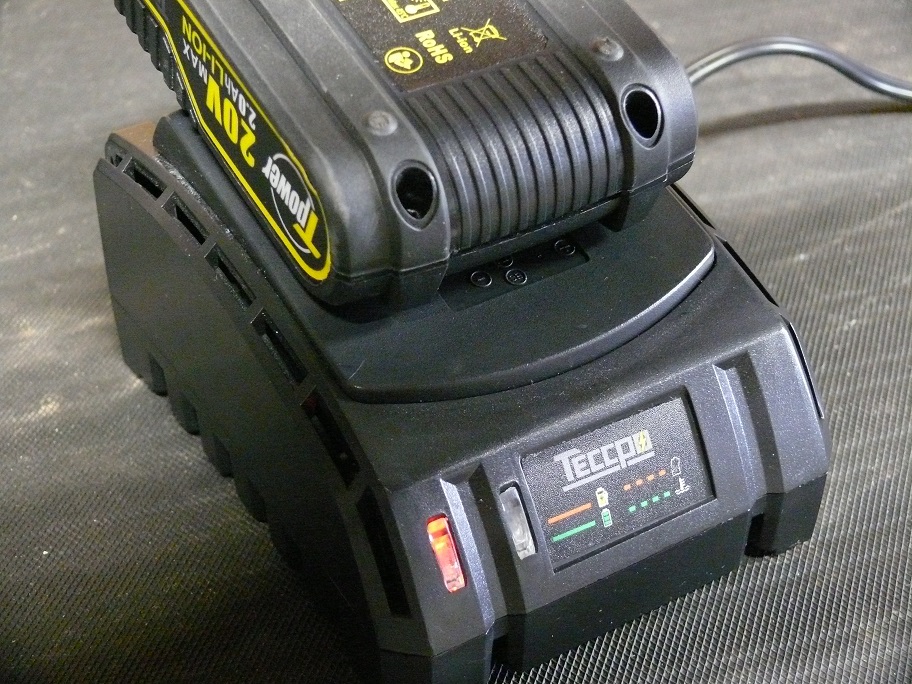 The included charger is nothing crazy. While Teccpo does have a charger that will fully charge a 2.0 amp hour battery in the 30 minutes, the charger included in the blower kit is not as fast and took about 1 hour and 5 minutes to fully charge the included 2.0 amp hour battery. Temperature and battery condition as well as how drained the battery is will slightly affect the charge time, but you can expect around 1 hour to 1 hour and 10 minutes to charge with the included charger. It's certainly not a rapid charger but it does the job and at a decent price point.
Performance: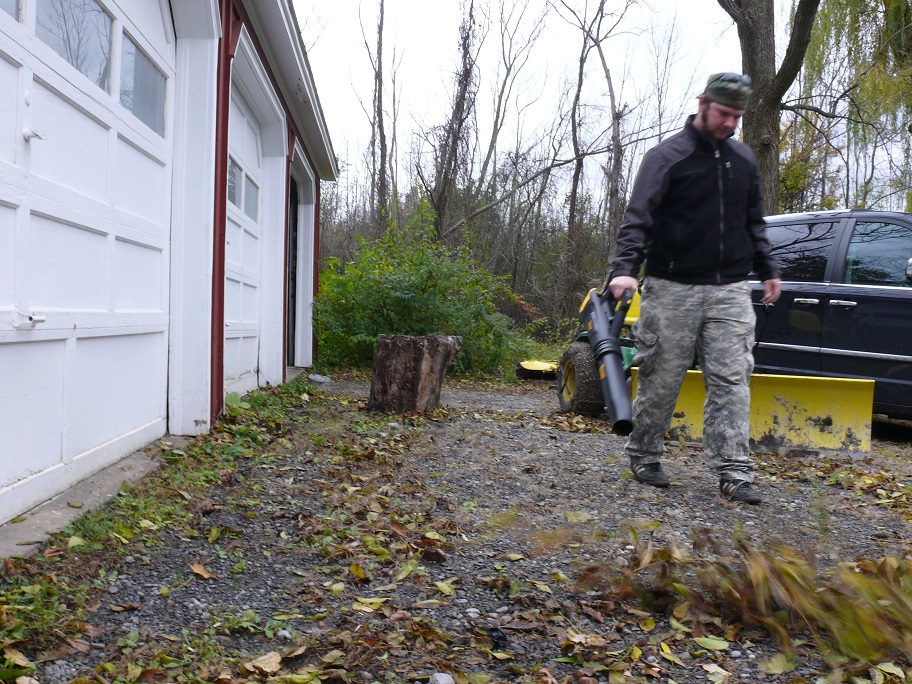 This unit performs well for what it is. Keep in mind this is best suited for clearing leaves in very small yards and clearing leaves and grass clippings on sidewalks and driveways. This unit struggles to get larger leaves out of grass but does a great job clearing anything from small to large leaves from gravel and smoother surfaces.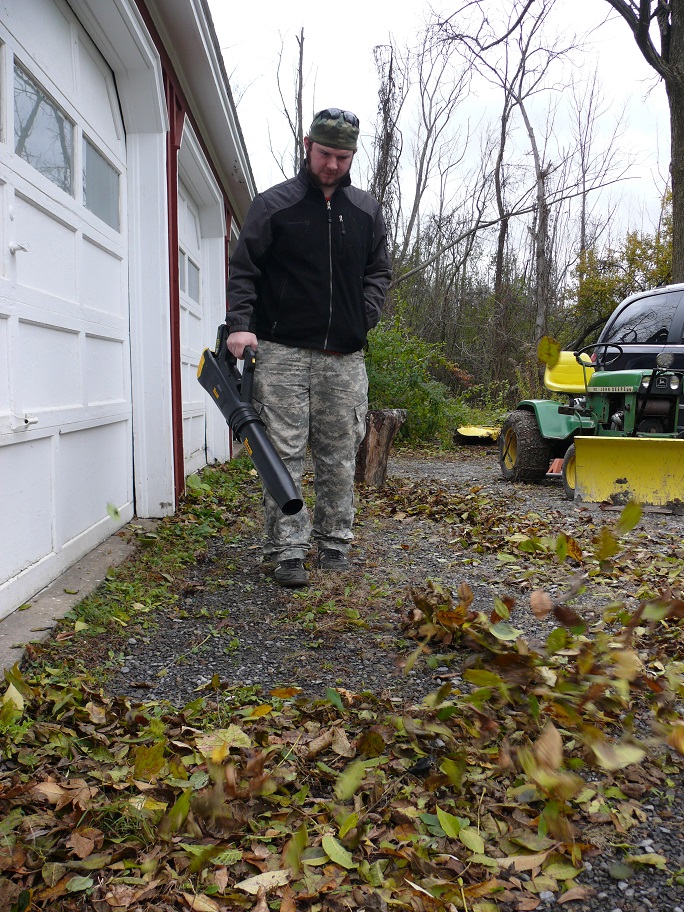 It does fairly well at making small piles of leaves but don't expect to move more than very small piles as it's just not the right tool for that job. I also found that it does a decent job with wet leaves on gravel but not so good on the grass.
It's able to push dry leaves around 8 feet away on gravel which is great for clearing a driveway or sidewalk. One area where this blower did very well is clearing single track trails (wide enough for one person at a time). Since single track is very narrow, the build up of leaves remains minimal and this blower does great for that reason.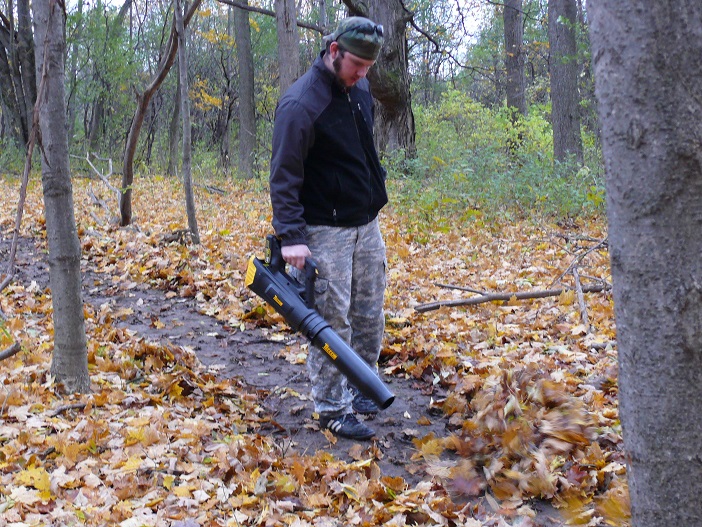 One thing I did notice is I have to reach down further when clearing leaves in grass because the blower tube isn't very long, which makes this unit better for shorter folks. I'm not even that tall at 5' 11" so a longer extension tube would be nice and would help to improve performance in grass.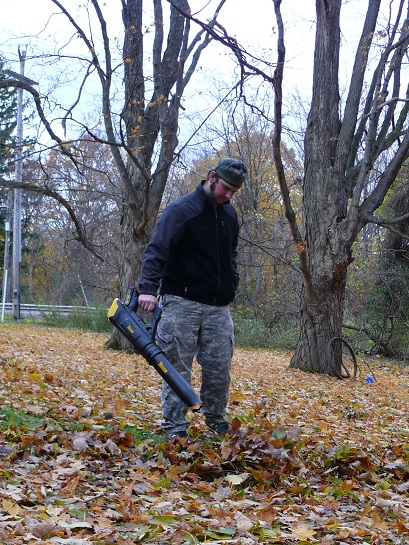 Speed 2 is really where it's at with this blower since it gives the most power. Speed 1 has its place but in my opinion it's really only good for clearing off a porch or deck where you may not want dust and debris going everywhere. Speed 1 is also great for clearing dust and leaves out of my shop since it's got a concrete floor and doesn't take much force to get the leaves and dust out.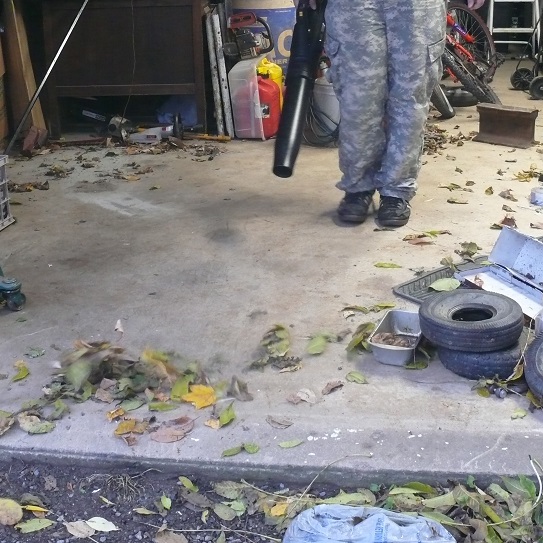 Runtime:
I did 3 Runtime tests on this blower with the included 2.0 amp hour battery and also did the tests at different temperatures to see how the battery was affected by cold weather. The first test I did was at around 60°F and on speed 2 I got right at 10.5 minutes before the battery called it quits. After that test the battery was slightly warm however it was far from hot. The second test on speed 2 was around 40°F and I got about 20 seconds more than the first test. With that I can safely say the temperature has little effect on runtime and you can expect around 10-11 minutes of continuous runtime on speed 2 with the included 2.0 amp hour battery.
Speed 1 has way more runtime coming in at just over 39 minutes at around 60°F. Just keep in mind speed 1 is really only good for sweeping so don't expect to move many leaves with speed 1 as it'll take halfway to forever.
Room for improvement:
Overall, this blower is pretty nice. It's not fancy, but it is fairly well built. But as with most things, there's always room for improvement, and this blower is no different.
First it could use a lock on button or switch so that you can relax your hand during use and also more texture on the rubber overmolding would be great too. A slimmer handle might help a bit as well but mainly it just needs a lock on button.
While the 2 speed switch works well, this blower would greatly benefit from a variable speed dial. What I would suggest is making the extension tube a bit longer, or perhaps making a 2 piece extension tube to fit the needs of short and tall people alike.
Teccpo is also offering a brushless hammer drill and brushless impact driver, so if they could put a brushless motor in this blower it would benefit runtime and potentially give more power. While the lack of these features aren't deal breakers, I feel that this blower would be much better with them.
Final thoughts:
Overall I consider this a decent option for homeowners who have small yards and want to clean up after mowing or trimming.
For what it is the price is on the higher end but one thing to keep in mind is this unit frequently goes on sale so there are better deals than the price at the time of writing. At full price I don't think it's a bad deal but at the same time you can get other units for around the same price, so getting this unit on sale is ideal if you're looking for the best price for this level of performance.
Teccpo is fairly new to North America and unfortunately their line of battery powered tools is still limited, however they have said they plan to bring more tools to market soon. The reason I mentioned that is users can benefit from using one battery for multiple tools, such as a string trimmer or hedge trimmer (Teccpo does offer those tools as well). If Teccpo does expand their line of outdoor tools, this blower will be more appealing to users wanting to run all cordless yard tools. One benefit to this blower is it shares the same battery as the other Teccpo 20v tools, which currently offers a couple drill drivers and impact drivers, as well as the string trimmer and hedge trimmer. Hopefully we will see more tools soon.
This is a good blower for light use. Don't expect to do a yard bigger than ¼ acre or you'll be quite disappointed. It excels as a shop blower and does very well for cleaning porches, decks, sidewalks and driveways, and trails, however it does struggle with leaves in grass.
In my opinion whether you should buy this depends on if you want a wide variety of tools on one battery, or if you just need a couple tools for occasional use. If you're looking for a chainsaw, vacuum, reciprocating saw, or a jigsaw, I would recommend Ryobi. If you just need a couple tools this blower is a good unit to start the battery platform.


Free 2 day shipping – Try Amazon Prime 30-Day Free Trial

DISCLOSURE:
Tool Craze does not sell this product or any product on the Tool Craze website. Tool Craze does not handle the sale of any item in any way. If you purchase something through a post on the Tool Craze site, Tool Craze may get a small share of the sale. Please refer to the About section for more info.