The Harbor Freight Vulcan line of welders have been available for almost 3 years now, but their largest tig welder, the ProTig 200 was mysteriously discontinued around a year ago with no word on if or when it may return or be replaced with a new model. Well I come with good news as they're introducing an updated model, the ProTig 205. This is great news for fans of the Vulcan welder line as it's a more fully featured welder and is able to weld both steel and aluminum.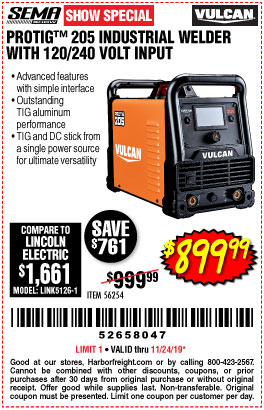 My thoughts: For the most part Harbor Freight's new releases have been getting excellent feedback, so it's odd that the original ProTig 200 was discontinued so soon after it's introduction. While I don't have an answer to that question, I'm glad to see a replacement that has a lot of excellent features and specifications. At $999.99 this isn't what you'd consider a cheap item but it is on the lower pricepoint for more advanced machines capable of handling aluminum and with the features and specifications of this new Vulcan unit. This new ProTig 205 features AC and DC TIG and stick welding for steel and aluminum, as well as stainless and chrome-moly. Other features include the ability to run on 120v or 240v, high frequency arc starting, arc pulse, and a lightweight inverter design weighing only 53 lbs. Overall if the performance is good this should be an excellent welder for users that want lots of features good specs without spending a fortune.
Features and specifications:
AC and DC output
Capable of welding aluminum, steel, stainless steel, and chrome-moly
120v and 240v compatible
High frequency arc starting
Lightweight inverter design
Arc pulse setting for faster travel speeds and less heater distortion
AC and DC GTAW TIG
DC GTAW-P (pulse TIG) and SMAW (stick)
Welding output on 120v: 10-130 amps DC TIG, 10-120 amps AC TIG, 10-80 amps DC stick.
Welding output on 240v: 10-205 amps AC and DC TIG, 10-170 amps DC stick.
120v duty cycle: 25%@130 amps@15.2v input amperage 24.5
240v duty cycle: 25%@200 amps@18v input amperage 21
Open circuit voltage: 13.5v
Ready to weld right out of the box
Weight: 53 lbs
Accessories included: 12 ½' 150 amp TIG torch, gas nozzles (#4, #5, #6), collets and bodies (1/16″, 3/32″, ⅛"), 2% ceriated tungsten (1/16″, 3/32″, ⅛"), 10′ work cable and clamp with DINSE style connector, 205 amp electrode clamp and 10′ cable with DINSE style connector, foot pedal, Ar/Co2 flow gauge regulator and 6′ hose, 10′ 120v AC input cord, 10′ 240v AC input cord.
Price at the time of writing: $999.99 at harbor freight (not yet available) (best coupon is $899.99).
Warranty: 90 days, backed by a 1 year money back guarantee if not satisfied. 1 year replacement plan: $89.99, 2 year replacement plan $119.99


Free 2 day shipping – Try Amazon Prime 30-Day Free Trial

DISCLOSURE:
Tool Craze does not sell this product or any product on the Tool Craze website. Tool Craze does not handle the sale of any item in any way. If you purchase something through a post on the Tool Craze site, Tool Craze may get a small share of the sale. Please refer to the About section for more info.