Following the release of Dewalts latest dual voltage Flexvolt batteries and newly developed 60V and 120V Dewalt Flexvolt power tools are a couple of new Flexvolt tools added to the mix. Dewalt has added a redesigned radio that can charge the new Flexvolt batteries, run on the batteries for a cordless radio experience, and also includes bluetooth wireless capability. I reviewed their previous 20V max radio and it was a great radio because it ran off 12V and 20V batteries and also charged them but I wished it had bluetooth connectivity. This new Flexvolt bluetooth radio / charger DCR025 fixes that. It also offers the same convenience of Dewalt jobsite radios of the past such as the roll cage design which has now been toned down, and built in AC outlets.
Able to be powered by 12 V/ 20 V/ FLEXVOLT DEWALT batteries as well as AC power cord
3 Amp charging of 12 V/ 20 V/ 60 V DEWALT batteries when unit is plugged into AC power
Bluetooth connectivity up to 100 ft
2 Additional AC power outlets
Aux & 2.1 Amp USB charging ports
AVRCP (Audio Video Remote Control Protocol) allows you to control your device from the radio interface
20 W per channel woofers, tweeters, and air ports provide full, rich, and clear sound
available August 2016 $199

DEWALT-DCR025 – $199.00
from: Acme Tools
Next on the list is a new Dewalt 20V Max corded / cordless Bluetooth LED Large Area Light with all sorts of bells and whistles including a super duper 7,000 lumens of brightness, wow that's a lot of lumens! Then it also has bluetooth connectivity, no, not for streaming songs on the light but so you can control the light output directly from your smartphone using the Dewalt app. This light can be operated on Dewalt 20V batteries or Flexvolt batteries for cordless use and can also be plugged into an outlet for unlimited runtime. It also has AC outlets to daisy chain multiple lights or power a corded tool.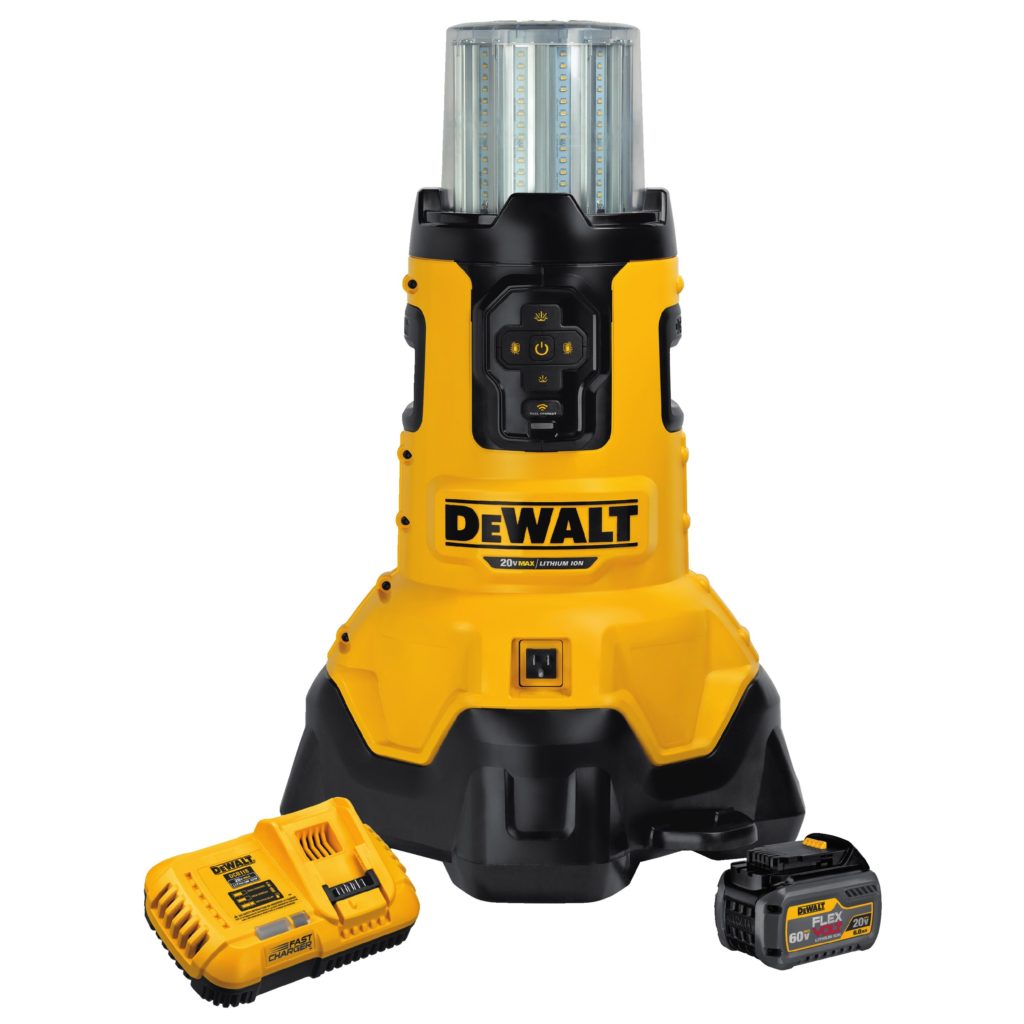 LED max lumens of 7000
Stack ability – stack lights for easy storage and convenience on the job
AC outlets – provides flexibility and convenience to daisy chain lights or power for corded tool
On-board charger with door lock option
Stackable with wheel kit option
DEWALT tool connect ability to control light through your smart phone
AC outlets to daisy chain multiple lights or power a corded tool
Available August 2016 $499 in kit form with Flexvolt battery and charger
I know I told you there were 2 new tools and the 2 above tools are new to the Flexvolt system but I also wanted to mention the Dewalt FLEXVOLT 1800 watt Portable Power Station. This is also a new Flexvolt tool but it was announced with the original New Flexvolt system so it's not new new. The reason I wanted to bring it up is because when I first seen this, I assumed it was a simple 4 bay charger but it's far more than that. Besides the ability to charge 4 Dewalt 20V and Flexvolt batteries, it's also a full fledged power source for use with just about anything corded that draws 120V at up to 15 amps. Think of it like a portable jobsite generator except that instead of running on gasoline, it requires that you plug in 4 Dewalt 20V or Flexvolt batteries so it can be used as a power station. This is perfect for working anywhere where there is no power on site. This power station isn't cheap at $399 and that includes the power station only. You can purchase it as a kit with four batteries for $599.
1800 watt portable power station
4 Port parallel charger
Four 20 V MAX* batteries in, 15 A out
Batteries sold separately
Available August 2016 $399 baretool, $599 4 battery kit