Dewalt has announced two new stud finders, not wall scanners, that do just what their name says, they locate studs. However what's interesting about their new stud finders are that they locate the center of the wall instead just letting you know when you're over the stud.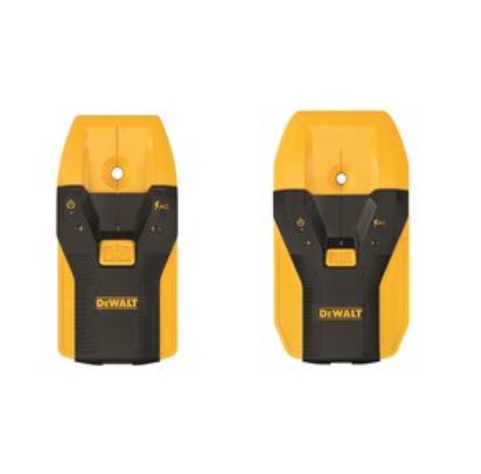 While I find stud finders very useful and even necessary when doing anything to a wall that requires locating a stud, generally I hate using them because they aren't very reliable. Hopefully that's not the case with these new Dewalt stud finders. Basically both models do the same thing while the 3/4″ DW0100 model has a detection depth of 3/4″ and the 1-1/2″ DW0150 has a 1-1/2″ detection depth.
What's neat about the new Dewalt stud finders is that they still do their job even if you are not holding them perfectly upright and according to Dewalt they will still locate studs or the center of studs just fine even if you are holding them at an angle either to the left or to the right. They do this by using a circular shaped sensing plate. I like this feature because when in an awkward position, it's sometimes hard to hold them perfectly upright so hopefully they live up to their claims.
They don't have any fancy displays, just a light and a sound to let you know you hit the center of a stud and an AC light that lets you know if you're near a live electrical wire. There are also directional LED arrows for visual guidance to stud location.
They are priced at $17.99 for the 3/4″ DW0100 model and $19.99 for the 1-1/2″ DW0150 model which makes them affordable.
 Center find technology to easily find the center of the stud, even when held at an angle
 Detection depth of 3/4″ or 1-1/2 in. for wood and metal
 AC and live wire detection for added safety
 Constant auto-calibration to save time during use
 Center marking channel for added convenience
 Slim profile for easy use and storage
 Audible alert for clear notification of stud location
 Directional LED arrows for visual guidance to stud location
 AAA batteries included




Free 2 day shipping – Try Amazon Prime 30-Day Free Trial

DISCLOSURE:
Tool Craze does not sell this product or any product on the Tool Craze website. Tool Craze does not handle the sale of any item in any way. If you purchase something through a post on the Tool Craze site, Tool Craze may get a small share of the sale. Please refer to the About section for more info.