2 New Hitachi 18V Brushless SDS Plus 1″ Rotary Hammers have been spotted on the Hitach Koki official website models DH18DBL / DH18DBQL. This is interesting because these appear to be their first hammer drills pushing beyond 5/8″ drilling capacity into concrete with a solid 1″ drilling capacity in concrete and are also brushless 18V cordless rotary hammers.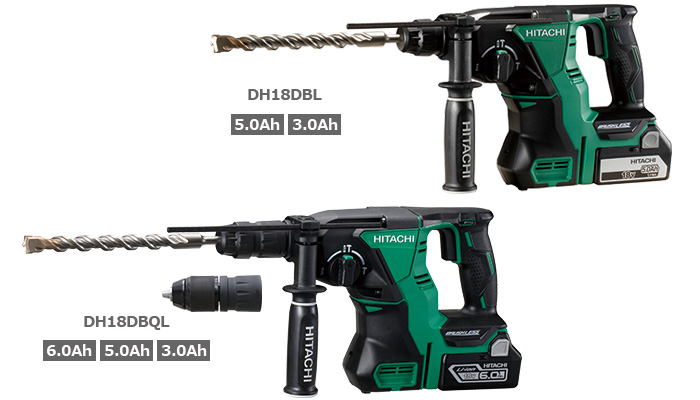 Specifications
Model
DH18DBL
DH18DBQL
Capacity
Concrete
26mm (1″)
Steel
13mm (1/2″)
Wood
27mm (1-1/16″)
Bit Shank
SDS-plus
Battery
Voltage
18V
Power Output
90Wh for BSL1850
54Wh for BSL1830
108Wh for BSL1860
90Wh for BSL1850
54Wh for BSL1830
No Load Speed
0 – 1,050/min
Full Load Impact Rate
0 – 3,950/min
Overall Length
351mm (13-13/16″)
384mm (15-1/8″)
Weight *1
3.7kg (8.2lbs.)
4.0kg (8.8lbs.)
Both models are 3 mode rotary hammer as they have a drill only mode, a hammer and drilling mode, and a hammer only mode (chipping). It also has the ability to rotate the chuck to better position it when using chisels in the chipping mode.
Both models appear to be nearly identical with the same form factor and stats although the DH18DBQL model has removable chucks and comes with two chucks included, a traditional SDS Plus chuck and a Keyless chuck for use with regular drill bits and screwdriver bits.

Hitachi includes runtime stats and claim these will be able to get up to 170 holes drilled per charged 8.5mm x 40mm deep which is 0.33 inch by 1.57 inch deep into concrete. They don't mention which battery gets you this runtime but I would assume it's with their largest battery the 18V 6.0ah battery.
These new rotary hammers also include RFC which stands for Reactive Force Control which is what they call their electronic clutch system that kills power to the motor when the bit binds to protect the user from twisting their arms or wrists.
Depending on the kit purchased, these 2 new Hitachi 18V Brushless SDS Plus 1″ Rotary Hammers DH18DBL / DH18DBQL may come bundled with 3.0, 5.0, or 6.0 ah batteries. They also come with the UC18YSL3 fast charger that can charge the 5.0 battery in 32 minutes and the 6.0 in 38 minutes. Take that Makita!
They also have their own body specific Dust Extractor system, one for each model.
At the time of writing I couldn't find any USA retailers selling these but I would expect them to retail soon.