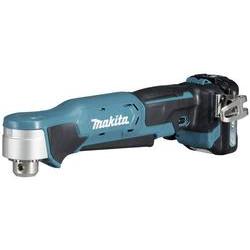 2 New Makita 12V CXT Right Angle Drills were spotted over on the Makita of Australia website. These two models are basically the same unit but in two flavors, one has a typical keyless chuck ( DA332DZ model ) while the other has a keyed chuck ( DA333DZ model ) reminiscent of yesteryear drills. Keyed chucks are known to bite down harder and not let go and Makita describes their keyed chuck as having industrial durability.
1.5-10mm Keyed chuck for industrial durability on DA332DZ model
Keyless chuck for quick bit change on DA333DZ model
Compact 63mm head allows access to tight spaces on DA332DZ model
Compact 82mm head allows access to tight spaces on DA333DZ model
High performance 1,100rpm no load speed
Ergonomically designed for tight spaces with large paddle switch
LED joblight with pre-glow and after-glow function
max capacity in steel: 10mm
max capacity in wood: 12mm
A good right angle drill is always good to have as they offer a short head that can fit into much tighter spots than a regular drill can, even smaller than impacts too. Makita's Australian website doesn't give out any torque numbers but I wouldn't expect much torque, maybe a bit over 100 in-lbs. Yes it's less than what even normal 12V drills offer but torque is sacrificed for the ability to fit into tight spots where other drills can't. However they do say that both models can drill up to 10mm in steel which is about 0.39″ and can drill up to 12mm in wood which is about 0.47″.
I still admit I was and still am a bit annoyed Makita made a new generation 12V platform which they call CXT by basically abandoning their previous pod style lithium 12V series. However I'll also admit I am impressed with Makita's commitment and growth of the new CXT line. I can easily say it's the fastest growing 12V line at the moment. It still has a while to catch up to Milwaukee and Bosch's 12V lines which have been around for far longer but we've seen some serious progress from Makita's CXT line. Keep up the good work Makita!
Big thanks to Glenn who spotted these two new Makita 12V CXT right angle drills!
No word on when or if we will get these two new Makita 12V right angle drills here in the USA but they do offer a similar right angle 12V drill in their previous lithium ion pod style lineup, click here to check it out.


Free 2 day shipping – Try Amazon Prime 30-Day Free Trial

DISCLOSURE:
Tool Craze does not sell this product or any product on the Tool Craze website. Tool Craze does not handle the sale of any item in any way. If you purchase something through a post on the Tool Craze site, Tool Craze may get a small share of the sale. Please refer to the About section for more info.