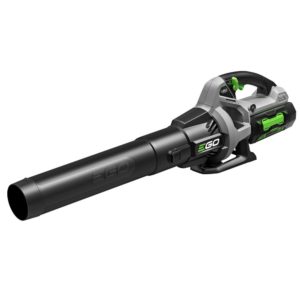 This year Ego is coming out with a updated battery powered blower part of their 56V outdoor power tool line. Last years 2016 model was impressive at the time with it's 530 CFM's at 11o MPH but with increasing competition Ego needed to do something to stay ahead of the game with the new model. The new model boasts some serious specs besting last years model with 575 CFM @ 142 MPH!
I reviewed last years model and for the most part, I had a very positive experience with it during testing. A few things I criticized such as runtime (at full blast), and their unintuitive on/off trigger and separate variable speed lever which was too far from reach for the hand holding the blower, have been addressed with this years model.
For example, to combat low runtimes on full blast they now include a 5.0 ah battery if you purchase the new blower as a kit. This will essentially double whatever runtime you can potentially get on full blast or any speed setting you'd get from the 2.5ah battery. I remember I suggested using larger batteries on the blower for better runtime so it's good to see they listened here. I've used the previous blower with a larger 7.5ah battery (5.0ah and 7.5ah battery are roughly the same size and weight) that came with the self propelled mower and the larger battery does make the blower much heavier. I like how Ego provides a shoulder strap on this years model to alleviate the added weight from a larger battery. Last years model had strap mounts on the unit but didn't provide a shoulder strap.
They fixed the variable speed lever and put it within fingers reach near the main handle and trigger and is a set up I like better since I don't need to reach with my other hand to operate the lever, as it's all within reach with the main hand. Although it's hard to tell if the trigger itself is variable speed or if it's just an on/off trigger like the previous model.
They also removed the turbo button that was present on the 2016 model, so now you have direct access to it's full potential through it's variable speed settings.
Cosmetically the 2017 model looks pretty much like last years model except for more power, removed turbo button, moved the variable speed lever within fingers reach, included a strap, and also includes a spread nozzle attachment that goes over the tube.
The new Ego 56V blower is out now at the Home Depot and sells for $349 in a kit with 5.0ah battery and standard charger, and you can also purchase it as a baretool for $149.

The EGO Power+ 575 CFM Blower is the most powerful cordless blower in the industry. Turbine fan engineering, inspired by advanced aeronautics technology, performs better than many premium gas-powered models. The high-efficiency brushless motor delivers longer run time, low vibrations and an extended motor life. The included spread nozzle attachment and shoulder strap make clearing debris even easier. This quiet, light-weight and compact blower gets the job done without the noise, fuss and fumes of gas. Compatible with all EGO Power+ Arc Lithium batteries (available separately) to deliver Power Beyond Belief.
5.0 Ah 56-Volt arc lithium battery can power all EGO products
High efficiency brushless motor
Variable-speed control delivers 260-575 CFM
142 MPH
4 times quieter that gas blowers
Weather-resistant construction
Spread nozzle attachment and shoulder strap included
Ergonomic design for superb balance and user comfort
5-year limited warranty