Channellock just released a new set of 5 mini pliers named "Little Champ" precision pliers. These new made in the USA pliers are tiny in the realm of 4-6 inches in total length and are geared toward precision work.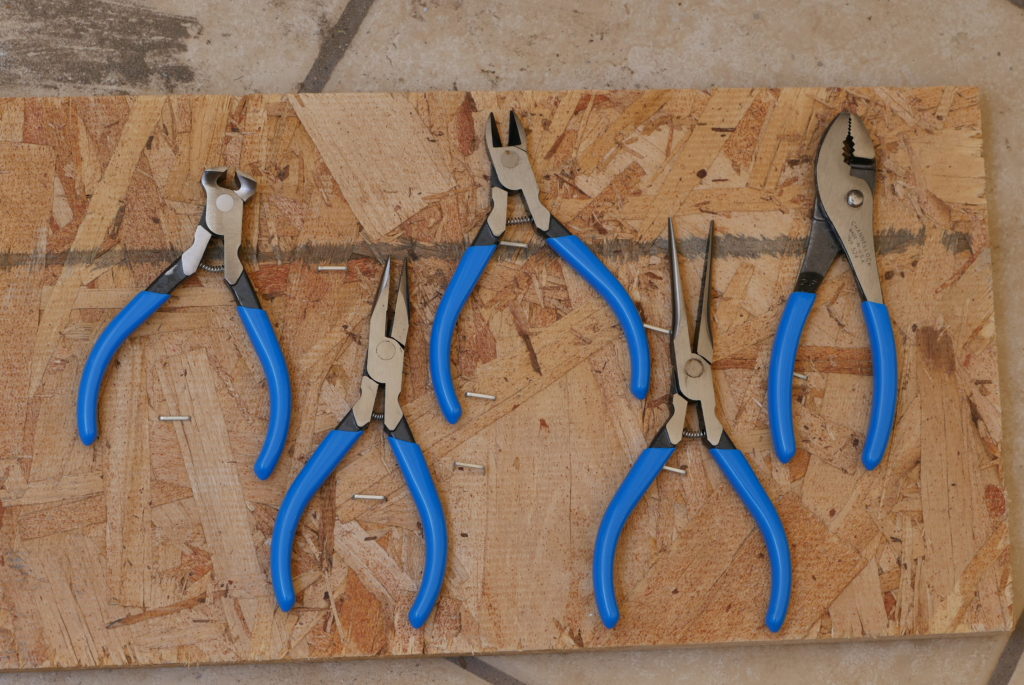 Part of the Little Champ precision pliers are:
4″ Side Cutting Plier
4″ End Cutting Plier
6″ Snipe Nose Plier
5″ Long Nose Plier with side cutter
4.5″ Straight Slip Joint Plier with shear
According to Channellock these are:
Fiercely Made in Meadville, PA, these tools are slimmer, lighter and have a better balanced design.
Each tool is designed for precision work and is manufactured with the quality and strength that professionals and serious DIYers expect from CHANNELLOCK®.

Every tool is made from high carbon steel, which provides superior performance on the job, and is specifically coated for ultimate rust protection.

Every tool has CHANNELLOCK BLUE® comfort grips and spring technology for easy one hand operation.
With the exception of the Slip Joint Pliers, they all feature XLT which stands for "Extreme Leverage Technology". In plain english, the added leverage comes from placing the rivet joint as close as possible to the opening of the jaws. All the cutting pliers feature knife and anvil style cutting edges to ensure perfect mating and superior cutting edge life.
As you guys may have already figured out, I'm into technology and love power tools. Usually I'll go out of my way and empty my wallet for the latest tech but I'm the exact opposite when it comes to hand tools. I usually get myself inexpensive hand tools that can get the job done and I'm happy that I saved a bit of cash although I do get what I pay for. I have lots and lots of budget hand tools and while they all get the job done I do complain about many of them when it comes to their quality, durability, overall fit and finish, and lack of features.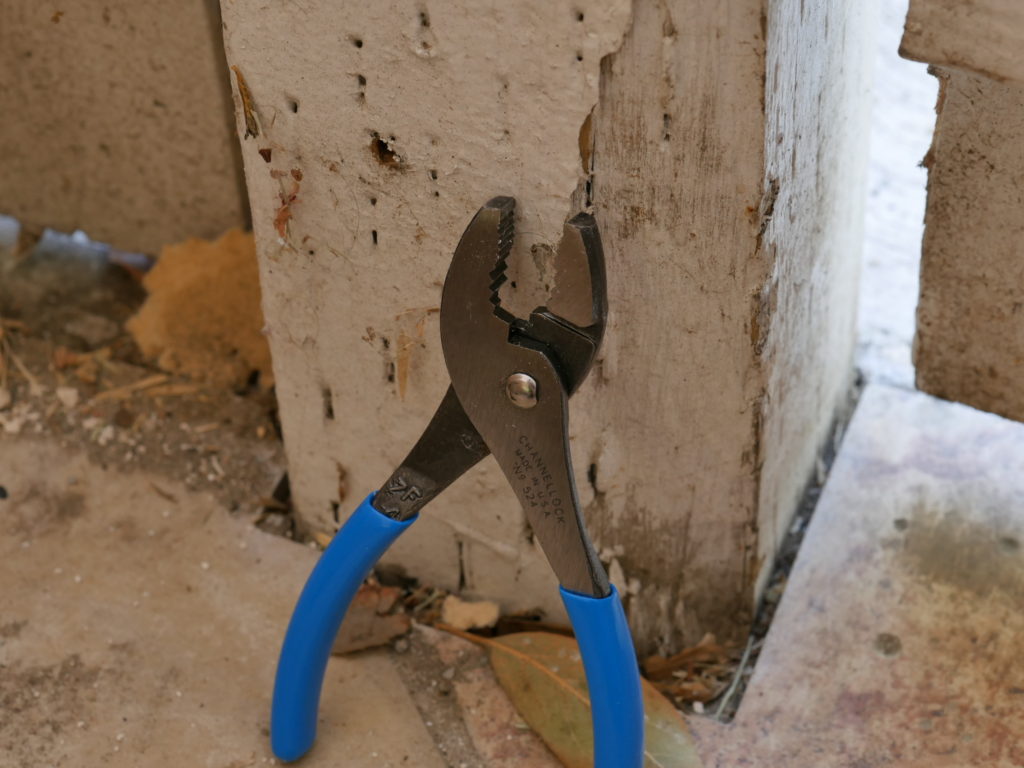 Let me start off this review by saying that these Little Champ mini pliers are not the typical cheap set of hand tools I have wasted my money collecting over the past few years. This may not be any news to you guys that these are well machined, the jaws line up (which I can't say the same thing about my dollar store brand pliers), they have comfortable grips, and the handles are strong enough to withstand moderate pressure without flexing. All are nicely machined and with the exception of the Slip Joint Pliers, have nice rivet joints that are machined flush with the head of each plier. Not that it makes them perform any better, but they look better than rivets that stick out. I also appreciate that they all (with exception of the the slip joint pliers) have springs that make it easy for one handed operation. I think by now, I've somewhat perfected the one handed operation with pliers that don't have springs but it's still awkward to one handed open the jaws after they've been shut.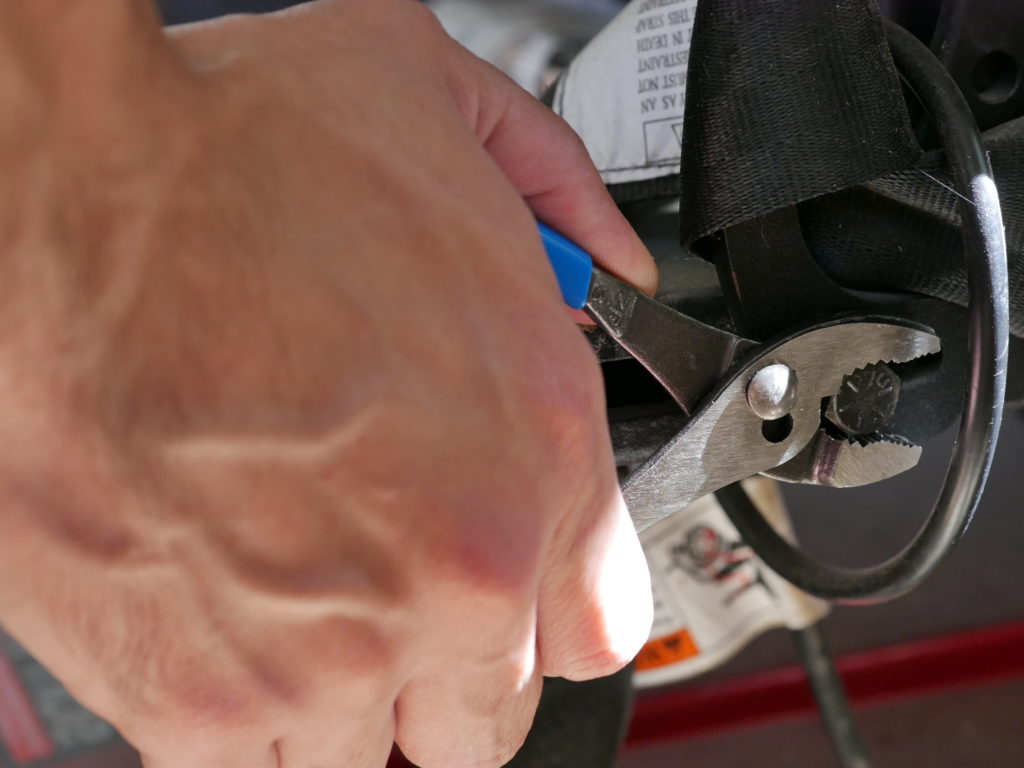 The handles are comfy with soft vinyl'ish material and for the most part provide ample enough comfort for light to moderate use. Putting high pressure on them will make them uncomfortable since they are a very small diameter but using these for demanding applications defeats the purpose of these pliers. If a job needs brute force then I'd be reaching for something bigger.
I tested them out and was pleased with their individual performance out in the field. When I say pleased, I mean they worked good enough for pliers of their size and worked well for small applications. The cutters did well with thin metals such as cutting staples and 18ga brads. The side cutting and end cutting pliers did very well with staples and 18ga brads although 16ga brads were too much for them as the grips were not long enough for the needed leverage to cut. The long nose pliers excelled at cutting 16ga brads with the included side cutter. Of course all did a great job at cutting 14ga solid copper electrical wire, with the exception of the slip joint pliers whose included shears were not able to cut anything I threw at it which I'll talk about this further below.
The end cutters did a good job of pulling out staples that weren't fully seated. And when it came to cutting excess nails from the opposite side of trim molding, they cut brads near flush with the surface. Not exactly flush but with very little nail sticking out. I also found out that the side cutting pliers did great at pulling out staples that were fully seated and flush with the material as the jaws were able to creep below the staple to pull them out.
I found both the long nose pliers and the snipe nose pliers good performers at what they're meant to do. Both had great grip thanks to the serrated tips of the long nose pliers and although the snipe nose pliers didn't have serrated jaws for additional grip, they were able to grip just fine due to a sand paper like finish on the inside of the jaws. I'm not sure if the sand paper texture is intentional or if they were an accident of the manufacturing process but the sand paper texture offered a nice grip better than if they were flat and smooth. I don't have any uses for the long snipe nose pliers but these would be good for reaching into deep hard to reach confined places. Although both the snipe nose and long nose were good for electrical work making loops so that the electric wire can be attached to the screws on an electrical outlet.
The slip joint pliers were pleasing to use and even though these pliers are tiny, they had plenty of grip to unscrew stubborn bolts. I like using slip joint pliers as a lazy man's adjustable wrench because they allow me to open and close the jaws quickly and easily without having to adjust anything. I also tried them on an old screw that lost it's head and the slip joint pliers did easy work getting that old screw out.
I'm sure you guys are wondering by now that these are great pliers, but what about the negatives? I did find a few flaws which I would assume are quality control issues. For example, the snipe nose pliers when fully opened have a 100% chance of the spring falling out. This was one of the first things I noticed after unboxing all of the pliers and I almost lost the spring that popped out. Luckily I found it and put it back in but time and time again it would pop out when opened up. What I did was use both long nose pliers and grip the ends of the spring and stretch it a bit. Initially this worked but then the spring compressed back to the way it was before and keeps falling out. On it's own the snipe nose pliers open up about 80% without the spring falling out. That's good enough for me to use them for most uses but only when I open up the jaws 100% is when the spring pops out again. Other than that little issue, the snipe nose pliers are great.
Next on the negatives list are the long nose pliers. The joint is very stiff out of the box and at first the pliers were hard to open and close. After a little bit of use, the spring now self opens the pliers to about 40% but you still have to manually force the pliers to open all the way. And you still have to use additional force to close them because of the stiffness. I'm thinking about squeezing some WD-40 into the joint and seeing if that will make them move freely like the rest of the pliers.
And lastly, the slip joint pliers bolt or rivet, what ever you want to call it, has a bit of slack and the jaws have sideways movement with a bit of play. This is obviously a quality control issue that should have been addressed before it was given the OK to ship in a retail box. Normally I'd probably overlook a slight issue as this one but the problem is that it affects one of it's features. That of it's built in shears to cut and it failed to cut anything I threw at it. It makes no sense as these pliers worked great for everything else but as soon as you try to cut something such as a wire, the jaws spread apart and sandwich around the wire and smash it, instead of cutting it.
Normally when I come across issues such as these I'd just return them to the store and exchange them for the same identical tool and save the day but these were provided free from Channellock for review. I would assume my defective units are simply quality control issues and most likely not a widespread problem, just my assumption as I have not tried out other units to see if this is a common problem.
Other than those few issues,  I thought these were all great mini pliers. Obviously their size limits their overall usefulness but if you need something small, precise, and to fit in small confined spaces these would be great for those uses. Also would be great if you need to lighten your load on the road and conserve space in your tool box without cutting down on tools. Other than the few issues I noticed, they were well built, well performing little pliers and the made in the USA quality shows on the units without quality control issues.