Makita is keeping busy in June by releasing several new products with 2 new corded tools and 6 new cordless tools. The two new corded power tools are demolition hammers and the 5 new cordless power tools are all 18V with a new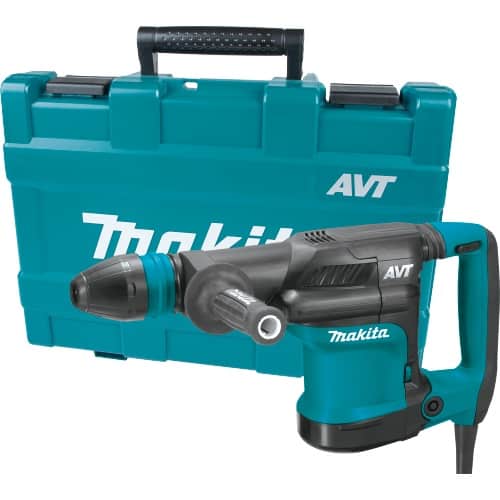 The new 12 lb. (HM0871C) and 23 lb. (HM1213C) Demolition Hammers feature Anti-Vibration Technology and accept SDS-MAX bits. The 12 lb. Demolition Hammer delivers 8.6 ft.lb. of impact energy with it's 10 AMP motor and weighs 12.3 lbs., making for a compact solution that's good for overhead applications. The 23 lb. AVT Demolition Hammer has a 14 AMP motor that delivers 18.8 ft.lbs. of impact energy and weighs 23.8 lbs. Both demolition hammers feature Anti-Vibration Technology (AVT) and a vibration absorbing rear handle to further reduce vibration. Makita has AVT hammers from 1" to 70 lb, giving users more options for hard-hitting performance with lower vibration.
Makita 12 lb. Demolition Hammer HM0871C

 Makita 23 lb. AVT Demolition Hammer HM1213C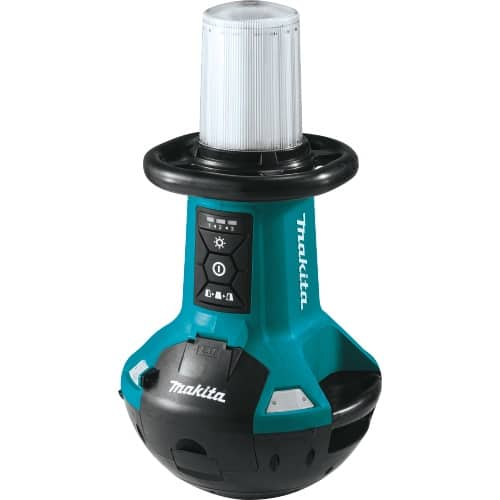 One of those new cordless 18V tools is a new X2 LXT Cordless / Corded Upright LED Light DML810. Makita X2 tools use two 18V batteries together to output 36 volts and while this light has that X2 designation and has two battery bays, it only operates one battery at a time. The second battery bay is there to provide additional runtime when needed.  It's very similar to Ridgid's upright area light in that it's shaped like a buoy and stands itself upward even if knocked over because of it's round base and low center of gravity. Unlike the Ridgid, this puts out 5 times more lumens at 5500 lumens for room filling light in all directions and has 3 light modes – 5,500 / 3,000 / 1,500 lumens on High / Medium / Low. And just like the title states, it's a hybrid light as it can also run on battery power or on corded power. Runtime is up to 15 hours on low and 3 hours on high when used with two 5.0 ah batteries or unlimited on AC power. It also has an AC inlet and outlet so you can chain multiple lights together.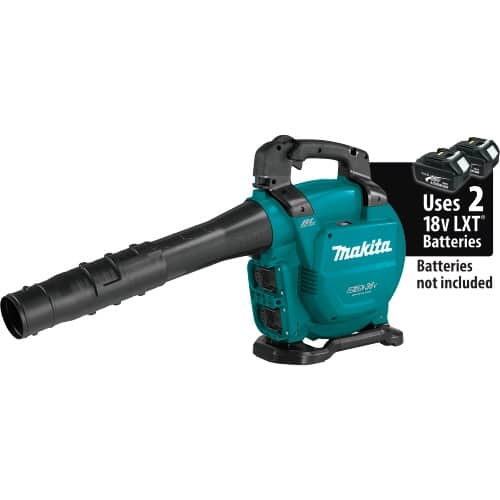 The next cordless tool on the list is the XBU04 X2 LXT Cordless Blower. Being an X2 power tool, it's also powered by two 18 volt batteries. Makita calls this new blower a 3 in 1 blower because it's a blower and can also convert to a vacuum and mulcher. The mulcher can reduce 10 bags of leaves into one bag with its shredding blade. The blower is a brushless blower that puts out 473 CFM at 120 MPH making it exactly the same as their previous X2 brushless blower. It weight 11.2 lbs with two 5.0ah batteries.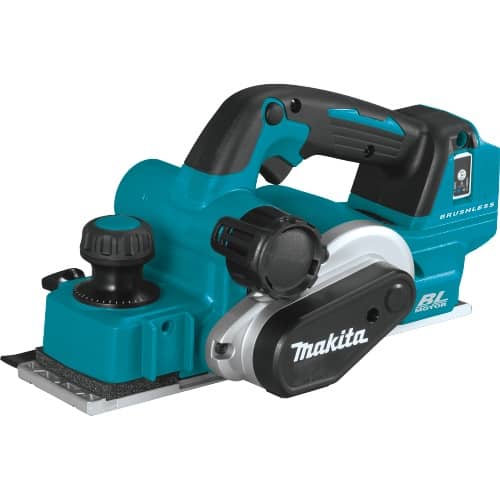 The next cordless power tool on the list is the Makita 18V brushless 3-1/4″ cordless planer XPK02Z. The planer delivers 15,000 RPM for fast material removal and will plane up to 3-1/4" wide and up to 1/8" deep in a single pass. It's also AWS capable (auto wireless start). It has a spring loaded stand to protect the blade when not in use and uses a two blade cutter head with double-edge carbide blades.
Auto-Start Wireless System (AWS™)Auto-Start Wireless System (AWS™) uses Bluetooth® technology for wireless power-on and power-off communication between the equipped tool and dust extractor. Once connected via AWS, the AWS-equipped dust extractor will automatically power on or off when the AWS-equipped cordless tool starts or stops, running only when the tool is in use. This increases productivity on a single charge and reduces continuous noise at the job or work site.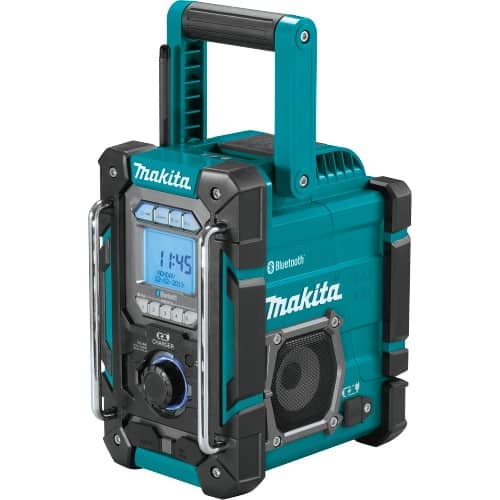 While Makita has like 50 battery powered radios, well 50 is a stretch but they do have a lot and they all look the same too, here's another Makita 18V radio that looks the same as the previous models. It has all the bells and whistles as models before it like the ability to run off both 18V LXT and 12V CXT batteries and has bluetooth built in but this new model XRM10 adds the ability to charge 18V LXT and 12V CXT batteries when it's plugged in. This means you can bring the radio to your job and leave the charger in storage and less tools to carry. However one of the things Makita is known for is their super fast 18 volt charge speeds however they do list that it charges a 5.0 ah 18V battery in 80 minutes which is slower than the normal 45 minutes on their regular chargers. That's almost 2 times slower however there are a couple of things to consider. 80 minutes charge time for a 5.0 18V battery is similar as other pro brands regular stock chargers and other brands radio chargers are usually slower to charge than their regular chargers. I'm not an engineer but I believe this has something to do with regular chargers affecting a radio's ability to receive radio signals. I've noticed this before where if you put a battery charger within range of a jobsite radio, it messes with the signal so most likely a jobsite radio with built in charger either needs special internal shielding or different or weaker charging components or possibly something else since I wouldn't know as I'm not an engineer.

Makita also has a new 18V LXT /12V CXT bluetooth jobsite speaker XRM11. This wireless bluetooth speaker as the name suggests, runs on either an 18V LXT or 12V CXT battery and should provide good sound with it's 4″ woofer with a passive radiator and one 1.4″ tweeter. Although it is a single speaker I noticed there the words "true wireless stereo" on the front and side and you can't have stereo with one speaker otherwise it's called "MONO". According to Makita, you can get true stereo sound by connecting two of these speakers together wireless to obtain real stereo sound. They also say you can connect 10 of these speakers together so you can hear music throughout the jobsite which reminds me of Ryobi's score wireless speaker system.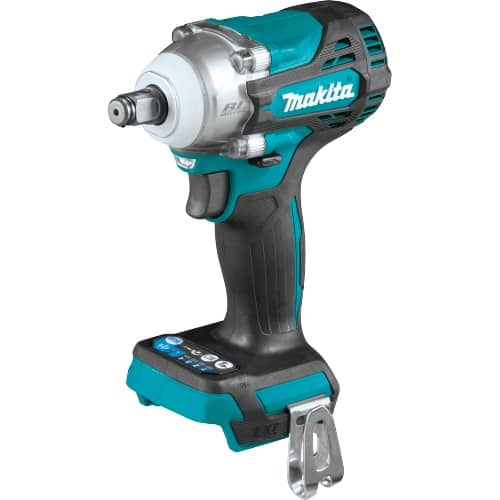 Last but not least on the list is the Makita 18V Brushless 4 speed 1/2″ impact wrench. Actually this compact impact wrench comes in two flavors, one with a friction ring anvil (XWT14 model) and one with detent anvil(XWT15 model) otherwise both are the same impact wrench. Their brushless motor delivers up to 240 ft.lbs. of Max Torque and 430 ft.lbs. of Nut-Busting Torque.
Precise fastening control is achieved through the 4-speed power selection switch with settings ranging from 1,000 – 3,200 RPM (1,800 – 4,000 IPM). In addition, three forward and three reverse Auto-Stop modes bring added precision and help to reduce the possibility of damaged materials and lost fasteners. The forward Auto-Stop modes allows the user to apply more torque while keeping within an expected range. The reverse Auto-Stop modes are engineered for more control when removing a fastener, which helps reduce lost fasteners when working overhead or in tight spaces.


Free 2 day shipping – Try Amazon Prime 30-Day Free Trial

DISCLOSURE:
Tool Craze does not sell this product or any product on the Tool Craze website. Tool Craze does not handle the sale of any item in any way. If you purchase something through a link on the Tool Craze site, Tool Craze may get a small share of the sale. Please refer to the About section for more info.