In the past year AEG has released 3 new cordless grinders as part of their growing 18v battery platform. Well it looks like 3 wasn't enough so they had to make it 4 with the new BEWS18BLX180-0 dual 18v 180mm/7" brushless angle grinder. While this new grinder looks nearly identical to its 230mm/9" counterpart, there are a couple changes to make it better suited for running 180mm / 7" discs.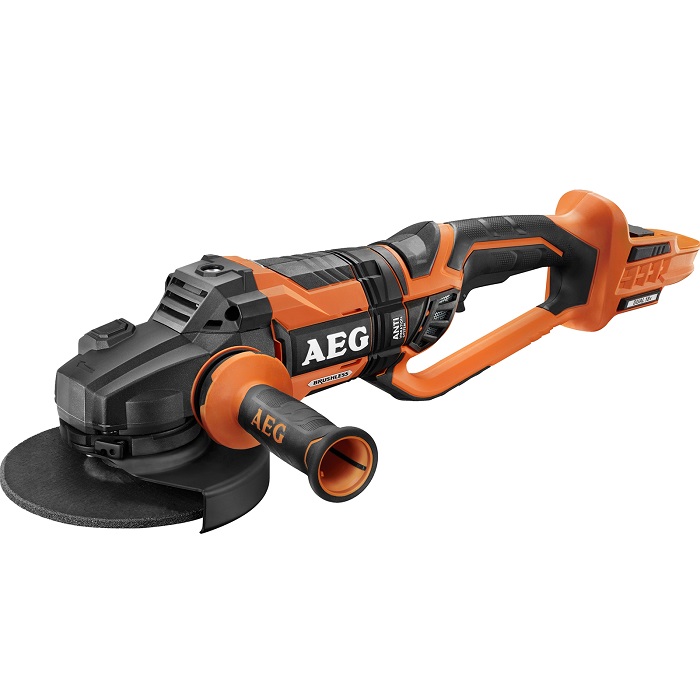 My thoughts: I'll admit I'm a little surprised that AEG is releasing another grinder that's so similar to one they already produce, but it's also good to see a wider range of options for users in the metal working and masonry trades. This new grinder features the same dual battery design as AEG's 230mm/9" model, the BEWS18BLX230-0. This design allows users to run 1 or 2 batteries for lighter weight or more runtime. One advantage to using a 180mm/7" grinder is that the disc speed is typically a good bit higher than a 230mm/9" grinder, since the weight and centrifugal force on the disc is lower. While a 180mm/7" disc doesn't achieve the same depth of cut as a 230mm/9" disc, in some grinding applications it may be more efficient at material removal due to the higher RPMs. This new model from AEG picks up 1,100 RPM over the AEG 230mm/9" model with a no load speed of 6,600 RPM, which is also the same as the Ridgid Octane R88040B 7" grinder here in North America. 6,600 RPM is on the lower end for speed on 180mm/7" grinders, but is still in the middle range compared to lower speed corded grinders. In addition to the boost in speed, the only difference I can see from the AEG BEWS18BLX230-0, the use of a 180mm / 7" guard. Overall this has some good specs and excellent features and should be another great addition to the AEG 18v battery platform.
Features and Specifications:
Powerful 18V brushless motor provides better power, efficiency and runtime compared to brushed motors
Unique dual 18V system allows use with 1 or 2 batteries
Anti-kickback protection for added user safety
Sealed electronics are protected against dust and moisture
Mesh motor vent filters keep larger particulates from entering the motor, increasing the life of internal components
Deadman paddle switch
Tool-free adjustable guard
6,600 RPM
Disc size: 180mm/7"
Weight: 4.8kg (10.6 lbs)
Arbor thread: M14
Bore size: 22.2mm
Accessories include: cutting guard, small flange set, large flange set, pin spanner
Price at the time of writing: $399 AUD at Bunnings Warehouse AU
Warranty: 6 years with online registration


Free 2 day shipping – Try Amazon Prime 30-Day Free Trial

DISCLOSURE:
Tool Craze does not sell this product or any product on the Tool Craze website. Tool Craze does not handle the sale of any item in any way. If you purchase something through a post on the Tool Craze site, Tool Craze may get a small share of the sale. Please refer to the About section for more info.