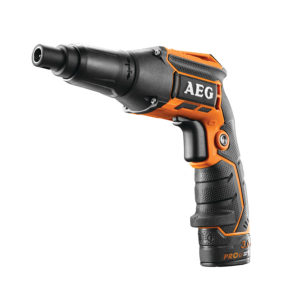 Chris Gkikas spotted a new AEG 12V Drywall Screwgun and matching magazine in the AEG UK website. This is great news because as we know, AEG and Ridgid are the same thing and when one comes out with a new tool, the other usually follows suit soon.
The only other 12V drywall screw gun that I know is currently being sold was Bosch's latest 12V brushless model. There have been others such as an ancient Dewalt model that's not sold anymore.
Great news that AEG is making one which hopefully Ridgid will come out with one soon. Being a 12V tool the new drywall screwgun benefits from the tiny batteries and makes for a very small and highly compact drywall screwgun. AEG also made a matching collated screw magazine attachment for the new 12V drywall gun. I'm not sure if it's made specifically for the new 12V gun or if it's the same one that was spotted for the larger 18V drywall gun model. Either way good to hear AEG has a 12V drywall screwdriver gun.
Light and small Drywall Screwdriver weights only 1,5 kg with an OAL of 254mm
Really powerfull motor with 4000rpm
max torque 3 Nm
brushed motor
A lock on Trigger to work more comfortable and safe runtime
Fine adjustment nose cone for setting desired countersink levels in single screw applications +/-5 mm
Quick release 1/4˝ Hex chuck allows for easy bit change
Individual battery cell monitoring optimises tool run time and ensures long term pack durability
Fuel gauge displays remaining charge
Bright LED workspace illumination
Belt clip to hang your tool quickly and easily
DISCLOSURE:
Tool Craze does not sell this product or any product on the Tool Craze website. Tool Craze does not handle the sale of any item in any way. If you purchase something through a post on the Tool Craze site, Tool Craze may get a small share of the sale. Please refer to the About section for more info.