Turns out a Chinese retail website can be very good for spotting new tools in the AEG/Ridgid category. My thought is that perhaps prototypes of new products get sold off once the production models are refined enough for final sale. While most products are announced before they are ever seen, that's not the case with this new 58v 6.0ah battery for The AEG line of outdoor tools. To my knowledge this battery has not been announced anywhere at the time of writing, and currently I couldn't find it sold anywhere except for the Chinese website that I found it on. Also for those not aware, the AEG 58v line is almost if not fully identical to the Echo 58v line here in the US, so hopefully this battery will make its way here to North America as an Echo branded battery. No specs or features are official yet, so I'll list the features of the AEG 4.0ah 58v battery in the bullet list below as they look to be the same design and have the same features. 4.0 ah battery shown below however the 6.0 is similar in design.
Full disclosure: This is not a review, this is tool news. Tool Craze cannot guarantee the accuracy of the information/specifications/features of any tool listed in this article. Manufacturer marketing claims may not always meet expectations. Tool Craze is not responsible if products do not live up to claimed expectations. Please do your full research before buying any products. Tool Craze is an Amazon Associate and places paid links including those from other retailers that Tool Craze is an affiliate partner with. If you purchase something through a link on the Tool Craze site, Tool Craze may get a small share of the sale.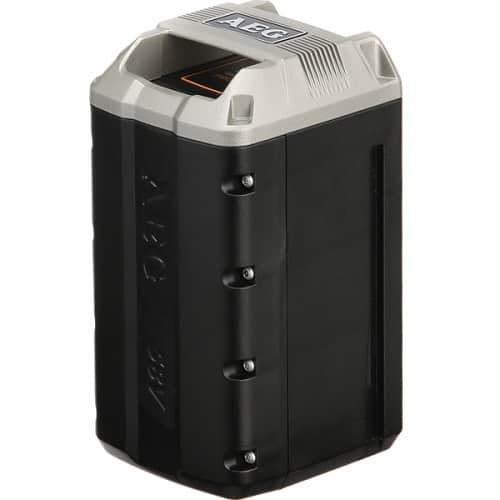 My thoughts: there's not really much I can say about a higher capacity battery, except that it's always nice to see the increased runtime that comes with it. This unit appears to have some nice features to go along with the great capacity. Hopefully this will hit the US market as an Echo battery but that remains to be seen.
Features and specifications (AEG 58V 4.0 ah Battery):
On-board LED fuel gauge
Overload and high-temperature protection electronics
Triple spot welds ensure weld frame is securely connected to the cells with the lowest possible resistance
Voltage: 58v
Battery type: Lithium Ion
Purchase link to USA Echo branded batteries and tools below.


DISCLOSURE:
Tool Craze does not sell this product or any product on the Tool Craze website. Tool Craze does not handle the sale of any item in any way. If you purchase something through a post on the Tool Craze site, Tool Craze may get a small share of the sale. Please refer to the About section for more info.