AEG has a new three piece modular storage tool box system called the AEG Quickstack Modular Storage 3 Piece Kit. But wait, doesn't it look familiar to you? If so that's because this is the same exact modular tool box system that Ridgid came out with back in 2014. So not really new at all but hey it's better late than never especially if you live outside of the USA.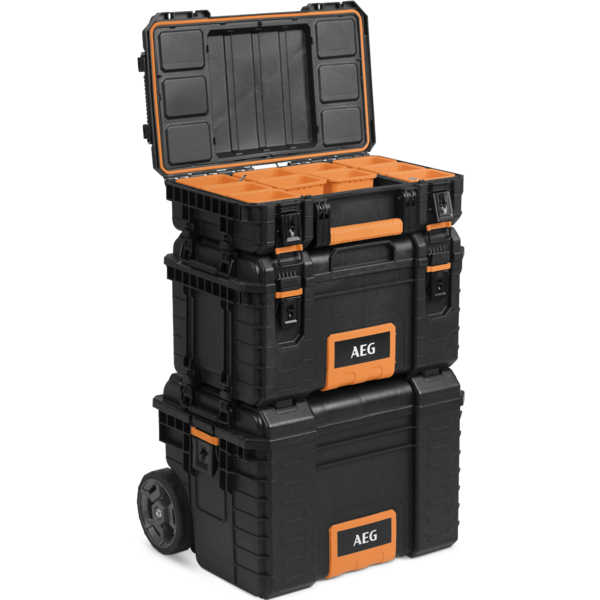 Just like the Ridgid branded pro tool storage system, the AEG copies also feature 3 independent tool boxes that all interlock with each other making them a modular system. You can stack and connect only the tool boxes you need to take on the go. They literally connect to each other so if you have two or more connected, they won't separate. All are made from high-impact resistant resin material and have nice metal latches with slots for a padlock. The lids have a seal to protect from dust and moisture. All feature built in side grip handles along with a beefy top handle.
The system consists of a large mobile tool box cart with wheels and telescoping rear handle, a medium sized tool box, and a small tool box organizer with plastic bins inside. This AEG version will be sold as a 3 piece set and as individual tool boxes. Price for the set is $229 in Australian currency.
High-impact resistant resin material
Heavy-duty latches and handles
All units are compatible and interchangeable
IP55 rated to offer superior protection against water damage and debris
A big thanks to Glenn and Joshua B. for sharing.
You can check out my YouTube video on the Ridgid version here for all the details by clicking here.
DISCLOSURE:
Tool Craze does not sell this product or any product on the Tool Craze website. Tool Craze does not handle the sale of any item in any way. If you purchase something through a post on the Tool Craze site, Tool Craze may get a small share of the sale. Please refer to the About section for more info.