A new 10 inch cordless miter saw has been spotted over in Australia from AEG which is what Ridgid is called outside of the USA. This makes this the second cordless 10 inch miter saw that's come out after the Milwaukee M18 Fuel Miter saw.
Full disclosure: This is not a review, this is tool news. Tool Craze cannot guarantee the accuracy of the information/specifications/features of any tool listed in this article. Manufacturer marketing claims may not always meet expectations. Tool Craze is not responsible if products do not live up to claimed expectations. Please do your full research before buying any products. Tool Craze is an Amazon Associate and places paid links including those from other retailers that Tool Craze is an affiliate partner with. If you purchase something through a link on the Tool Craze site, Tool Craze may get a small share of the sale.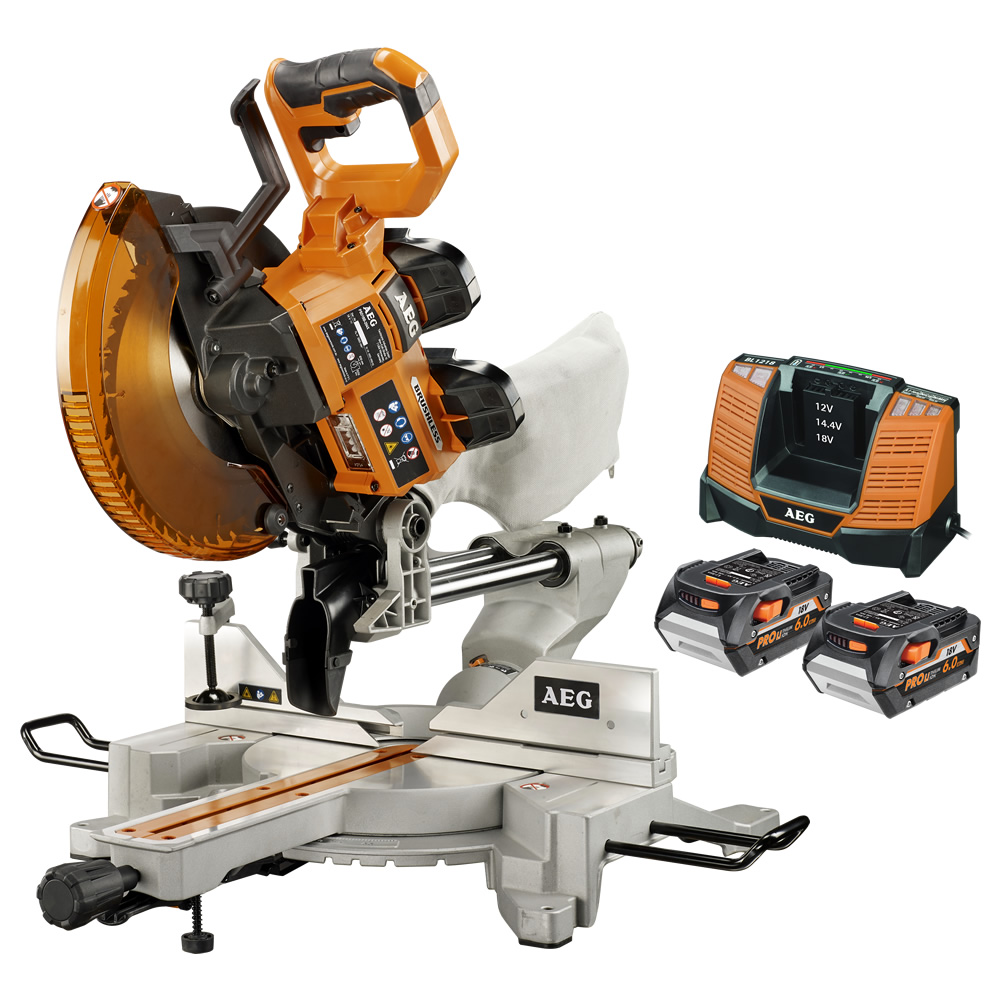 We know that Ridgid just came out with a cordless brushless miter saw this year but that was with the usual for cordless 7-1/4″ blade, but the new model is coming out with a larger 10 inch blade. This is possible thanks to it's brushless motor of course.
What's wildly interesting about this new 10″ cordless miter saw is that it has two slots to accept two 18V batteries at the same time just like how Makita does with their X2 power tools and similar to what Dewalt's done with their Flexvolt 12″ miter saws. BUT it only requires one battery to operate. The same cannot be said about the Makita X2 or Dewalt Flexvolt miter saws as they need two batteries to operate.
This miter saw can run on one battery and you can also pop a second battery in at the same time for added runtime and added power. This is great because you get the added benefit of added power and runtime of two batteries but it does not require you to place two batteries to run the saw. Very cool!
It has a large horizontal cutting capacity of 12 inches at 90 degrees which is very good and what you would find on corded miter saws, although vertical cutting capacity is limited to 3.58 inches. Vertical cutting height is rather low, especially if you cut tall molding, but at least you will be able to cut 4x lumber in one pass.
Other interesting notes are that it comes with a pair of 6.0 batteries so it should get good runtime in my opinion with only one battery and even better with two installed.
No word on when or if we will ever see a north american release via Ridgid branding of this miter saw, but we can hope.
Voltage 18V
Blade diameter 254mm (10 inch)
no load speed 3900 rpm
vertical cutting capacity 91mm (3.58 inches)
horizontal cutting capacity 305mm (12 inches)
miter capacity 0-50° Left & 0-45° Right
bevel angle 0-45° Left & Right
weight 18kg (39.68 lbs)