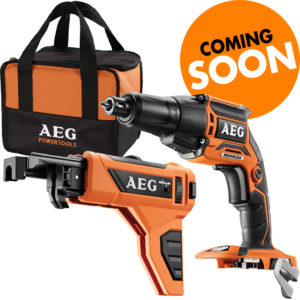 Spotted over in the AEG Australia is a new 18V Brushless Collated Drywall Screwdriver BTS18BL‐0.
Keep in mind that AEG is Ridgid outside of the USA.
The new drywall screwdriver comes together with the collated attachment which means you won't have to them separately. The collated magazine attachment lets you use collated screws so you can drive several screws before you need to reload and thus makes you work faster. I like that they went straight to brushless with this new tool as new tools in 2017 just don't catch our attention and are a bit of a let down if they aren't brushless.
Interesting features I can see are a compact front to back length and it has a push to drive mode called Auto-Drive that saves battery since the motor will only run when driving and as a result is less noisy. I am not sure if this mode is always on or if it has to be activated like other brands drywall guns with this similar feature.
You also get a built in LED light and belt clip. I see that they have removed the grip light button on the handle.
Most new AEG tools make their way to the USA as Ridgid branded tools so hopefully they'll make their way over here soon.
A big thanks to Glenn for sharing this with us!
High performance Brushless motor increases torque at high speed for fast screw driving speed
Auto‐Drive technology allows motor to engage the screw independently of the trigger switch, saving battery charge and unnecessary noise
Multiple position collated attachment with quick release allows entry to tight spaces, screw belt orientation and bit change
LED Sight light illuminates work area
Angled belt hook achieves best position to store for easy access
0-5,000 rpm
1.4 kg