I spotted another set of tools on the Harbor Freight mailer that is set up to compete against Dewalt and no, this isn't their other in-house brand Hercules, this time a new brand called BANKS and they offer a range of nail guns.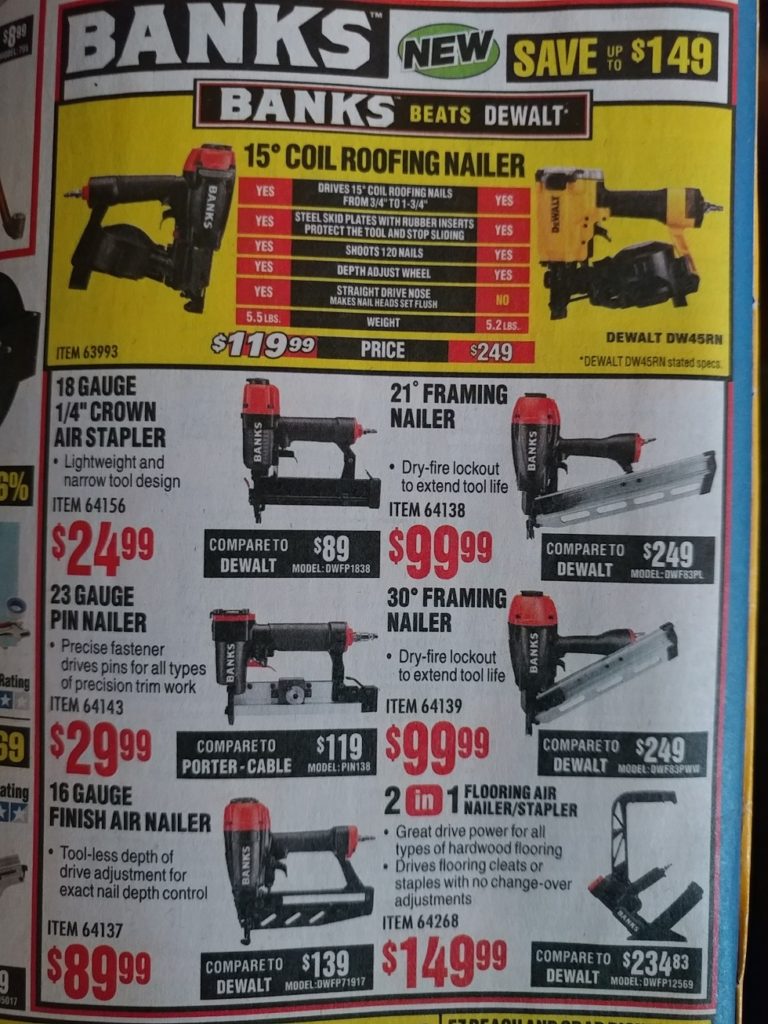 This is not soon after we learned of the their other still new brand, Pierce, which has a fitting name for a nail gun. But the Pierce brand was set up to compete Hitachi. I haven't seen or felt these new Banks branded nail guns in person so I can't comment on fit and finish quality although one thing I can say is that unlike the Hercules brand which tries to copy Dewalt almost identically, these new Banks brand nailers are not Dewalt clones and have their own design ques with an orangy-red accent color with mostly black bodies. They use more traditional designs and in one of the pictures they even put the Banks branded 15 degree coil roofing nailer up against Dewalts in a side by side comparison that only highlights what makes the Banks model better including the less than half price of $119.99 vs Dewalt's $249. One thing I can see by the side by side pics is that the Dewalt nailer is much more compact in front to back length although that might not be important for roofing applications but as a reviewer is something that stands out to me. In all the other comparisons, most of the Banks nail guns are less than half price of the Dewalt counterparts which is what HF is known for, lower prices.
All of the 8 Banks branded nail guns are up on the Harbor Freight website for you to check out and let us know what you guys think of them. Do they look appealing to you guys? Would you buy them over more well known established brands like Hitachi and Dewalt at a lower price point? Let us know in the comments section below.
Current 8 Banks Nail guns:
18ga 1/4″ crown air stapler $24.99
18ga brad air nailer $29.99
23ga pin nailer $29.99
16ga straight finish nailer $89.99
21 degree framing nailer $99.99
30 degree framing nailer $99.99
2 in 1 flooring air nailer/stapler $149.99
15 degree coil roofing nailer $119.99
DISCLOSURE:
Tool Craze does not sell this product or any product on the Tool Craze website. Tool Craze does not handle the sale of any item in any way. If you purchase something through a post on the Tool Craze site, Tool Craze may get a small share of the sale. Please refer to the About section for more info.