While not a power tool or hand tool product, BenQ thought you guys (and gals) would be interested in me reviewing their ScreenBar Plus e-Reading Lamp. While it won't help you do any DIY related stuff around the house, BenQ designed this tool for those that work a lot in their desk in front of a computer.
According to them they say that their lamp offers proper lighting for your desk at 500 lux that can help you take proper care of your eyes when working in front of a monitor. This is what they said below:
We believe that ScreenBar is really useful for office workers, illustrator, designer, photographers and videographers who work with monitor. Because ScreenBar is an e-reading LED task lamp with auto-dimming (The built-in ambient light sensor automatically illuminates to 500 Lux that the American National Standard Practice for Office Lighting recommends illuminance level at), hue adjustment features (Adjustable color temperature from 2,700k to 6,500k, to increase efficiency and comfort), and no screen glare or flicker (ScreenBar has an asymmetrical optical design that only illuminates the desk and doesn't shine on the screen) which are good for users in front of monitors, and we could hang it on monitors to save space! Like you said, your illumination is only from the ceiling lighting. The brightness level is not enough. Illumination is important if you want to take care of your eyes. Brightness is a key! Thus, you would get many benefits when you choose ScreenBar as your desk lamp! This is why we think ScreenBar is a great product and it will benefit lots of users like you.
Ethic's Disclosure:
BenQ was kind enough to provide the ScreenBar Plus e-Reading Lamp at no cost for review. However as with all my reviews, I am not paid, sponsored, or obligated to give a positive review. This review is my opinion of the product based on my usage and knowledge and my review will reflect what I like and dislike about the product. I will do my best to provide you with an unbiased review.
Manufacturers Specs and Features list:
DESKTOP DIAL with AUTO DIMMING: Thanks to the built-in ambient light sensor in the Desktop Dial, ScreenBar Plus e-Reading Lamp adjusts the brightness level automatically with just one click. You can press the dial to turn on/off and rotate to change brightness and color temperature manually. Easy to use with precision.

SPACE SAVING: A specially designed clip makes the attachment onto monitors easy and stable. No need for screws or tape that damage monitors. The clip fits any monitor with thickness from 0.4" to 1.2" (1 to 3 cm).

SCREEN GLARE FREE: ScreenBar Plus e-Reading Lamp has an asymmetrical optical design that only illuminates the desk and ensures zero reflective glare off the screen.

USB POWERED: Any USB outlet can power the ScreenBar Plus e-Reading Lamp, whether it is a computer, phone charger or power bank. Once turned on, ScreenBar Plus resumes your last used brightness and color temperature settings to welcome you back!

MOOD LIGHTING: Adjustable color temperature to increase focus and comfort. The warm light lets you relax and replenishes your energy. The cool light allows you to concentrate and boosts work efficiency. You can fine-tune from the warmest of 2700K to the coolest of 6500K with the Desktop Dial.

price: $129

My Thoughts:
Personally, while I do work around the house doing handyman work every once in a while, most of my time spent working is at my desk in front of a monitor so I was interested in seeing how helpful, if at all, BenQ's screenbar plus lamp would be for my needs.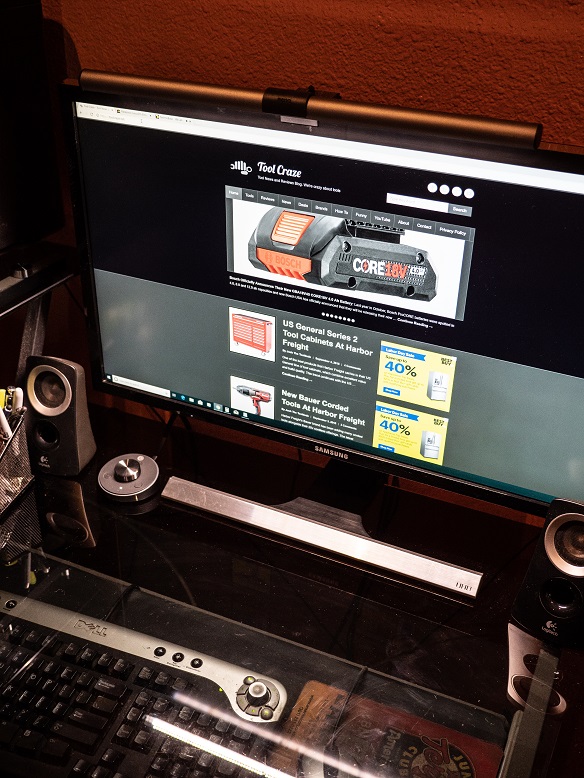 Their screenbar has an array of LED's designed to point down at your desktop while sitting atop your monitor. BenQ's engineers designed the LED's to point down while angled in a way that would not bounce light back to your eyes by causing screen glare. It's hard to say if this is true as my monitors screen is a flat matte and even if light is angled to point back at my eyes, I don't see glare because of the monitors matte anti-reflective surface. When the monitor is displaying dark images, I can see that the screenbar is illuminating light onto the top of the display but thanks to my matte screen doesn't bother me but my guess is that if the screen surface was glossy, I'd probably see glare reflected back to my eyes at the top. You can adjust the LED lamp to angle towards you or towards the monitor although the amount of movement is very little and at it's closest or furthest from the monitor, it's position is still pointing downward to your desktop. One thing you will notice is dust on your screen and I didn't know exactly how dusty my monitor was until I used the screenbar and boy was it dusty! A quick wipe down with paper and windex solved the dusty problem right away.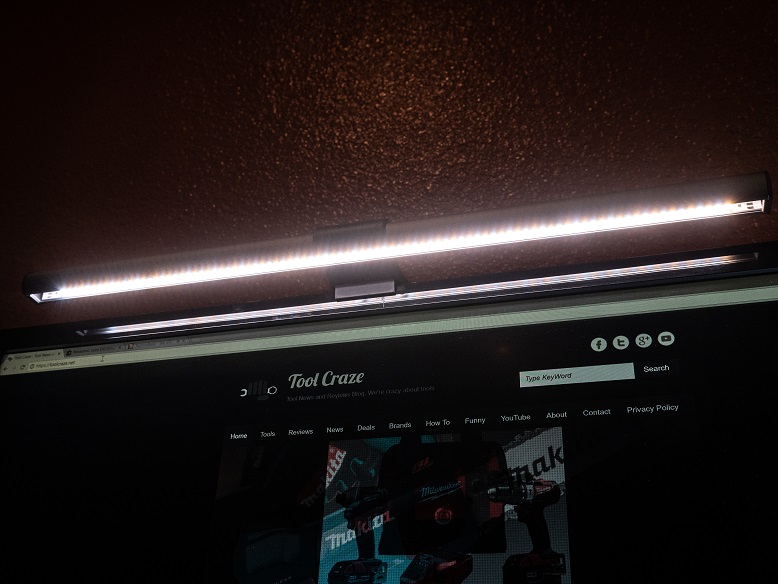 While the screenbar sits on top of your monitor, it has proper rubber padding at contact points so as to not scratch your monitor. The screenbar doesn't require any batteries as it's USB powered and plugs directly to any of the unused ports on your computer.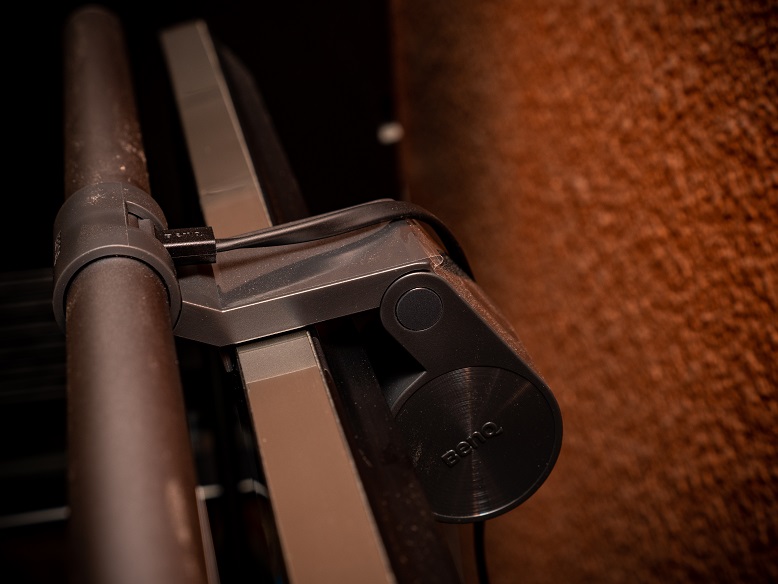 After trying it out for a couple of weeks, I can't say if it's better than my in room lighting. I can tell you that my eyes don't get strained when I use the BenQ screenbar but then again my eyes don't get strained when I use my in ceiling can lights only or when I don't have any in room lights at all while working at my desk on the computer. What I do like about the BenQ screenbar is that it illuminates the desktop and helps if I have paper work that I have to work on.
Not only does the BenQ screenbar provide adequate lighting to your desktop, you can lower or raise the brightness to your liking. You can also adjust the color temperature as well for cool blue hues or warm yellow hues or anywhere in the middle. Personally I prefer the middle where it's better white balanced.
From what I can tell, there are two versions of the Screenbar with the Screenbar Plus being the model I was sent which has a separate control dial that sits on the desktop to easily adjust the screenbar on the fly. There's even a button on the dial that resets the screenbar to it's neutral medium brightness and color hue setting. The regular screenbar model doesn't have the separate control dial but instead has buttons built onto the top of the screenbar to adjust it. I think I'd prefer having the separate dial as it saves me the hassle of having to reach atop the monitor to fiddle with the screenbar settings. The Screenbar plus has all of it's controls on the separate dial and none on the screenbar itself.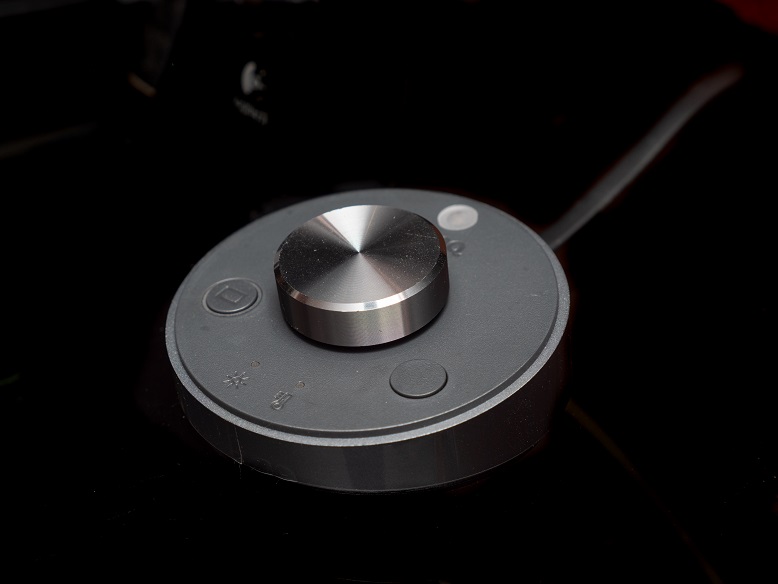 The control dial is not only functional but looks aesthetically pleasing and matches the other PC components on my desk as it has good looks from a design standpoint. I personally like the large dial knob with it's machined metal look to it even though it's made out of plastic. I also liked that the screenbar itself matches nicely with my monitor. The part that holds the screenbar in place is all plastic but has added weights internally to give it a more premium heft to it, or probably to hold the screenbar better in place on top of the monitor.
Conclusion
All in all the BenQ screenbar works as intended and does an adequate job at illuminating my desktop. I'm not sure if it's any better for my eyes than other types of lighting as I don't get any eye strain while using this light but then again other light sources don't bother my eyes either. The BenQ screenbar plus's retail price is $129 which in my opinion is overpriced for a desk light but it is a fancy one at that and integrates nicely into my desk and monitor without attracting any attention. In other words, it doesn't look out of place and the separate dial has a classy look to it. Maybe you're paying for it's design and style and the fact that it does what it's supposed to do.

Free 2 day shipping – Try Amazon Prime 30-Day Free Trial

DISCLOSURE:
Tool Craze does not sell this product or any product on the Tool Craze website. Tool Craze does not handle the sale of any item in any way. If you purchase something through a post on the Tool Craze site, Tool Craze may get a small share of the sale. Please refer to the About section for more info.