I was browsing Facebook when I noticed a new Black + Decker Lithium Robotic Vacuum with LED and SMARTECH.
Robotic vacuums are small portable puck shaped vacuums that basically guide themselves around your living room or other carpeted areas and don't require any input from the user other than setting them up and turning them up.
The Black + Decker Lithium Robotic Vacuum isn't the first robotic vacuum to hit the market. As far as my memory goes, I remember Roomba were part of the first ones that came to market, if not the more mainstream models. Right now other manufacturers are jumping on board such as Samsung and even other tool brands like Makita.
Overview
Features + Benefits
Extra-large dustbin holds 2X more pet hair and dirt than the competition, so you can clean more between empties
Extra wide beater bar cleans more area per pass* than the leading robot vacuum in the market
Lithium Ion battery optimizes performance with up to 90 minutes of runtime
LED top cover flashes troubleshooting alerts to display the source of errors or maintenance needs, eliminating guesswork
Conveniently program a cleaning schedule and control your vacuum with the BLACK+DECKER smartphone app
AUTOSENSE™ automatically adjusts suction power from hard floors to carpet, so you get more power when you need it and long battery life too
Select from three cleaning modes to fit your needs: Spot Clean, Quick and Auto or choose manual drive for full control of the cleaning area
Manual drive option provides full control over th ecleaning area
Personalize the illuminated LED cover to match your color style
Automatically docks and recharges, so it's ready for the next cleaning
Sensors detect stairs and other drop-offs
(2) Side sweepers clean dust and debris along edges and in corners
Beater bar snaps in and out for easy maintenance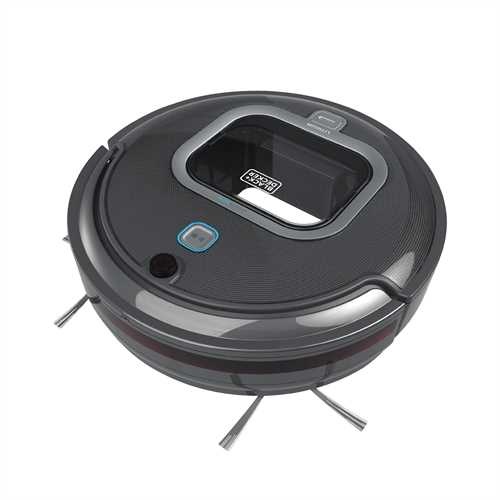 Black and Deckers vac claims to offer some pretty interesting specs such as a larger tank that is said to hold twice as much mess than other models, cleans more in one pass with a 9 inch beater bar, and runs up to 90 minutes. The Autosense features adjusts suction for a variety of surfaces like carpets and hard floors. My favorite feature is that it docks itself and charges itself!
One interesting feature is that it has a light up LED top cover flashes troubleshooting alerts to display the source of errors or maintenance needs and you can also personalize the illuminated LED cover to match your color style.
It appears that Black + Decker is releasing not one but 3 robotic vacuum models. The one in this article plus an additional 2 similar pet models that are better suited for the needs of pet owners around the house. The difference between the two pet models are the less expensive $300 model doesn't have the lighted LED panel and has a lower max runtime of 75 minutes, while the standard pet model has the LED light panel and 90 minute max runtime for $400. The non pet model in the is article is priced at $379 based on Amazon pricing at time of writing.
Pricing is between $300-400. They are available now.
DISCLOSURE:
Tool Craze does not sell this product or any product on the Tool Craze website. Tool Craze does not handle the sale of any item in any way. If you purchase something through a post on the Tool Craze site, Tool Craze may get a small share of the sale. Please refer to the About section for more info.



Free 2 day shipping – Try Amazon Prime 30-Day Free Trial