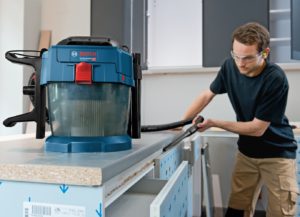 Recently spotted in the Bosch Germany is a new cordless dust extractor with dry and wet suction capabilities – the Bosch GAS 18V-10 L .
The new cordless model has nice stats with a largish for cordless 10 liter canister which translates to around 2.64 gallons although net usable is around 1.58 gallons.
It has a suction rating of 90/mbar with 24/liters per second air flow.
Runtime is decent at a max 24 minutes of runtime with a 18V 6ah battery.
This model seems to be in par with what's currently available from Dewalt, Milwaukee, and Ridgid with their portable 18V cordless vacs, maybe the Bosch might have a slight upper hand with a slightly larger tank for collection.
It comes with a hepa filter to ensure it doesn't throw dust back in the air. It doesn't state if it has a built in blower as it's not very clear in it's description. What is included are a 5.24 foot hose, 3 extensions, a floor nozzle, and a crevice nozzle, and all can be placed on the unit for convenient storage when not in use.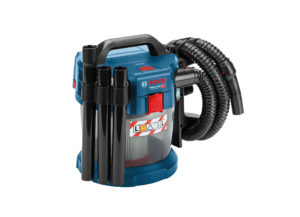 Specifications
GAS 18V-10 L Professional
Max. battery voltage
18 V
Tool type
wet/dry extractor
Container volume, gross/net
10/6 l
Max. runtime with 6.0 Ah
battery
24 minutes
Max. vacuum pressure
90 mbar
Max. air flow
24 l/s
Dust class
L
Filter
HEPA
Hose length
1,6 m
Dimensions
(length x height x width)
442 x 364 x 334 mm
Weight without battery
4.6 kg
Scope of delivery/
Recommended
retail price excluding VAT
Tool without battery and
charger: €129