July 18, 2018
Comments Off

on Bosch 18V EC Brushless Multitool GOP18V-28 (Starlock Mount) REVIEW
Bosch offers a large variety of oscillating multitool options from their well known corded models all the way to cordless options in the 18 volt and 12 volt categories. Last year they released the Bosch 18V EC Brushless Multitool GOP18V-28 which not only offers a brushless motor but it also offers the latest and greatest in the oscillating multi tool genre which is the Starlock mount for easy and quick blade changes. In this article I review the new Bosch 18V EC Brushless Multitool GOP18V-28.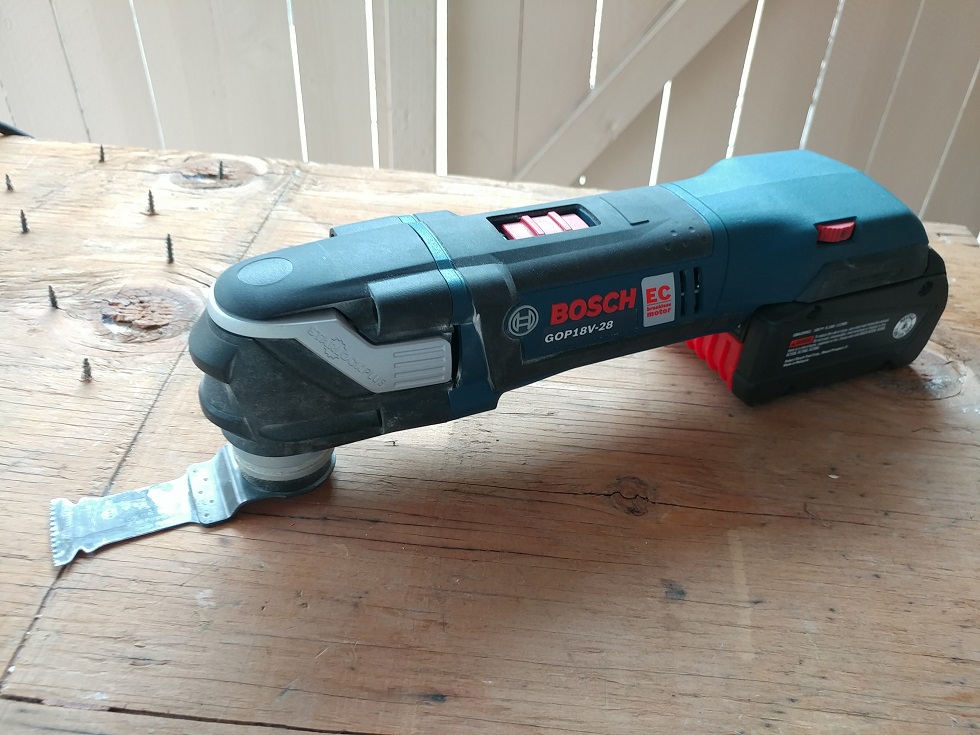 Ethic's Disclosure:
Bosch was kind enough to provide the Bosch 18V EC Brushless Multitool GOP18V-28 at no cost for review. However as with all my reviews, I am not paid, sponsored, or obligated to give a positive review. This review is my opinion of the product based on my usage and knowledge and my review will reflect what I like and dislike about the product. I will do my best to provide you with an unbiased review.
Manufacturer Features and Specs:
Battery: Lithium Ion

Voltage: 18V

Height: 3.2 In.

Length: 12.6 In.

Width: 3.0 In.

Weight (without battery): 2.7 lbs

Speed: 8,000-20,000 SPM

Oscillations Per Minute: 8,000-20,000

Oscillating Angle: L / R: 1.4° (2.8° Total)

baretool only includes: (1) GOP18V-28 18V StarlockPlus® Oscillating Multi-Tool, (1) 1-1/4 In. Plunge Blade, (1) Accessory Box
$199 as a baretool GOP18V-28N

Starlock mount meets cordless multitools
When Bosch and Fein jointly introduced the new Starlock mount I found it to be the best thing known to oscillating multitools. The Starlock mount promises more torque due to a recessed 3D shape design that both the mount and the blade offer this recessed shape. I've tested previous Fein and Bosch corded multitools and didn't find any added increased torque or cutting speed between models with Starlock vs those without it, however what makes the Starlock mount the best in my opinion is the extremely quick and easy blade changes. To install a blade, you simply press the multitool front end mount over the blade and it snaps into place. To remove blades you pull on the side latch and out goes the ejected blade. It's that simple! Gone are the days of hex key & bolt systems and latch & pin systems. However when Bosch introduced the Starlock mount to their multitools, only the newer corded models had the spiffy new mount. That is until late 2017 when Bosch introduced the Starlock mount with the 18V cordless GOP18V-28 model and a 12V model as well. Fein also did the same and introduced Starlock mounts on their cordless 18V and 12V multitools however in this article we will focus only on the cordless Bosch 18V EC Brushless Multitool GOP18V-28.
The biggest drawback of the Starlock mount is the fact that up till this day, there is no way of using older non-starlock blades. There are no adapters either. This means that if you have a large assortment of blades that don't feature the Starlock mount, you can't use them on this model or any other Starlock multitool model and will have to buy all new Starlock blades and accessories. The positive of buying new starlock blades is that they are backwards compatible with non-starlock multitools but as I stated in the previous sentence, the starlock mount itself is not backwards compactible.
My Thoughts: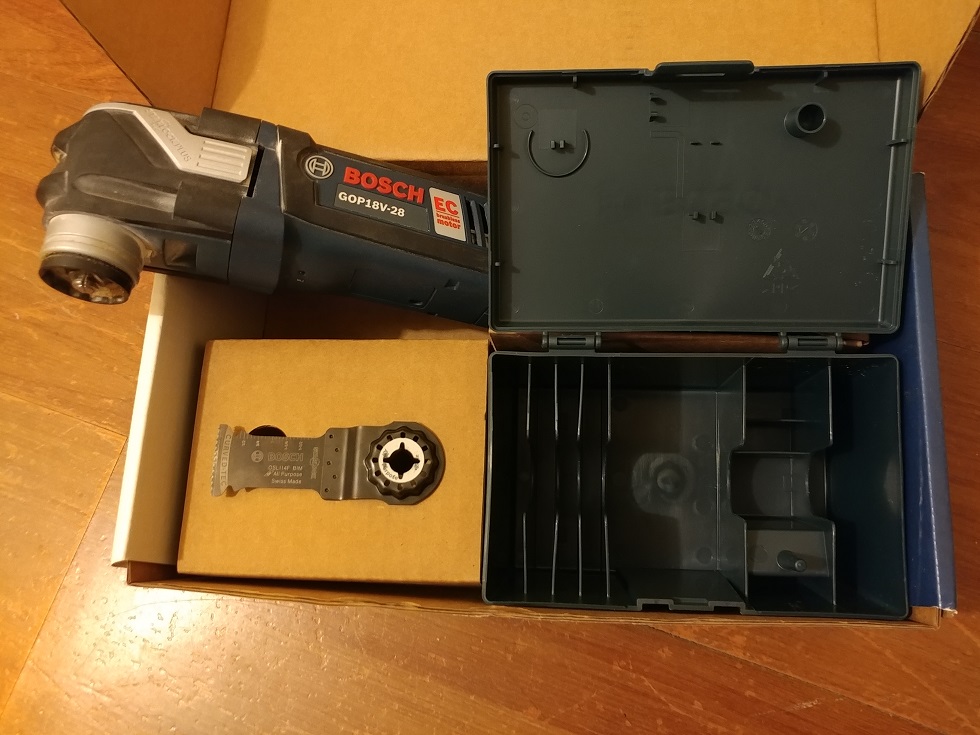 In this article we will discuss it's performance further below in the PERFORMANCE section of the review. As with most of my reviews, I will discuss the product's features first. So far Bosch introduced the new GOP18V-28 multitool as a baretool option only as model GOP18V-28N. It's price at launch is $199 which is relatively high considering it doesn't come with a battery or a charger, or even a hard case or tool bag. What it does include for the high price tag is the baretool itself, an accessory box to hold additional blades (a rather nice one at that) and also includes one wood/metal cutting blade. I do wish they could have included their full size plastic case that their other corded multitools are bundled with (which is good for storing the multitool and accessories) and wish they would have also included a large assortment of accessories ranging from a sanding pad with sandpapers, several blades of different types and a scraper blade. My wishlist is not out of the question as Bosch has fulfilled everything in my wishlist with their GOP40-30C 32 piece kit which is their similarly spec'd corded unit and it is priced at the same $199 price tag as this cordless baretool unit. For a price comparison with similar competing models, Dewalt also offers a cordless brushless multitool with their DCS355 20V XR oscillating multitool which is priced at $139 as a baretool and $219 for the kit with compact battery, charger, tool bag and 28 piece accessory assortment. This confirms that Bosch's cordless 18V GOP18V-28 multitool is priced considerably higher than it's competition.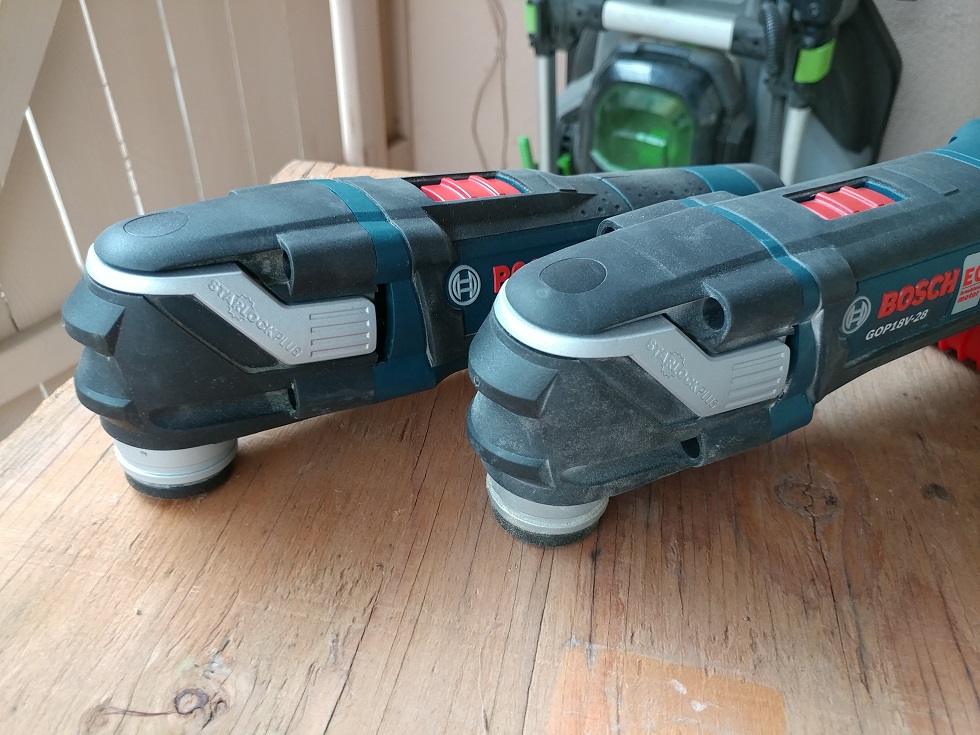 As I was saying, this cordless GOP18V-28 unit is the "cordless" version of the plug in GOP40-30 model, or at least very similar to it. If you put both models side by side, it appears that this cordless model shares the same front end of the corded unit, from the design, to the materials used, to the same exact side eject lever, the front light and even the same Starlock mount. It's not until you go past the front end that you start to see differences however both models are more similar than they are different. This is all a good thing as you are getting the same quality from their corded unit on this cordless unit. They both feature a top mounted slide power switch and both models have a variable speed dial. This 18V model places the dial on the left side toward the back which is easier to reach than underneath the rear cord on the corded model.
Just like it's corded model sibling, the GOP18V-28 shares the same light in front to illuminate the blade cutting path to help out in low light situations and it actually works pretty good in a pinch. Unlike it's corded sibling, this GOP18V-28 model uses a brushless motor. Brushless motors are superior on cordless tools because they sip power compared to brushed motors, making the brushless motor on this Bosch cordless model more efficient than a cordless tool with a standard brushed motor. In some cases, brushless motors can be tweaked to provide more power than a comparable sized brushed motor design in a cordless tool as is the case with this model, but we'll discuss actual performance further below. This cordless model's cutting angle (left and right) totals 2.8 degrees which is just shy of the GOP40-30's 3.0 degrees. I'll cover this aspect also further below in the performance section.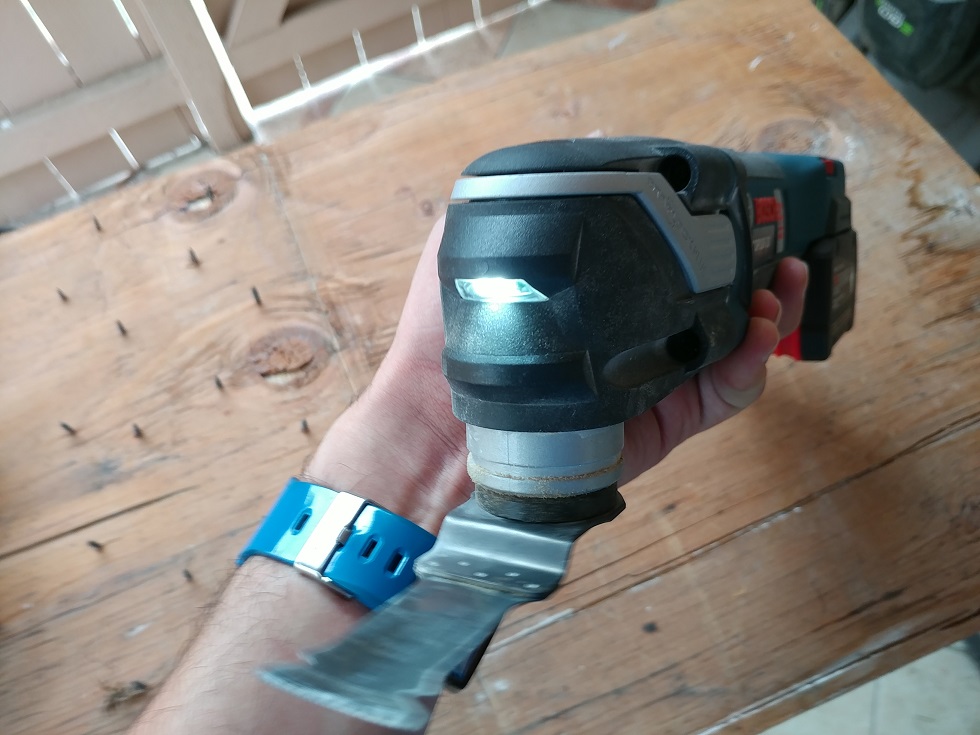 Fit and finish on this machine is excellent just like on their Bosch corded units and offers robust sturdy plastic housing for the body of the tool with rubber overmodling at key points on the grip of the tool and offers durable metal for the latch and mount. Many multitools I've tried use plastic latches or levers such as the Fein models which always surprises me as metal seems to be the material of choice.
The handling is a bit different than the corded unit it mimics as this cordless model is a bit more "squared" while the corded unit is a bit more rounded in shape. While width and height dimensions are very similar, this models squared shape makes it seem a bit thicker of a grip than the corded unit. Does this matter? To me it doesn't as it felt just fine in use but some might prefer a slimmer feeling handle grip so I thought I'd share this bit of info with you guys and gals.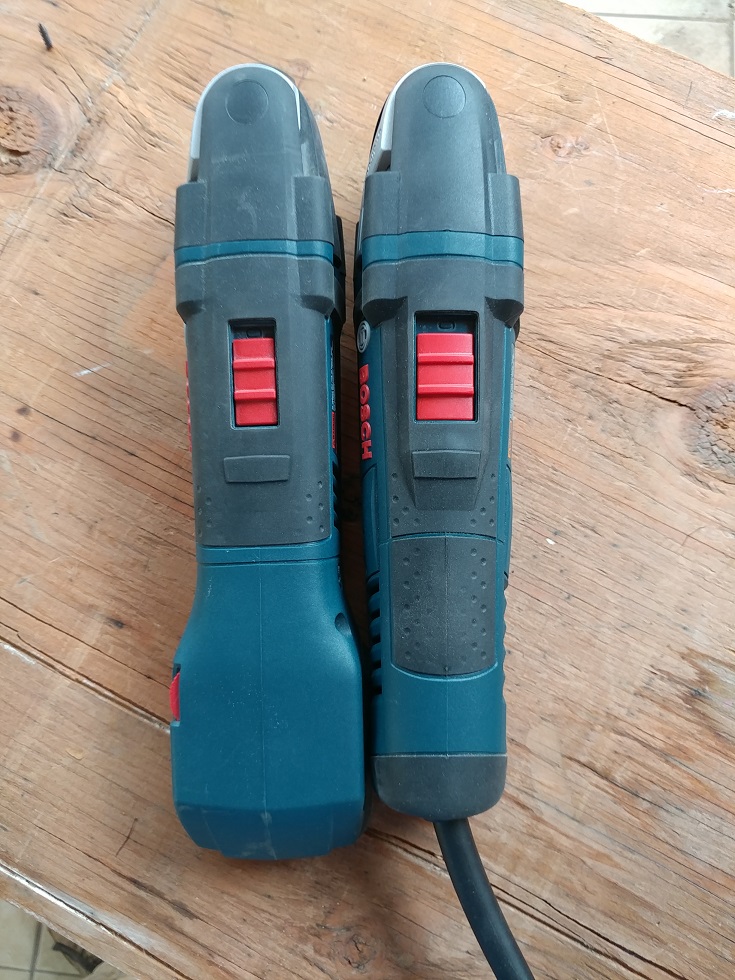 Weight also has to do with handling and I was supplied with the Fatpack 6.3ah battery and paired with this multitool, it did feel a bit heavier than the corded unit. While heavier, I felt it wasn't heavy at all and was still very portable and easy to use with both hands or single handed. Although you'll want to use this tool with both hands not because of the weight but because you'll have better control of cutting when using both hands.
Performance
I'm a big fan of cordless tools as they offer so much more in terms of convenience and ultimate portability. You no longer need to hunt down an outlet, use extension cords and can work even when there is no available power. Just slap a fresh battery in the tool and bam! you're ready to work. I currently have a Milwaukee M12 multitool and is still working strong however as you guessed it, 12V doesn't offer too much power for a multitool. Sure it does the job however slower and couldn't push too hard otherwise it would bog down and had to let the tool do the work at it's pace. I also tried a Makita 18V multitool – the newer model with latch and pin system and offered noticeably more power than the M12 unit however still not the same kind of power as a corded unit and still had to go at the tools pace and make sure not to push too hard. Not with this Bosch GOP18V-28, this cordless unit offers all the power I expect in a corded model, minus the cord. The above video shows what it can do and I used this brushless 18V model to help build a new bathroom addition. Obviously it wasn't the only tool I used to build the bathroom addition but it helped me with the tiling such as prepping the door jambs as I undercut them to the correct height to fit tile underneath them. I was able to go at the same pace as a plug in unit and push to cut faster without bogging down. I also needed to cut an aluminum threshold and did the job no problem with a semi-circle blade.
Prior to tiling, I also had to prep the floor and had taped down construction paper to protect the bare concrete floor and used duct tape to hold it down. Well after several months the tape was brittle and wouldn't peel without ripping so I used the GOP18V-28 to scrape the tape off and worked like a champ.
After all the tile was installed it was time to install the vanity which needed shims to install onto the walls and level it properly underneath. It cut those with no effort along with shims that were used to install the rails for sliding glass shower doors. One thing that was interesting with the vanity that I installed was that the included countertop was installed and held on by small wooden blocks. They were a dense softwood yet it was no match for the Bosch 18V brushless multitool so that I was able to cut them and properly position the countertop for a corner install.
Long story short, this tool delivered the power and even though I didn't see a cord and obviously knew I installed a battery pack, it still felt and performed like a corded tool. However one thing is to assume it performs similar to a corded tool, another thing is to compare it side by side and see how it actually compares. That my friends is what I did and did side by side cuts with this cordless unit versus the similar corded model GOP40-30. I cut the same 2×4 lumber with the same blade on both and the results showed the cordless unit has the same performance as the corded plug in model. In the above video the cordless unit actually cut faster however I must say this wasn't a perfect scientific test. Lots of variables are involved with the main one being the form of the cut. It's not easy cutting a 2×4 with a standard blade and have to make several passes to finish the cut. As each pass was different, it offers different results so that's why each cut took a different amount of time depending on how efficient the form was but one thing I can tell you is that the power to cut was about the same between the two models. Going back to its cutting angle of 2.8 verses the 3.0 on the corded model, even though the cutting angle is smaller, meaning it cuts slightly less per pass, the performance is not affected and performs just like the corded model.
One negative I found with the tools performance was that when a Fatpack battery is installed, the added bulk of the battery in the rear prevented the tool from being able to insert a new blade when trying to snap it into place on a flat surface. This is because starlock multitools require the back end of the tool to face down slightly to snap a blade into place but the added size of the Fatpack battery prevents the proper angle. I am not sure if using a smaller slimpack battery would work but in my experience I had to either remove the battery to install a blade OR alternatively had to install a new blade with the battery end over the edge of a surface. You can see exactly what I'm talking about in the first video above. While the battery getting in the way did pose an issue when installing blades, I usually had a surface with edge nearby like a table top or countertop or even the step of the shower to give me the added space to install the blade even with Fatpack battery installed so I was able to have a work around. That or just remove the battery pack. Yes it's annoying, but it has a work around that I can live with.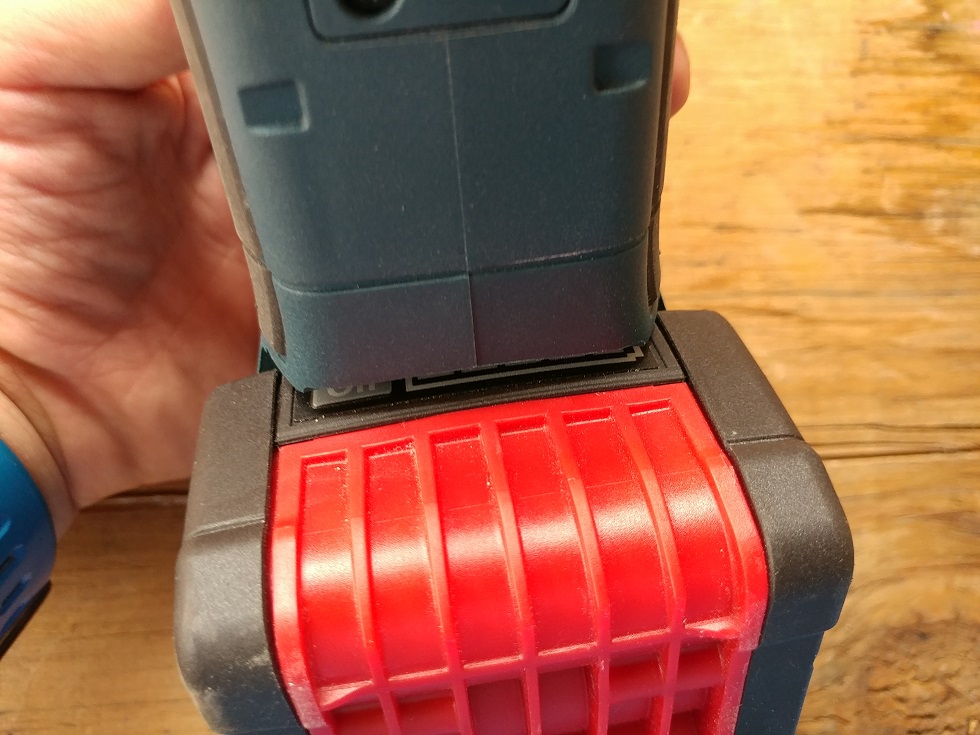 Another negative is that you can't check the battery fuel gauge when the battery is installed on the tool because the fuel gauge is blocked when inserted. This means you have to remove the battery to check the remaining battery status. It would have been nice if Bosch would have added an onboard fuel gauge built into the tool to check the battery status.
Last but definitely not least is how the tool vibrates. We all know that oscillating multitools vibrate – a lot! However some tools vibrate more than others and some excel in this regard with offering less felt vibration as others. This cordless multitool is one of the better performers as it offers less felt vibrations than most multitools. It's on par with the corded GOP40-30 with similar low vibrations. This means that it won't rattle your arms to the bone like other multitools will. This shows you how refined these German engineered tools are. Still not as good as Fein's suspended motor design found on the FMM 350Q or FMM 350QSL but not that far behind.
Runtime
I did test for runtime with the Bosch 6.3 ah CORE battery pack and I was able to undercut the door jambs of two doorways, cut an aluminum threshold in the above first video, cut 4 small blocks of dense softwood about 1x1x4″ cut lengthwise, 17 shims, scrape about 5 feet of duct tape, cut a 3×3″ hole into drywall and 3 cross cuts into a 2×4 (all usage at full power) and still have 2 out of 5 bars left on the battery fuel gauge. I'd say this was pretty good considering the power this thing has. No doubt thanks to it's efficient battery sipping brushless motor paired with a large 6.3 ah battery.
Conclusion; Final Thoughts
The Bosch 18V EC brushless GOP18V-28 cordless multitool has a great feature set with the same kind of performance (cutting speed & low vibration) found in their corded plug in unit GOP40-30 paired with the impressive Starlock mount that offers unbelievably fast and easy blade changes. If you are on the Bosch 18V cordless power tool platform, this is a no brainer to add to your cordless collection if you need a cordless multitool. It does have a few drawbacks such as you have to remove the battery or place the back end of the tool with battery installed over the edge of a surface when installing blades and you can't check the battery fuel gauge when the battery is installed. However even with these drawbacks I would almost strongly recommend this tool but it's high $199 retail price for a baretool only is what ultimately holds me back from making a strong recommendation. The same $199 price tag for this tool only can get you the Bosch GOP40-30C 32 piece full kit which is ready to go out of the box. If you buy this cordless tool for $199 you still need to buy a battery and charger so it makes more sense to buy if you already have Bosch 18V batteries and charger. However if money is no object to you, then by all means this is a great option to add to or start your cordless collection.
Pros
battery sipping brushless motor
Strong Performance – Corded performance from a cordless tool
Starlock mount offers unbelievably quick and easy blade changes
very low vibration for an oscillating multitool
variable speeds
metal blade removal lever
built in LED light
very good runtime
Cons
can't install blades with fatpack battery installed – must place battery end over edge or remove battery to install blades
can't check battery fuel gauge when battery is installed onto tool
Starlock mount not backwards compatible with older non-starlock accessories
$199 for baretool price is very high – higher than the competition


Free 2 day shipping – Try Amazon Prime 30-Day Free Trial

DISCLOSURE:
Tool Craze does not sell this product or any product on the Tool Craze website. Tool Craze does not handle the sale of any item in any way. If you purchase something through a post on the Tool Craze site, Tool Craze may get a small share of the sale. Please refer to the About section for more info.