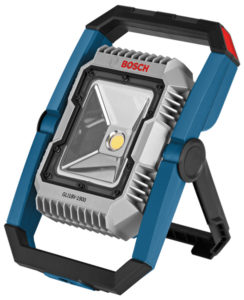 Bosch just announced a couple of new cordless 18V LED Floodlights with the GLI18V-1900 and GLI18V-1900 C.
Basically they both offer the same features such as 1900 max lumens at high brightess setting, and also offer a half brightness setting at 1000 lumens and offer a rotating head design that allows the head to rotate 120 degrees, and both are IP64 rated for dust and water protection.
The only difference between the two models is that the model with the letter C at the end offers bluetooth capability to connect with your mobile device through an app. The bluetooth feature will allow you to turn the light on or off at a distance and also allow you to power on multiple lights at the same time.
The GLI18V-1900 C offers Bluetooth® connectivity accessed through a corresponding app. In addition to controlling the light, the connectivity function allows the user to manage several lights simultaneously with one click. The two-way Bluetooth transfer chip ensures low power consumption between the light and a smart phone.
Runtime is good at up to 5 hours on the highest 1900 lumens setting, or even better at up to 10 hours at the half brightness 1000 lumens setting. Battery runtime figures are based on the Bosch 18V 5.0 ah fat pack battery and you can expect better runtime if you have a 6.0 ah battery or the better 18V Core 6.2 battery.
Bosch GLI18V-1900 and GLI18V-1900 C Floodlights Fact Box
Product

Voltage

Users

Dimensions

Weight

Illumination

Price

GLI18V-1900
18V
Electricians, HVAC, general construction, painter, vehicle repair
11.4 in/7.3 in/2.8 in
3.5 Lbs.
1900 lumens (100%); 1000 lumens (50%)
US: $99

Canada: $135

GLI18V-1900 C
18V
Electricians, HVAC, general construction, painter, vehicle repair
11.4 in/7.3 in/2.8 in
3.5 Lbs.
1900 lumens (100%); 1000 lumens (50%)
US: $119

Canada: $159