In this article we'll be taking a look at the Bosch Blaze GLM400CL 400 FT Laser Measure and this will be my honest review of this laser measure with integrated camera.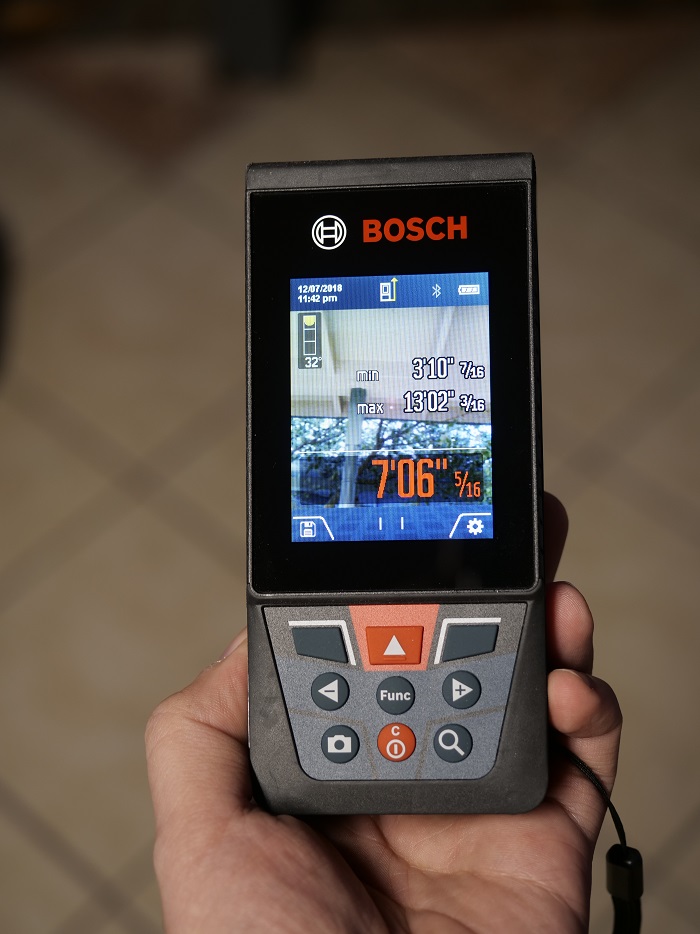 Ethic's Disclosure:
Bosch was kind enough to provide the Bosch Blaze GLM400CL 400 FT Laser Measure at no cost for review. However as with all my reviews, I am not paid, sponsored, or obligated to give a positive review. This review is my opinion of the product based on my usage and knowledge and my review will reflect what I like and dislike about the product. I will do my best to provide you with an unbiased review.


My Thoughts:
Laser measures are great alternatives to tape measures as they don't have physical tape that needs to be "hooked" onto the other end to measure distance. Laser measures are simple to use tools where you point the laser red dot on something and you instantly have a measurement reading from your location to the point. It's that simple! Also laser measures are very compact and can easily fit into a pocket and some can measure well over 50 feet away such as this Bosch model can measure up to 400 feet and without increasing the size of the unit as would be the case with a physical tape measure.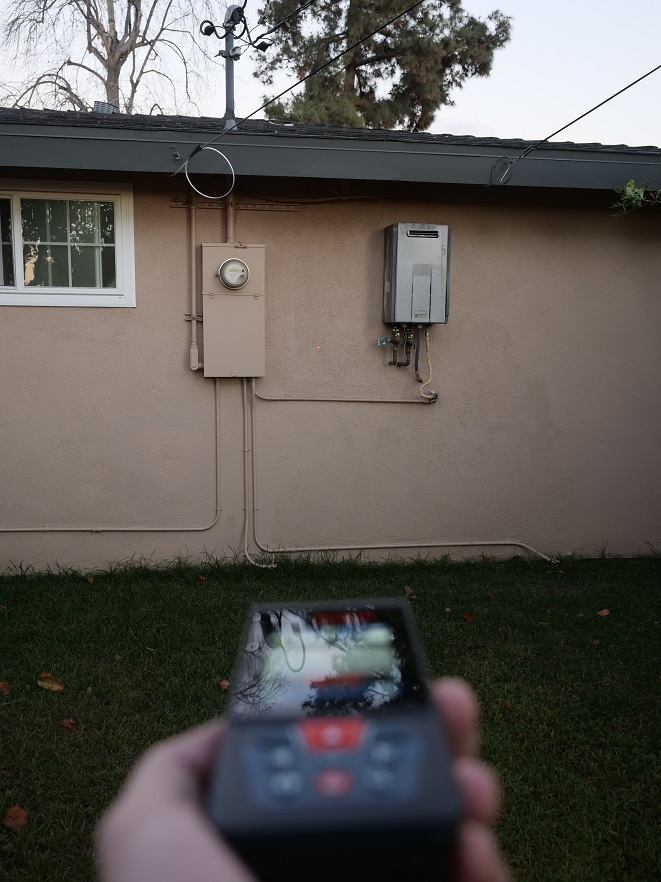 What makes the Bosch Blaze GLM400CL 400 FT Laser Measure standout from all the other laser measures is that it has an integrated camera and a fully color LCD display to display the image from the built in camera.
There are actually two models in the Bosch Blaze GLM400 lineup with a GLM400C and a GLM400CL. Both have a fully color LCD display and integrated camera with the difference being that the GLM400CL model has integrated memory to save images and measurements and has a built in rechargeable lithium ion battery. The GLM400C cannot save images or measurements and takes three AA's to operate.
The display is a full color backlit LCD display and measures about 2.75 inches diagonally. It's about the size of the first generation smartphones and it's low resolution is probably from the same time period as first gen smartphones but is enough to get an idea of what the camera is viewing.
I love gadgets and electronic features and was geeked out to see a color display and camera integrated into a laser measure but then I thought as cool as it may seem to a geek, what's the point of it? That is until I started using it.
Sure the red laser dot makes spotting what you're pointing at easy with close objects even 50 feet away however when you point the red dot at objects over 100 feet, you start having trouble relying on your eyes to spot the red dot. That's where the camera function comes in. You have on screen visuals of what you're looking at with a crosshair in the center where the red dot is.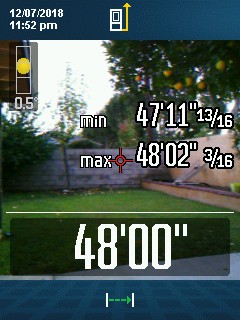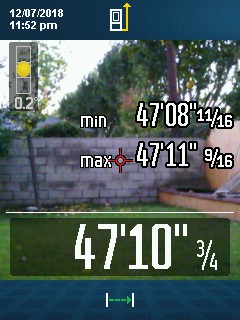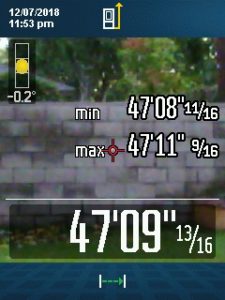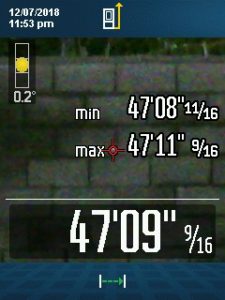 The camera can also zoom in to make spotting extremely distant objects a sinch. The camera has 3 levels of zoom however zooming is all done by cropping into the image or in other words digital zoom. This means that you're basically blowing up the picture image and making all the pixel dots larger and have an uglier final image. I wish they had given the camera optical zooming which is all done via a zooming lens with no impact on image quality however the digital zoom is good enough for it's purpose and does the job just fine.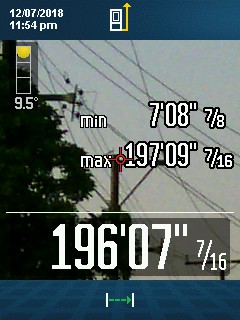 I tested out the camera and zoom in my backyard and I dare you to try pointing an ordinary laser measure at electric poles 200 feet away. No doubt you'll have a very difficult time trying to point a tiny red dot on a skinny object super far away. But the built in camera and digital zoom made the impossible or nearly impossible, possible even with skinny objects over 300 feet away as I was able to point and measure the top of a electric pole over 300 feet away with pinpoint accuracy.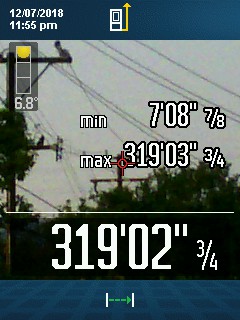 As far as accuracy goes, it's extremely accurate. I compared the measurement readings from the Bosch Blaze unit with my tape measure and got the same results. Even down to sixteenths of an inch!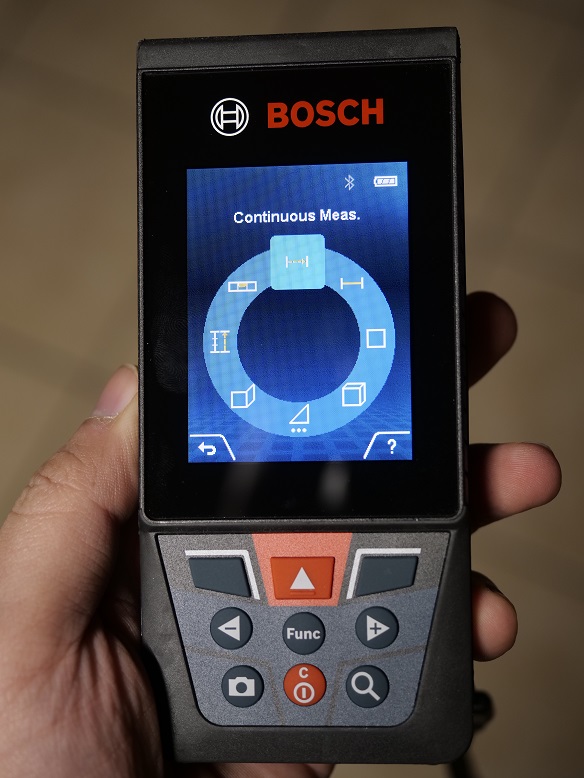 This Bosch Blaze laser measure also has bluetooth connectivity so you can connect to your mobile device to transfer and log measurements wirelessly. It also has other fancy features such as real-time measurements, continuous measurements, area, volume and indirect measurements plus a built in on screen level.
Charging and downloading the images is easy via USB cable and one cable is supplied along with the wall charger so you're good to go out of the box. Bosch also supplies a belt clip storage pouch to carry the unit along with you on the site.
All in all it's an excellent laser measure with advanced features you wont find on most other laser measures such as the camera and full color LCD display and the ability to save and download images. The digital zoom feature is the difference between guessing ifyou might be pointing at the correct object over 300 feet away and knowing if you are with 100% accuracy. The only negative of this unit I can think of is that the downloaded images are very low resolution at 240×320 pixels. It's priced at $299 and while by no means inexpensive, you do get a lot of tech and features.


Free 2 day shipping – Try Amazon Prime 30-Day Free Trial

DISCLOSURE:
Tool Craze does not sell this product or any product on the Tool Craze website. Tool Craze does not handle the sale of any item in any way. If you purchase something through a post on the Tool Craze site, Tool Craze may get a small share of the sale. Please refer to the About section for more info.