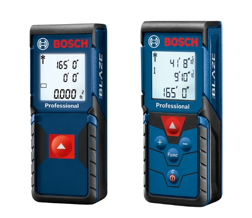 Bosch has a couple of new laser measures both under the Blaze One name with a standard and pro model and both can measure distances up to 165 ft.
Being under the Bosch Blaze name means they are very small and compact and appear to easily fit in a pants or shirt pocket. From a quick glance it may seem that both Bosch Blaze One models are very similar such as the same size, form factor, and backlit LCD display but they do offer some major differences.  The BLAZE One is a one-button measurement tool that offers real-time measurement, which adjusts measurements the closer to or farther away from the target the laser measure is located. The Auto Square function automatically calculates square footage for determining room sizes and material purchase estimates. While the BLAZE Pro is a fully featured, simple-to-use tool that delivers real-time point-and-shoot measurement, plus area, volume, indirect measuring functions and a 10-measurement storage capability. The laser measure also includes addition/subtraction functionality.
Both have a below $99 price point at $69 for the Blaze One and $89 for the Blaze One Pro model.
Bosch BLAZE™ One and BLAZE™ Pro Fact Box
Product

Range

Accuracy

Functions

Power

Accessories

Price

Bosch  BLAZETMOne

165 ft.

±1/16 In.

Real-time measurement, Auto Square

Two AAA  batteries

Wrist strap, target cards, pouch

US: $69

Canada: $89

Bosch  BLAZETMPro

165 ft.

±1/16 In.

Real-time measurement, area, volume, indirect length, area, minimum/maximum

Two AAA  batteries

Wrist strap, target cards, pouch

US: $89

Canada: $109


Free 2 day shipping – Try Amazon Prime 30-Day Free Trial

DISCLOSURE:
Tool Craze does not sell this product or any product on the Tool Craze website. Tool Craze does not handle the sale of any item in any way. If you purchase something through a post on the Tool Craze site, Tool Craze may get a small share of the sale. Please refer to the About section for more info.