Bosch is no stranger to Reciprocating saws and offer several corded and corded options. Though most of their offerings are traditional inline reciprocating saws, they do offer compact versions that give the user a more compact form factor to be able to fit where full size models couldn't by rearranging the form factor of the motor and body. The most notable Bosch compact reciprocating saw is their 12V version which shares the same shape as the Milwaukee M12 and M18 compact reciprocating saws named "Hackzall". Bosch also has an 18V version of their 12V model named the GSA 18 V-LI C but this model is only available overseas in Europe but luckily for use here in the USA Bosch is giving us Bosch 18V users an 18V compact reciprocating saw model similar to the Euro spec model with the Bosch Compact 18V Reciprocating Saw GSA18V-083B.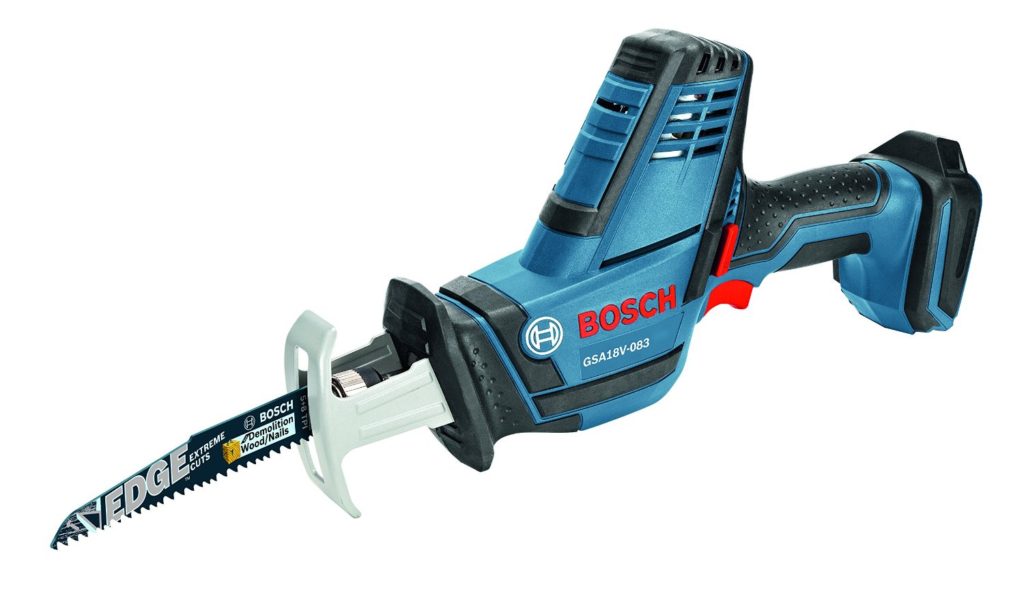 It appears we are getting the same exact model as the Euro spec model but with a slightly different model name unique to the USA market as they both have the same looking exterior and internal specs and features.
Variable-speed trigger – allows easing into the cut
Tool less blade-change system – allows quick and effortless blade changes
0-3,050 SPM (strokes per minute)
0.83″ stroke length
weight 4.4 lbs baretool
weight 5.5 lbs with battery
length 15.75″
LED light – provides helpful illumination of the cutting zone
Switch lock – helps prevent unwanted starts
Bosch Electronic Motor Protection (EMP) system – protects the motor against overload and ensures long life
What's great about these compact reciprocating saws is that because of their shape, compact size and weight, they can be easily used one handed as opposed to full size inline recip saws that have to be held with two hands along with being able to fit where full size recip saws can't. The downside is that these compact saws offer shorter stroke lengths which is the case of this saw at 0.83″ stroke length vs the usual 1-1/8″ stroke length. This could provide a slightly slower cutting experience although power should be plenty with up to 3,050 strokes per minute.
Other useful features are it's built in LED light to help illuminate low light areas, it's variable speed trigger to match the speed to the application, and a key-less blade change system.

As of right now the Bosch Compact 18V Reciprocating Saw GSA18V-083B is available as a bare tool only for $139 USD to add to your existing Bosch 18V power tool collection.