Many power tools have over time developed tool-less accessory interface changes such as jigsaws, recip saws, and oscillating multitools and while some angle grinders have tool-less flange nuts included, there hasn't been much improvement in the angle grinder interface in terms of ultra quick and easy wheel changes. Luckily for us Bosch has created a completely new angle grinder interface that they call X-Lock and the way it works is strikingly similar to their Starlock mount interface for oscillating multitools.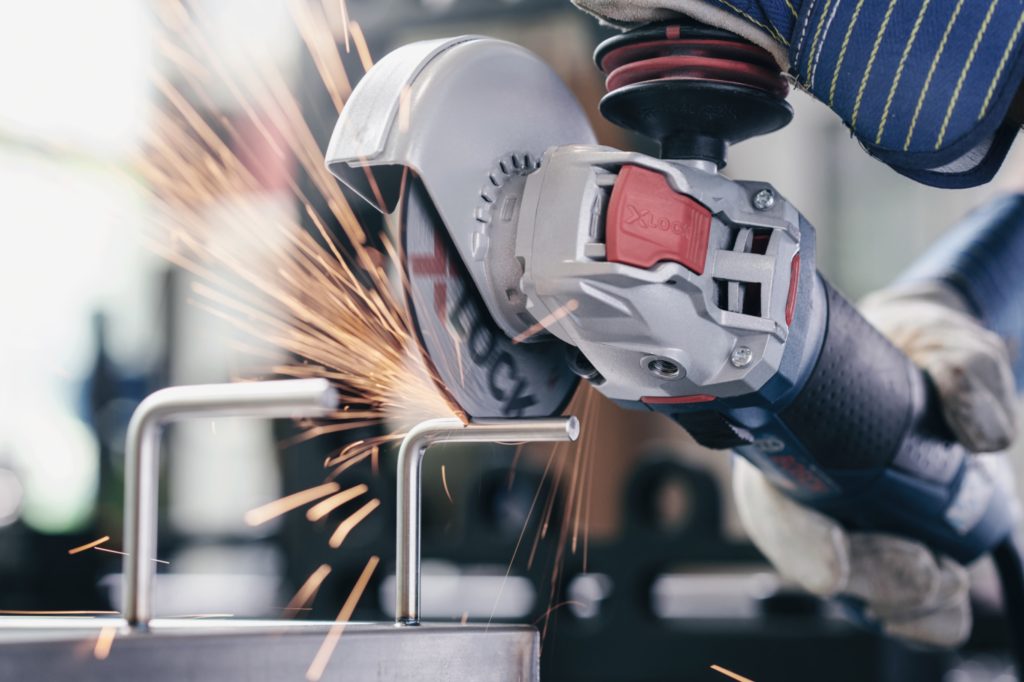 Just like the Starlock mount, you can literally snap wheels in place and eject them with a pull of a lever located on the top of the grinder head with the new X-Lock angle grinder interface. This means you will no longer need a spanner wrench and flange nut and have to manually tighten and untighten to change out wheels the hard way.
With the X-Lock being a new angle grinder mount, this means you will need angle grinders that have the mount and will need to use all new X-Lock wheels specifically designed for the new mount. Also just like the Starlock mount, the X-Lock mount itself isn't backwards compatible with regular grinder wheels, the new X-Lock wheels will be backwards compatible with standard 7/8 In. mounts, well at least most of the X-Lock wheels.
Unlike the Starlock multitool mount that was co-created by Bosch and Fein, the new X-Lock grinder mount appears to be solely created by Bosch themselves and it seems for the time being that only Bosch will have X-Lock mount grinders. I wonder if they will ever license the new mount to other brands or keep it to themselves? Either way we can expect to hear about the new Bosch corded X-Lock angle grinder in the above picture soon.
X-Lock Mount
provide faster change-out for grinders with X-Lock mounts
most are backward compatible with standard 7/8 In. mounts
High-quality wheels will cover core grinding applications including but not limited to bonded discs, flap discs, wire wheels, and diamond blades.


Free 2 day shipping – Try Amazon Prime 30-Day Free Trial



DISCLOSURE:
Tool Craze does not sell this product or any product on the Tool Craze website. Tool Craze does not handle the sale of any item in any way. If you purchase something through a post on the Tool Craze site, Tool Craze may get a small share of the sale. Please refer to the About section for more info.