June 1, 2017
Comments Off

on Bosch Daredevil Multipurpose Drill Bits – Drill into Wood, Metal, and Concrete with the same bit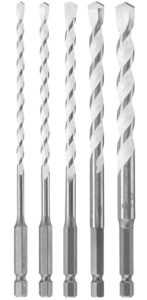 Bosch just came out with another set of multipurpose drill bits part of their Daredevil line. What makes multipurpose drill bits great is that one multipurpose bit can drill into various materials including masonry, brick, block, tile, metal, wood and plastic. One multipurpose bit replaces several single duty bits and the main advantage is that you don't have to swap bits for different drilling applications.
I've seen these multipurpose bits from Bosch before, the previous ones had round shanks suitable for standard drill chucks, the new Bosch Daredevil Multipurpose Drill Bits have standard 1/4″ hex shanks which work with impact drivers and regular drill chucks. Daredevil multipurpose bits have an impact-rated hex shank that can withstand tough drilling when used in a hammer drill or an impact driver.
Bosch says they upgraded the carbide multi-surfaced heads, and claim that these new bits can drill up to 85 percent faster in metal compared to competitive bits and up to 9x life compared to the competitors multi-material bits.
Right now they have sizes ranging from 1/8″ to ½".

Try Amazon Prime 30-Day Free Trial