Bosch has announced a new cordless vac, the Bosch GAS18V-3N 18V Wet Dry Vacuum.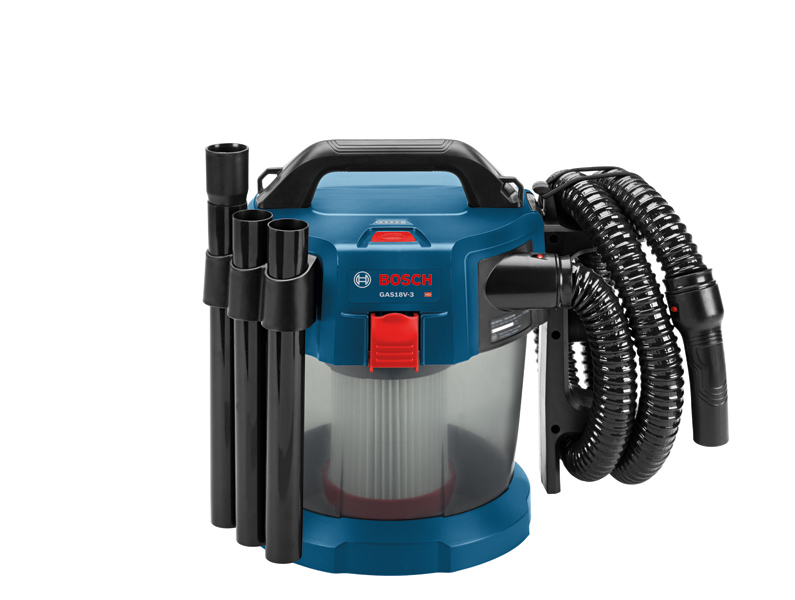 Vacuums are just as important because at the end of the day there will always be a mess that needs to be picked up. I personally prefer cordless vacs because of their convenience to go everywhere and don't need to be plugged in which saves me time. This Bosch GAS18V-3N 18V Wet Dry Vacuum features a 2.6 gallon tank which is very handy for small messes and being a wet / dry vacuum means you can pick up all the regular messes you're used to cleaning plus can clean up wet messes as well and can be used to suck up liquids when needed.
Bosch's model takes an different approach in their design of this new cordless wet dry vac and instead of a toolbox design, it features a round shape with a cylindrical see through tank where you can see the filter and how full or empty the machine is. I like the tank being see through because you can see if you need to empty the tank and when it's time to clean the filter. The filter is a HEPA filter meaning that it will keep the dust from blowing back out through the exhaust. I don't see any mention of a blower function so I believe this vacuum may not have this feature, bummer. But it appears it has strong suction rated at 51 CFM's and runtime is very good as well at a rated 24 minutes of runtime with their 6.0 battery. The battery goes inside the unit and I also see that they included a much needed built in fuel gauge on the top of the vac. This vacuum weighs 10.2 lbs.
The Bosch GAS18V-3N Vacuum Cleaner is priced at $119 as a bare tool and comes with a washable HEPA filter, a 5.25 Ft. hose, three extension tubes, a crevice nozzle and a floor nozzle.
Bosch GAS18V-3N 18V Cordless Wet/Dry Vacuum Fact Box
Product

Voltage

What's in the Box

Height

Weight

Airflow

Price

Bosch GAS18V-3N 18V Cordless Wet/Dry Vacuum

18V

GAS18V-3 Vacuum Cleaner, washable HEPA filter, 5.25 Ft. hose, extension tubes, crevice nozzle, floor nozzle

14.6 in.

10.2 lbs.

51 CFM

US:  $119

Canada: $159



Free 2 day shipping – Try Amazon Prime 30-Day Free Trial

DISCLOSURE:
Tool Craze does not sell this product or any product on the Tool Craze website. Tool Craze does not handle the sale of any item in any way. If you purchase something through a post on the Tool Craze site, Tool Craze may get a small share of the sale. Please refer to the About section for more info.