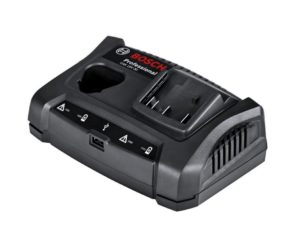 Spotted in the UK is a new BOSCH GAX 18 V-30 charger. Unlike their current power tool battery chargers that only charge 18V batteries or 12V batteries, this new charger can charge them both.
This makes it similar to Dewalt and Milwaukee dual voltage chargers but because Bosch's 12V batteries share the same pod style as Milwaukee's 12V batteries, the BOSCH GAX 18 V-30 charger more resembles Milwaukee's dual voltage charger.
Onboard the BOSCH GAX 18 V-30 charger is a slot to charge their 12V batteries and a separate slot to charge 18V batteries. If you insert two batteries, it won't charge them at the same time but it will charge the first battery inserted first, then charge the other one after the first one is completed charging.
Showing us that this is a modern charger, Bosch also integrated one USB charging port with a max 2.1A charging current so you can charge your cell phone and tablet.
As a reminder, this new charger was spotted in Europe so no word on if or when it will be available here in North America.





FEATURES
Dual bay charger for two different voltage batteries: 10.8v and 18v
USB port expands your chargers capabilities to allow USB device charging (max. 2.1A charging current)
Fast charging of one battery, then the other (first come first serve)
New 80 % Full HMI (human to machine interface) that indicates when the fast charge mode is finished
Wall mounting option with specially designed casing
CHARGING TIMES TO 100%
2.0Ah 10.8v: 45 Mins
2.5Ah 10.8v: 65 Mins
4.0Ah 10.8v: 85 Mins
2.0Ah 18v: 45 Mins
3.0Ah 18v: 68 Mins
4.0Ah 18v: 85 Mins
5.0Ah 18v: 107 Mins
6.0Ah 18v: 130 Mins
SPECIFICATION
Battery Voltages: 10.8v / 18v
Chargin Current: 3.0A
Sequential: Yes
Simultaneous: No
Size (cm): 19.5 x 12.5 x 8.2
Weight: 1.65 Kg
USB: Yes