February 23, 2017
Comments Off

on Bosch GBH2-28L 1-1/8 In SDS Plus Bulldog Xtreme Max Rotary Hammer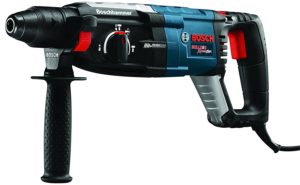 Bosch is expanding their well known concrete bustin' rotary hammer line with a new Bulldog Xtreme model, the Bosch GBH2-28L 1-1/8 In. SDS Plus Bulldog Xtreme Max Rotary Hammer.
According to Bosch, "the power-to-weight ratio is dialed to the max"
Less than 7 lbs. (6.9 lbs)
Robust 8.5 Amp motor delivering 2.4 ft-lb. of impact energy
5,100 no-load BPM and 1,300 max RPM from this lightweight Bulldog
Features KickBack Control, vibration control, overload clutch, Vario-Lock positioning, variable-speed trigger, HammerHook and more
3 Mode dial for drilling only, hammer only, and hammer drilling
This is indeed a step up model to the very popular Bosch 1″ Xtreme Bulldog 11255VSR model as it offers a nice step up in power output along with upgrades such as reduced vibration tech. It also includes electronic kick-back control which shuts down the tool when a bind up situation occurs to prevent injury to the user.
I do find it strange that this new model the Bosch GBH2-28L is so similar to the current Bosch RH228VC Xtreme Max SDS Plus model that also has a 1-1/8″ rated capacity. Pretty much all the stats are the same with both models except the newer GBH2-28L has increased the motor amps to 8.5 from the previous models 8.0 although all other stats are the same. My guess is that it's probably going to replace the previous model.
The new model is said to be out now with a retail price of $259

Bosch GBH2-28L 1-1/8″ Bulldog™ Xtreme Max SDS-plus® Rotary Hammer Fact Box
Product
Max rpm
Weight
Kit Includes
Rating
Impact Energy
Price
Bosch GBH2-28L 1-1/8" Bulldog™ Xtreme Max SDS-plus® Rotary Hammer
1,300
6.9 lbs.
GBH2-28L rotary hammer, auxiliary handle, depth gauge, carrying case
8.5 amps
5,100 no-load bpm
US: $259

Canada: $351