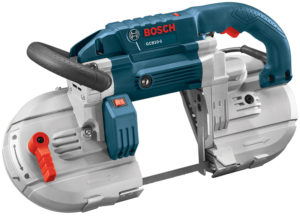 Bosch recently introduced a new 10 amp deep cut corded band saw model GCB10-5 since back in January of this year 2017.
Most new tool announcements are for cordless tools but it's good to see Manufacturers such as Bosch still pumping out new corded models as corded power tools are still much needed.
A few key features to note on the new Bosch GCB10-5 corded band saw is that it's a deep cut band saw with a large cut capacity to cuting depth up to 4-3/4 inches. It features a 10 amp motor to kick butt out on the jobsite and weighs in at only 14.5 lbs. Additional features are a large hook to hang in between cuts, it features an LED light to help out in low light situations and variable speed dial to dial the speed of cut to suite the application at hand. According to Bosch you can expect clean cuts on metal that require little to no deburring.
It's out now and is priced at $289.

Try Amazon Prime 30-Day Free Trial
Robust 10 amp motor – provides clean cuts, with almost no rework needed for burrs or tempering colors

Nearly spark-free operation – affords a safer jobsite

Deep-cut capability – delivers cuts up to 4-3/4 in. In a single pass

Compact, light design – weighs only 14.5 lbs., ideal for cutting tough overhead materials

Variable-speed settings – offers versatility to match the cutting speed to the material and application