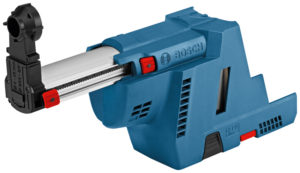 Bosch just revealed the new GDE18V-16 Dust Collector add on for the Bosch 18V 1″ Brushless Rotary Hammer. I knew the add on dust collector specifically designed for that rotary hammer was coming when I wrote about the cordless brushless rotary hammer but now Bosch confirmed it.
This dust extractor piggy backs the Bosch rotary hammer to provide on the spot dust free drilling. Keep in mind that this dust extractor does not power itself and feeds off the battery attached to the cordless rotary hammer. It is only compatible with the Bosch GBH18V-26 rotary hammer that I recently reviewed.
The GDE18V-16 Professional can simply be attached to the rotary hammer when required. It has its own motor that's supplied with power by the rotary hammer battery. The dust extraction module has an automatic power on/off. It automatically starts at the same time as the rotary hammer and continues to function for two seconds after the drilling operation is ended to ensure optimal dust extraction.

"The GDE18V-16 18-volt HEPA dust collector gives users of the Bosch GBH18V-26 rotary hammer the final piece of an end-to-end dust control system that's completely housed on the hammer," said Mike Iezzi, product manager, concrete power tools, Robert Bosch Tool Corporation. "We believe this is a solution that many professionals who drill into concrete will find appealing because it offers them more freedom of movement on the jobsite. There are some jobs where being tethered to a vacuum isn't workable."

The integrated HEPA filter provides reliable dust protection and is extremely easy to empty and clean.
The new Bosch GDE18V-16 is priced at $129 US and $179 CAN and will be out soon.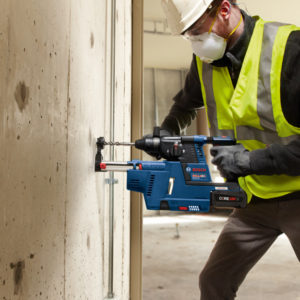 Bosch GDE18V-16 Professional Dust Collector Fact Box
Product

Voltage

Weight

Tool Length

Height

Inlet Diameter

Price

Bosch GDE18V-16 Professional

18V

2.6 lbs.

14.4 in.

6"

.62"

US: $129

Canada: $175