In this review we will be taking a look at Bosch's latest cordless reciprocating saw, the Bosch GSA18V-125 18V EC Brushless 1-1/4 In Stroke Multi-Grip Reciprocating Saw and will discuss it's feature set and performance.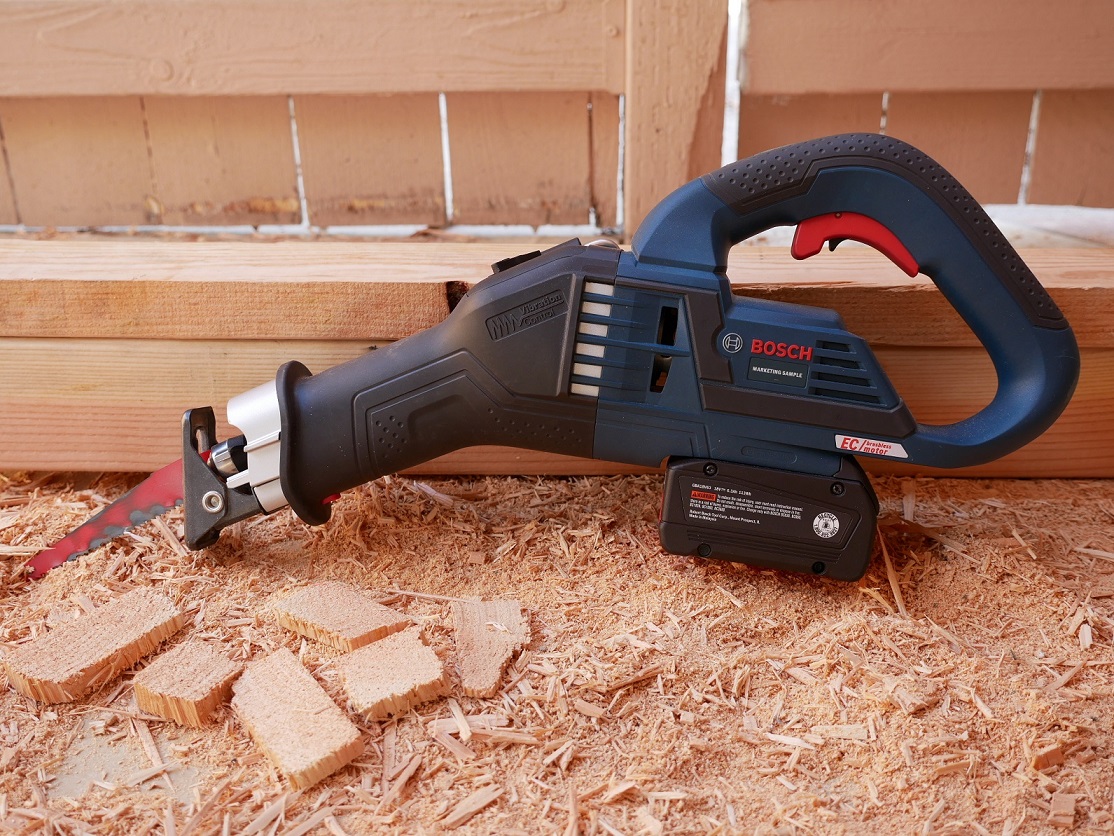 Ethic's Disclosure:
Bosch was kind enough to provide the Bosch GSA18V-125 18V EC Brushless 1-1/4 In Stroke Multi-Grip Reciprocating Saw at no cost for review. However as with all my reviews, I am not paid, sponsored, or obligated to give a positive review. This review is my opinion of the product based on my usage and knowledge and my review will reflect what I like and dislike about the product. I will do my best to provide you with an unbiased review.
Manufacturer Features and Specs:
18V
brushless motor
1-1/4″ stroke length
0-2500 no load SPM
3 orbital settings
19″ length
7.7 lbs
Price: $299 baretool $399 kit with 6.3ah battery, charger and case

My Thoughts:
When I first heard of this new Bosch 18V brushless reciprocating saw I was impressed by its specs list for a cordless saw model with not only a brushless motor for better runtime and power but it has some specs you'd find on corded recip saw models such as it's large 1-1/4″ stroke length. This means this saw cuts more per pass. It also has an orbital mode with two orbital settings selectable via a top mounted dial. Most cordless recip saws offer only straight inline cutting action but it's always a nice feature to have orbital cutting as an option to be able to cut faster due to a more aggressive orbital cutting action. The orbital mode on this saw lets you choose between orbital mode one and two with two being full orbital mode and mode one being a lessor aggressive orbital mode. I found this saw to be a full featured reciprocating saw as it offers not just a variable speed trigger but you can also dial down the max RPM with a separate variable speed dial to further control cutting speed.
The list of features doesn't end there as they add a rafter hood on the right side that folds out and can hang it within arms reach and folds back flat when not in use. This is really useful so you can hang it nearby when your working so you don't have to rest it on the floor and pick up each time when needed. Being a modern tool, they've added an LED light on the front of the tool just behind the shoe so it illuminates the cutting path which is useful when you're in low light. To make sure Bosch packed in as much features as they could they added a pivoting adjustable length shoe. Just press the red button underneath near the shoe which disengages the shoe so you can slide it forward or back for the desired length. This is useful for moving the shoe forward to squeeze as much life possible out of your blades and using the unused portion of your blades.
Since we're talking about the shoe, my copy of the tool had a very stiff pivoting shoe which makes it hard to get a good firm flat contact with the material being cut when starting a cut. I emailed Bosch about this and they said that it would loosen up over time with use. I used it a fair amount and well over a hundred cuts later and it's still stiff as day one, bummer.
One of my favorite features of this reciprocating saw is the blade change lever which is a large easy to grip metal section at the front of the tool just behind the shoe. It's very easy to reach and rotate to replace blades with or without gloves.
Overall the fit and finish of this saw is top notch, especially the smooth rubber overmold they use on the front end. The ergonomics are very good as well and because of the slight angle of the way they mounted the motor means that it has a better center of gravity than other reciprocating saws. Sure it's still front heavy as all reciprocating saws are but not as front heavy as others making it a bit more balanced to hold.
Unlike other reciprocating saws, Bosch decided to ditch the norm and do away with a lock and unlock switch that can lock the trigger from being activated. You can think of this as a passive safety feature if the user decides to use it or not. Bosch instead opted for a safety switch built into the trigger that is similar to the one's used on angle grinders with paddle switches. This means that you have to slide forward/push the safety in each time you operate the trigger otherwise it wont engage.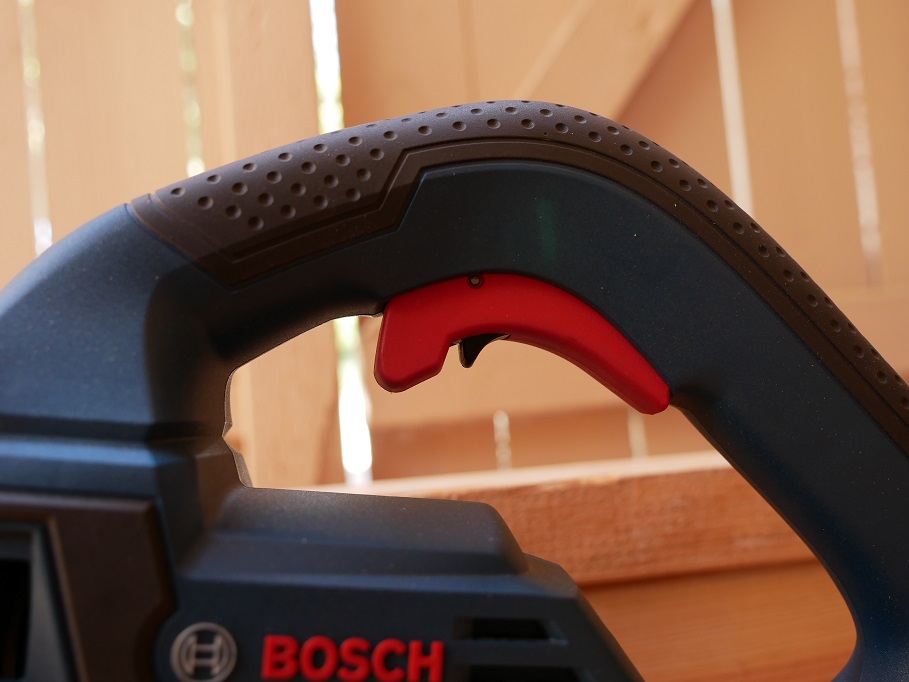 Pricing of this saw as a baretool is extremely high as a baretool at $299 ( GSA18V-125N ) however Bosch offers this saw as a kit for $399 ( GSA18V-125k14 ) that comes with their latest Core 6.3 ah battery, charger and hard case which makes it a better value. If you're planning on adding this saw to your collection, it makes sense to go with the kit as it offers a much better value. However compared to it's competition it's about $100 more than it's peers whether you're looking at the baretool or as a kit.
Performance:
Bosch added some very interesting anti-vibration features on this reciprocating saw with a very effective counterbalance system inside. It's very effective when there is no load and the motor is running. If you press the trigger and run the motor when not making a cut, this is easily the smoothest running, least vibrating reciprocating saw I've ever tried. But that all changes when you actually make a cut and things turn the opposite and when it's actually cutting. It's one of the worst I've tried when it comes to vibration. I'd say the vibration isn't coming from the tool itself but instead from the extremely aggressive cut it produces. My guess is that this could be due to the somewhat lower 2500 max RPM's that might cause the lack of smooth cuts plus such a large cutting stroke. But in my experience with this tool, it rattles my arms to the bone and past the elbow, yikes! But all reciprocating saws vibrate and are one of the worst offenders in the tool world.
While the cutting performance is harsh on your arms, this reciprocating saw has great cutting performance as it can cut 2×4's and 4×4's in no time. Watch the above video to see this bad boy in action. It's also a solid performer at metal cutting when equipped with a metal cutting blade. Even though it's a cordless battery powered tool, it performs like a corded reciprocating saw.
I compared this saw side by side at cutting 2×4's and 4×4's and when it comes to cutting lumber it outperforms Milwaukee's M18 Sawzall which is another cordless model that performs rather well. It also outperforms the cordless Milwaukee model at metal cutting which was already faster than others I tried at the time.
I also added the Milwaukee M18 Fuel Super Sawzall to the comparison to see where the Bosch cordless brushless model sits and it keeps up well against the super sawzall model in terms of performance sitting just behind it in the lumber cutting 2×4 and 4×4 tests. However when it comes to metal cutting, the Bosch model stands equally toe to toe with Milwuakee's latest cordless flagship model as it offered the same speed of cut when cutting the structural pipe. If anything the Bosch beat the Super Sawzall at metal cutting by a hair as it won by a millisecond!
As you can see in both of the above videos, I featured side by side clips of the Bosch recip saw in all of it's cutting modes from inline to orbital 1 and 2. As expected, the orbital modes offered a quicker rate of cut when it came to the 2×4 cuts with orbital 1 cutting faster than inline and orbital 2 cutting the fastest out of the three. The difference was very noticeable between all three modes when cutting 2×4's.
However when cutting a 4×4, things changed. Orbital modes did offer a faster rate of cut compared to inline, but the difference was negligible and was very hard to notice unless you put the video clips side by side and even then was almost the same, just slightly faster when in orbital modes. Also wanted to mention that orbital mode 1 & 2 cut about the same speed when cutting a 4×4 which makes me wonder that the orbital action isn't very effective with thicker materials.
Runtime:
Bosch supplied one of their newest Core 18V 6.3ah battery for testing this saw and I was able to get a total of 145 cuts into 2×4. This has been the most cuts per charge of all the cordless reciprocating saws up to this point, however that's also in part because this has the largest amp hour battery I've tried on 18V recip saws. When I tested the Milwaukee M18 Sawzall (brushed motor 2621-20) model, it achieved 110 cuts into 2×4 with a 3.0 ah battery. That means that the Milwaukee saw achieved 36.6 cuts per amp hour. This Bosch on the other hand gets 24.16 cuts per amp hour meaning it chugs more battery juice per cut. My guess is that this is due to the more powerful motor it uses for more performance and as we all know, more performance equals more fuel consumption. As another comparison, the Ridgid GenX5 brushed motor reciprocating saw got 89.5 cuts with a 4.0ah battery which is 22.37 cuts per amp hour. This means that the Bosch still is better in terms of runtime than the Ridgid but not by much. Considering this is a brushless tool, I would think it's runtime could be better.
Final thoughts:
Bosch's latest brushless 18 volt reciprocating saw packs in just about every feature possible and offers a very nice package from fit and finish to it's fantastic feature set which includes two orbital modes, rafter hook, the best blade change lever and variable speed dial on top of it's variable speed trigger. It's cutting speed makes it one of the better cordless models with fast cutting action and corded saw like performance. Although it features a brushless motor, it's runtime efficiency could be better. It features anti-vibration technology however it's only useful it's not cutting as cutting anything makes for a very bumpy ride. Bosch spared no expense with this tool and it also shows up in it's higher than average price point.
Pros:
Brushless motor
great cutting speed – similar to corded saws
best blade change lever
two orbital cutting modes
LED light
better center weight balance
rafter hook
variable speed dial
excellent fit and finish
easy tool free shoe length adjustment
Cons
Expensive at $299 baretool or $399 as a kit with one 6.3ah battery, charger, case
higher than average vibration
runtime could be better for a brushless tool
stiff pivoting shoe


Free 2 day shipping – Try Amazon Prime 30-Day Free Trial

DISCLOSURE:
Tool Craze does not sell this product or any product on the Tool Craze website. Tool Craze does not handle the sale of any item in any way. If you purchase something through a post on the Tool Craze site, Tool Craze may get a small share of the sale. Please refer to the About section for more info.