Years ago Bosch introduced the 12V Flexiclick 5 in 1 drill driver system with several attachment heads. This made a drill driver have the ability of separate tools. Now Bosch has made the 5 in 1 Flexiclick system available in 18 volt with their Bosch GSR18V-535FCB15 18V EC Brushless Connected Ready Flexiclick 5 in 1 Drill / Driver System.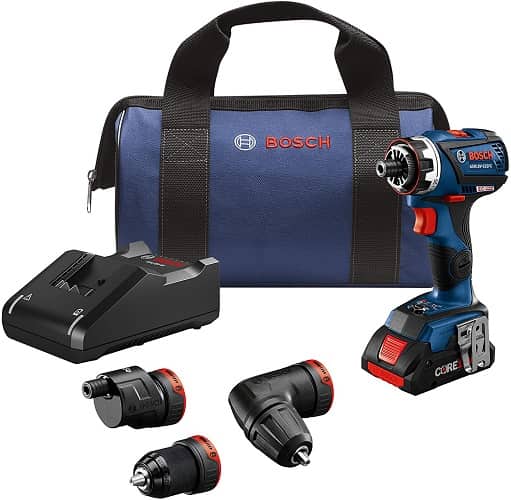 The Bosch GSR18V-535FCB15 18V EC Brushless Connected Ready Flexiclick 5 in 1 Drill / Driver System has a brushless compact drill/driver body and instead of a built in keyless chuck, has a built in 1/4″ hex chuck with special head design to accept other heads. Included with the kit are a ½-inch keyless right-angle chuck attachment, offset angle attachment and 1/2-inch keyless all metal chuck attachment. Making it a 4 in 1 tool out of the box as a screwdriver, offset screwdriver, 1/2″ drill and 1/2″ right angle drill. To make it a 5 in 1 tool you'll need to buy the optional SDS plus rotary hammer attachment.
It's still a powerful drill coming in at a strong 535 in-lbs of torque. Actually it looks like it's based on the DDS183 which is a strong compact drill. I know because I've reviewed them. The only difference I can see is the obvious new head connection system and the added ability to use bluetooth. That's where it gets it's title as connected-ready. Like all Bosch bluetooth connected ready tools, they never include the bluetooth feature built in but make it so it's an available option that must be purchased separately.
Currently the kit is available and it comes with the 3 included heads mentioned above plus a 4.0 ah core18 compact battery that houses upgraded 21700 cells, charger and tool bag for $299.
A 5-in-1 design that delivers outstanding versatility in an EC Brushless, compact, high-quality drill/driver.
An EC Brushless motor to provide efficiency in a tool that weighs just 2.1 Lbs. but delivers 535 In.-Lbs. of torque.
A locking bit holder that secures hex bits for high-torque driving.
A right-angle chuck designed for tight work spaces and rotates into 16 positions without removal from the tool.
An offset-angle attachment that delivers precise performance very close to edges and also rotates into 16 positions without removal.
Bosch's CORE18V Compact Battery for next-gen Li-ion 21700 cell technology in a lightweight, high-power package.
Bluetooth® connectivity that uses an optional Bosch Connected Tool Module to integrate the tool to the free Bosch Toolbox app on a connected device, allowing users to customize settings and provide detailed feedback.
KickBack Control to limit the tool's rotation in a bind-up scenario.
A keyless chuck attachment for locked-in drilling of difficult materials.
An LED light to illuminates dark work areas.


Free 2 day shipping – Try Amazon Prime 30-Day Free Trial

DISCLOSURE:
Tool Craze does not sell this product or any product on the Tool Craze website. Tool Craze does not handle the sale of any item in any way. If you purchase something through a link on the Tool Craze site, Tool Craze may get a small share of the sale. Please refer to the About section for more info.